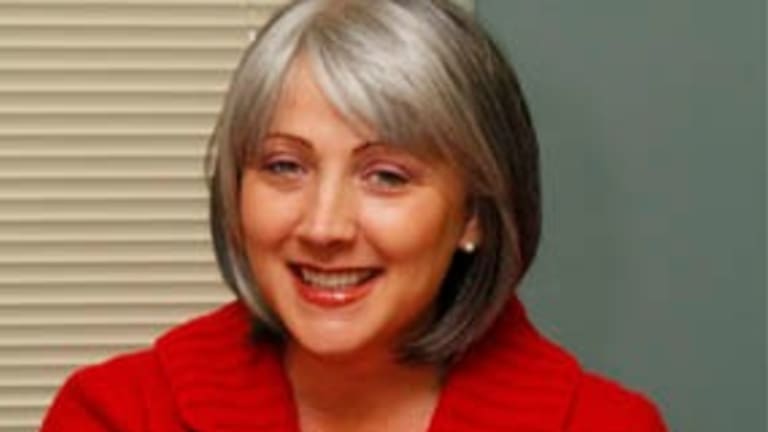 Your Questions Answered - Beauty tips guidance & support during cancer treatment
Q. I am in the midst of chemotherapy treatment, and I have begun to lose my hair, including my eyebrows and eyelashes.
Can you provide me with a few tips for making my eyes pop again?
A. For those who are undergoing chemotherapy and losing brows and lashes, creating a wider and brighter look can help accentuate your eyes. Here are some simple tips.

First, you will need a few tools, which you may already have in your makeup bag:
Bone or natural-colored eye shadow
Darker-colored crease shadow
White or champagne cream shadow
Black or deep-brown eyeliner
White eyeliner
Eyebrow stencil
Eyebrow powder or eyebrow pencil
Step 1. Examine your eyebrows and use tweezers to pluck away any stray hairs that prevent them from looking tidy. If you don't have any eyebrows remaining, using an eyebrow stencil is the easiest way to re-create a perfect brow. Just match up the stencil along the brow bone and fill in with eyebrow powder or an eyebrow pencil. If using a pencil, be sure to use short, feathery strokes. You can seal the color with a brow gel or brow wax, if preferred.
Step 2. Apply a pale, neutral base color to your entire eyelid, from your lash line to your brows. The idea is that light shades brighten the eye. Using too many dark colors makes eyes look smaller. Next, shade the outer corner of the lid and the crease with a darker color and blend well using a gentle back-and-forth motion.
Step 3. Dab a little white or champagne-colored cream shadow under the brow bone and blend. Add a touch more to the center of the lid and watch how your eyes instantly brighten up.
Step 4. Use the dark eyeliner to apply a thin line just above your upper eyelashes. Be sure to extend the line just past the outer corner of your eye. If you no longer have lashes, add another line on top of the original line to create depth and to give the illusion of lashes. Line your lower lashes with a lighter touch, then smudge both lines with a smudging brush to soften the look. Next, use a white or cream-colored eyeliner along the inner rims of your eyes.
Q***. Since I have been undergoing cancer treatment, I rarely have much energy to devote to applying makeup. Do you have any quick, simple steps that won't take a lot of time or effort?***
A. If you're short on time or you don't have a lot of energy but feel incomplete without makeup, here are a few tips to help you look and feel your best with minimal effort.
Step 1. Camouflage your not-so-flattering features.
What is Medicare Advantage
Medical Advantage or MA plan is a health plan provided by a private organization that partners with Medicare to offer healthcare services with their Medicare Parts A and B privileges.
If your skin is blotchy or feeling dry, dab a little moisturizer on your face. You will want to use a concealer to hide dark circles under the eyes, facial blotchiness, and discoloration. Next, use a foundation that matches your skin tone for a sheer, natural finish. If your skin is pale or sallow, try a pink or peachy blush (whichever flatters your skin tone) for an added glow. Give a big smile and lightly apply blush to the apples of your cheeks. Blend along the cheekbone in an upward motion toward the ear. Finally, lightly apply translucent powder over your face to set your makeup. This should take you only about two to three minutes.
Step 2. Accentuate your best features.
Now that you've minimized the trouble spots, pick out your best feature and draw attention to it. Perhaps you have a great smile; if so, accentuate your mouth with a bright lipstick or a soft gloss that flatters your skin tone. Maybe you have gorgeous eyes; play those up with colorful eyeliner. Use a darker color on the top lid, such as black or dark brown, and use a lighter color on the bottom lash, such as blue or light green. Any of these quick tricks will take about a minute.
Step 3. Apply some finishing touches for on-the-go makeup.
All you have to do now is apply your eyebrows (see the first question for eyebrow tips).
Q.My skin is much more sensitive since I have begun treatment. Do you have any recommendations for cleansing and moisturizing?
A. Developing sensitive skin during cancer treatment is quite common because the treatment disrupts the skin's normal process of rejuvenation. You may experience dryness, increased sensitivity, and perhaps changes in texture. To care for your skin properly during this time, the first step is to have the right cleanser and moisturizer on hand. Choose a cleanser made specifically for dry or sensitive skin—preferably cream-based. Then select a facial moisturizer. With these products on hand, take the following steps.
Step 1. Wash your face with the gentle cleanser. Start from the forehead, using a light rotating motion outward, and work your way down.

Step 2. Rinse with lukewarm water.

Step 3. Moisturize with a gentle facial moisturizer. If you are experiencing dryness, try a cream-based moisturizer.
Q.I'd like to use concealer to help cover up the dark circles under my eyes. How should I go about choosing a concealer or foundation color and type?

A. Follow these easy steps to finding the right combination.
Step 1. If you're using a foundation, choose a concealer no more than one shade lighter than your skin. If you choose to wear concealer without foundation, a shade closer to your natural skin color will look best.

Step 2. For extreme discoloration around the eyes, try a color-correcting concealer. Alabaster covers dark circles on warm skin tones, lavender gives a yellowish complexion a healthy glow and covers sallowness, mint neutralizes redness, pink highlights all skin tones, and orange covers blue tones such as veins and dark circles on dark skin.

Step 3. Choose a shade that matches the color of your skin at the jaw line.