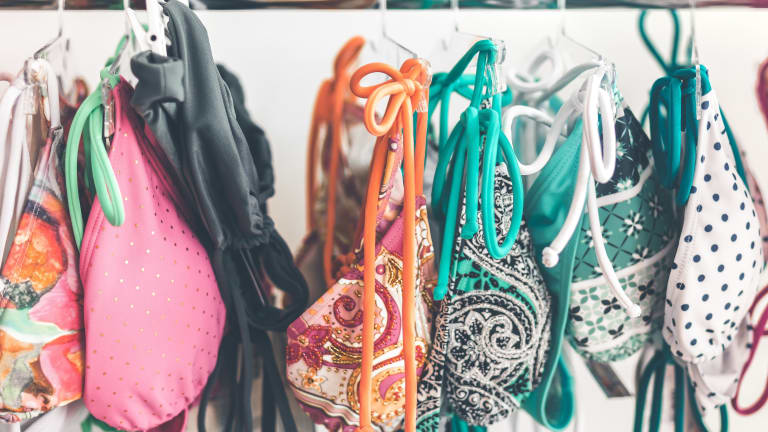 The Hardest Fit of All
Finding a swimsuit that fits your personal style and your post-surgery body can be a challenge. Read on for tips to find
Did you know that most women shopping for a swimsuit try on an average of 12 suits before they buy one? For many women this purchase proves tougher than any other. But for women who have undergone surgery to treat breast cancer, the task can be even more challenging.
Luckily, mastectomy swimsuits have come a long way in the past 30 years. Suits are now designed thoughtfully and in a wide variety of styles to accommodate many diverse needs. Still, the search may be a bit intimidating without some sense of how these suits are constructed. With that in mind, here are a few things you should know as you search the racks for your suit:
A woman who wears a full prosthesis should look for a sewn-in cup (envelope), either hard or soft, to provide ample support and good shaping for her prosthetic.
The apexes measurement (an industry euphemism for nipples) should be equally distanced.
If the suit you have fallen in love with does not have a built-in pocket for your swim prosthesis, see if you can have one sewn into the suit. (Make sure it is sized appropriately and that you can easily insert your prosthesis.)
The most important measurement of any suit is the torso shoulder measurement, which is your high-point shoulder length, measuring from the shoulder roll area, where your bra strap lies, to your inner crotch. Many swimsuit companies address the petite, missy, and tall consumer. If you need a longer stride, shop around until you find your ideal suit. Many catalog companies offer this sizing option.
Mastectomy suits are traditionally cut higher on the sides, or the wing (the band that wraps around your body) as it is known in the bra industry. Some swimsuits are cut higher in the neck to accommodate surgical scars and are also cut differently in the bend over to ensure that when you bend over your suit won't pull away from your chest wall.
Overall, be sure that you keep a healthy perspective about your own body image and the wide variation in suit sizing. For example, size 8 for some manufacturers could be measured by a 36-inch bust, a 29-inch waist, and a 36-inch hip. But as you shop around, you'll notice that those numbers are not at all consistent. Try on a variety of sizes, and don't be disappointed if you have to move up a size. And remember that you can be full busted and not be full figured. For instance, a size 34E bra could be a size 10 swimsuit.
What is Medicare Advantage
Medical Advantage or MA plan is a health plan provided by a private organization that partners with Medicare to offer healthcare services with their Medicare Parts A and B privileges.
In addition, if you are full figured, keep in mind that approximately 62 percent of women are wearing a size 12 or larger today, and the plus-size market is growing at a rate of 17 percent annually. This market is not limited to any one demographic but includes young, active women as well as older women. The result is an ever-increasing selection of attractive, fashionable suits that range in size up to size 26.
Now that you've learned how to shop for your suit, you can have fun finding a style and a pattern that complements your personal style. Swimwear forecast for 2010 shows a vast array of styles, colors, textures, and patterns, so go forth and shop!
A Few More Tips
When you're looking for a swimsuit after breast surgery, it is imperative that you find a suit that will make you feel comfortable, natural, and beautiful both inside and out. Here are a few more things to keep in mind:
Has anyone ever advised you to sit down when you try on a swimsuit and to check your appearance from all sides in a full-length mirror? I encourage you to do this. Why? Because each woman's body is truly different, and the swimsuit you choose must satisfy your specific needs—especially after a surgery.
How about the inner support of the suit and its enhancements? Are you looking for lift or perhaps a slimming shape? Or are you seeking a flattering and slenderizing piece? What may work for you may not be another's choice.
I recommend reading the care label before wearing a new suit. Unless the instructions say otherwise, hand-wash it in cold water and mild soap and do not use bleach. Let it drip-dry in a shaded area. If this can't be done, at least rinse it out in clean water and wrap it in a towel or store it in a plastic bag. Never wring out or machine-wash a swimsuit or put it in a dryer. Hot tubs and pools with excessive chlorine will wear out a swimsuit quickly. Both the chlorine in pools and the salt in seawater break down Lycra fiber.
Also note that the bright color in the swimsuit that attracted you to it in the first place is the quickest to fade. To ensure that colors are set and will stay vibrant, soak the suit in a mixture of 2 tablespoons white vinegar and 1 quart of very cold water as soon as you get it home. Let it sit for one hour, then rinse it well and allow it to drip-dry.