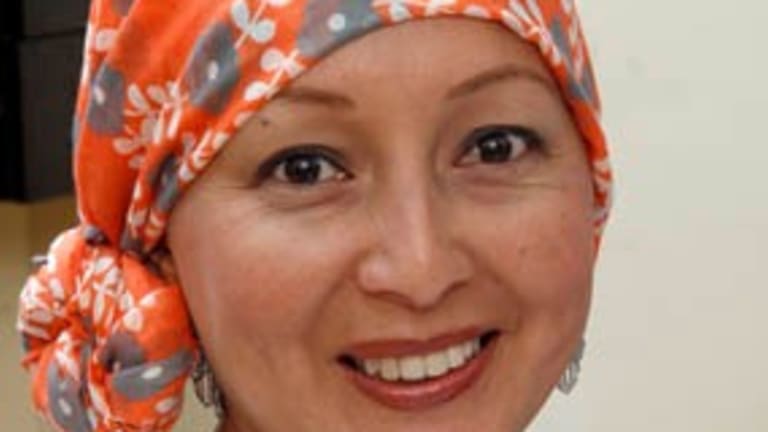 The Art of Stylish Head Coverings
Hats, scarves, turbans, and hairpieces can help you create an individual style.
Hair loss is a common side effect of cancer treatment, and many women opt to wear wigs; however, scarves and turbans offer a creative, inexpensive, and comfortable alternative for those who want to try something different. They also provide a quick beauty fix when time is an issue, and they can be styled to offer options for everyday looks and special occasions.
Benefits of Scarves and Turbans
Scarves offer tremendous versatility in color and style.
They are made from many different types of materials (silk, cotton, polyester, or wool), so they can be worn regardless of the weather or season.
Scarves and turbans offer protection and warmth to your scalp while sleeping.
Tips for Wearing Scarves and Turbans
Wear a terry cloth turban or shoulder pad with Velcro underneath a scarf to give the illusion of fullness beneath the head wrap. This also helps prevent the scarf from slipping off.
Choose a color that will flatter your skin tone.
Experiment with attaching bangs and hairpieces to add a realistic look.
Accent with pins, earrings, scarf twists, or hair clips.
Mix and match contrasting prints and colors by using more than one scarf.
Make it a fashion statement!
What is Medicare Advantage
Medical Advantage or MA plan is a health plan provided by a private organization that partners with Medicare to offer healthcare services with their Medicare Parts A and B privileges.
Hairpieces
Hairpieces come in a variety of styles and colors and can be worn comfortably under a scarf, turban, or hat for a chic, sporty, or classic look. Add a halo of hair around your face that fits over the crown of your head and also has Velcro strips in the front and the back for added security. Another style option is to add bangs secured with Velcro strips under hats, scarves, and turbans. _
Hats
Hats are always going to be in style, whether it's a sporty baseball cap or a sassy beret. Some hats are sold with hairpieces already attached and can be found at hair salons and wig stores. Try a different combination of hat styles for a uniquely individual look. If you plan to wear a hat over your wig, buy a size or two larger than you would normally wear. Complement a basic head wrap by adding a trendy hat.
Have some fun, experiment, and be creative with different looks and combinations of styles. For more information about creative hair alternative ideas, visit the Beauty Guide "New Hair Looks" section of the Look Good Feel Better website at lookgoodfeelbetter.org.