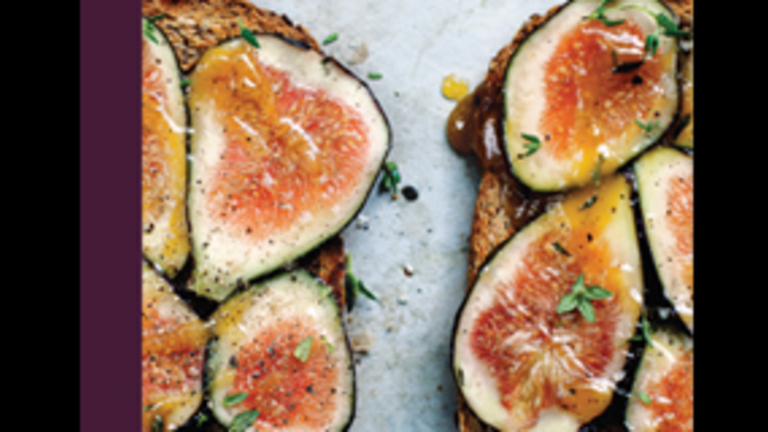 Seven Spoons: Cookbook Review and Recipes
An inventive cookbook by Tara O'Brady offers recipes that reach and reflect.
It is easy to get stuck in a dinner rut. At our house the weekly rotation can become a repetitive cycle of nightly riffs on burritos, pasta, and salad, which, while basically accept­able and nutritious, gets old. Really old. So when I saw the gorgeous photos and imagi­native recipes that fill Tara O'Brady's cook­book, Seven Spoons: My Favorite Recipes for Any and Every Day (Ten Speed Press, 2015; $27.50), it seemed just the thing to stretch my culinary ambitions and help me deliver something a bit more tasty to the table.
O'Brady originally began sharing rec­ipes via her blog, Seven Spoons, which she started in 2005 about a year into culi­nary exploration in the first apartment she shared with her now husband, Sean. In the 10 years since, the couple has moved twice and had two sons, but cooking has stayed at the center of life.
In fact, cooking—and the next meal— were often the focus of family life as she grew up in Canada, the daughter of parents who loved to cook and entertain and influ­enced by her Indian heritage, her Italian neighbors, and a host of other delicious fac­tors. When she met Sean, his English and Irish roots were added to the mix.
The recipes in Seven Spoons reflect all of these influences: the pages are filled with everything from whole-wheat peanut butter cookies to fresh green chutney to a description of a traditional English plough­man's lunch. Throughout the reader is of­fered stories of the role of various dishes in O'Brady's personal history and also a clear, thorough explanation of ingredients and techniques. The photos, which are O'Brady's own, are beautiful and inspiring.
It can be intimidating for home cooks to venture into new culinary waters; O'Brady offers up recipes rich with wide-ranging, in­ventive flavors and ingredients in a soulful, accessible way that places these dishes firm­ly in the realm of the family kitchen.
—Diana Price
Recipes
Five-Spice Steak
Serves 4 to 6
This might smoke up the kitchen, but it is worth it. The five-spice powder is fused to the steak with the blistering heat of the pan, making for a raspy, sizzling crust. It is finished with a quick, flavor­some sauce of herbs, chiles, and rice vinegar, rounded out by toast­ed sesame oil. The anointing works like a late-addition marinade, not only dressing the meat but also seeming to keep it incredibly soft and tender.
1 bone-in rib steak, 2 inches (5 centimeter [cm]) thick, weighing approximately 1½ pounds (680 grams [g])
1½ teaspoons Chinese five-spice powder

1 teaspoon medium-grain kosher salt

½ teaspoon freshly cracked black pepper

2 teaspoons toasted sesame oil

1 clove garlic, minced

1-inch (2.5 cm) piece of fresh ginger, peeled and minced

1 small red chile, stemmed, seeded, and minced

1 tablespoon unseasoned rice vinegar

2 teaspoons tamari

1 teaspoon natural cane or light brown sugar

3 green onions, white and light green parts only, minced

2 large handfuls of cilantro, leaves and tender stems, chopped
Season the steak all over with the five-spice powder, salt, and pep­per. Dab on the sesame oil with a brush.
Place a large cast-iron pan over medium-high heat. Once the pan is good and hot, lay in the steak. Let it cook, undisturbed, for 2 to 3 minutes, then check for even color and move it around if necessary. Keep shuffling until well browned, 2 to 3 minutes more. Flip the steak and continue to cook until the second side is equally charred and cooked to your liking. (An instant-read thermometer inserted in the thickest part, without touching bone, should read 120°F [50°C] for medium-rare and will take approximately 3 to 5 minutes after flipping to the second side.) Set the steak aside and reduce the heat to medium-low.
Add the garlic, ginger, and chile to the skillet and cook, stirring, for 1 minute. Stir together the rice vinegar, tamari, and sugar, then pour it into the pan, scraping up any browned bits and allowing the liquids to reduce, about 1 minute. Scrape the sauce into a small bowl with half the green onions and half the cilantro.
Present the steak whole at the table, or slice across the grain and arrange on a platter. With either presentation, pour some of the sauce over the meat and shower with the reserved green onion and cilantro. Offer the rest of the sauce alongside.
Roasted Carrots with Harissa Aïoli and Dukkah
Serves 4
The harissa-twirled aïoli that accompa­nies the carrots has heat and complexity, but with a blend of milder oils it is not a bodacious personality on the plate. In fact, it plays quite nicely with the mellow sweetness of honey-roasted carrots, especially when those carrots are finished with the mix of nuts and earthy spices that make up the Egyptian spice blend called dukkah.
Mayonnaise, which aïoli basically is, can be prepared in a blender or food proces­sor; however, with those methods the resulting texture is denser than when done by hand. This recipe uses a whisk, but if you'd like the challenge, feel free to use a mortar and pestle. Aïoli is best the day it is made, and I like to keep it out of the refrigerator, so it is advisable to make the mayonnaise while the carrots roast and not much earlier.
A good-quality store-bought mayonnaise can always be used as the base for the aïoli, especially if there is a concern over using raw egg yolks. Simply stir the garlic, lemon juice, and harissa into ¾ cup (180 g) of the prepared stuff.
Dukkah
3 tablespoons whole hazelnuts, skin on

1 tablespoon sesame seeds, white or black, or a mix

2 teaspoons coriander seeds

1 teaspoon cumin seeds

Fine-grain sea salt and freshly cracked black pepper

12 skinny carrots, trimmed of their tops and scrubbed clean

Extravirgin olive oil

2 teaspoons honey
¾ cup (180 g) Harissa Aïoli (recipe follows)
To make the dukkah, preheat an oven to 400°F (200°C) with a rack in the upper third of the oven.
In a small skillet over medium heat, toast the hazelnuts until lightly golden and aromatic, shaking the pan often, about 2 minutes. Transfer the nuts to a small bowl and set aside. Repeat the process with the sesame seeds, coriander seeds, and cumin seeds, toasting each sepa­rately, then adding to the bowl with the hazelnuts. Let cool completely.
What is Medicare Advantage
Medical Advantage or MA plan is a health plan provided by a private organization that partners with Medicare to offer healthcare services with their Medicare Parts A and B privileges.
In a mortar with pestle or in a small food processor, process the spices and nuts into an unevenly textured mix. Season generously with salt and pepper.
On a sheet pan, toss the carrots with a light coating of the olive oil and honey, then season with salt and pepper. Roast the carrots, turning once, until browned and tender, 15 to 20 minutes. Arrange the carrots on a serving platter and sprin­kle with as much dukkah as you'd like. Pass the aïoli at the table.
Note: The dukkah can be made ahead and stored in an airtight container at room temperature for 3 days.
Harissa Aïoli
Makes about ¾ cup (180 g)
2 cloves garlic, peeled, halved, and any green germ removed

Fine-grain sea salt

1 fresh egg yolk

¼ cup (60 milliliters [ml]) mild extravirgin olive oil or neutral-tasting oil

¼ cup (60 ml) peppery extravirgin olive oil

Juice of one-half lemon

Freshly cracked black pepper

2 teaspoons harissa (recipe above)
Twist a damp kitchen towel into a rope and shape it into a ring on a work surface.
Place a stainless-steel bowl into the center so that the towel can anchor the bowl as you whisk. In the bowl, sprinkle the garlic with a pinch of salt, then crush the two into a paste with a pestle or fork. Remove half the garlic and set aside.
Stir the egg yolk into the remaining garlic, then add a few drops of the mild olive oil, whisking constantly. Continue to whisk, slowly dripping in oil, until the mayon­naise begins to thicken. At this stage you can start to incorporate the oil in a thin, steady stream, still whisking all the while. You may need to stop adding the oil every so often, then whisk vigorously to thicken the emulsion, then resume with the oil. Once the mild olive oil is fully blended in, whisk in the more rugged one. Stir in the lemon juice and thin the mayonnaise with water, if necessary, to achieve the desired consistency. Check for seasoning, adding salt and pepper and the reserved garlic as needed. Then fold in the harissa paste. Cover and leave at cool room temperature for 30 minutes before using, or refrigerate for up to 2 days.
Chia Pudding with Fruit and Golden Honey Elixir
Serves 2
This pudding takes advantage of how chia seeds can gel a liquid because of their soluble fiber; it is a bit creamy, with an understated vanilla note. I put up a batch in the evening, and it is ready for me come breakfast. I serve it with fruit, seeds and nuts, and sometimes toasted oats, but truly the star of this recipe is the turmeric-infused honey I pour over the top—somewhat cheekily chris­tened Golden Honey Elixir.
Turmeric root, unmistakably ochre and persuasively astringent, is often used in Ayurvedic medicine for its an­tibacterial, anti-inflammatory, antioxidant, and antisep­tic properties. It is believed to help with brain function, digestion, and heart disease. For the elixir it is combined with honey, apple cider vinegar, and ginger—all healing and preventive powerhouses on their own. The idea behind this potent slurry comes from two sources: the turmeric paste prescribed for myriad ailments in alterna­tive medicines, and Golden Milk, a traditional restorative sip made with milk, ginger, and turmeric.
Even if you don't go to the trouble of making the chia pudding, do try the elixir, which works perfectly well as a topping for yogurt, as a drink (stirred into hot, not boiling, water, or gently heated and stirred into milk), as the base for salad dressings (especially ones with root vegetables), in smoothies, and even on vanilla ice cream.
Chia Pudding
¼ cup (60 ml) Greek-style plain or vanilla yogurt

2 to 3 tablespoons chia seeds, depending on desired firmness

¾ cup (180 ml) unsweetened milk (dairy or nondairy both work)

1 tablespoon agave nectar or honey

Generous ½ teaspoon vanilla extract or vanilla bean paste

Fine-grain sea salt
Serving Options
1 cup (240 ml) Greek-style plain or vanilla yogurt
2 to 4 tablespoons Golden Honey Elixir (recipe follows)
Pinch of fine-grain sea salt
Fresh fruit, such as sliced peaches, sliced strawberries, or red currants
Chopped nuts, such as pistachios or almonds
To make the pudding, in a bowl whisk together the yogurt and chia seeds until smooth. Slowly add the milk, followed by the sweetener, vanilla, and a pinch of salt, stirring all the while. Cover and refrigerate overnight. Stir again before serving.
When ready to serve, stir the pudding, then fold in the 1 cup (240 ml) yogurt once or twice. Drizzle the Golden Honey Elixir and salt on top, then fold once more. Divide between plates, along with your toppings of choice. Eat straight away.
Note: Chia pudding made with whole seeds has a texture similar to that of tapioca pudding—that is to say, gelatinous spheres suspended in weighty liquid. Use ground chia for a smoother consistency, if desired.
If you happen to have frozen raspberries, they are a pretty spectacular addition. Bash them in a sealed storage bag with the bottom of a sturdy glass so that they're in bits but not pulver­ized. The icy nubs burst like pomegranate seeds when eaten and streak the yogurt with fuchsia ripples.
Golden Honey Elixir
Makes about 1 cup (240 ml)
¾ cup (180 ml) honey, preferably raw

3 tablespoons grated fresh ginger

2 tablespoons apple cider vinegar, preferably raw and unfiltered

Zest of 1 lemon

1 tablespoon plus 1 teaspoon ground turmeric

About ⅛ teaspoon freshly cracked black pepper
Stir all the ingredients together in a jar until smooth. Let stand for at least 30 minutes before using, or cover and refrigerate. Use within 1 week.
Reprinted with permission fromSeven Spoons: My Favorite Recipes for Any and Every Dayby Tara O'Brady, copyright © 2015. Published by Ten Speed Press, a division of Penguin Random House, Inc. Photography © 2015 by Tara O'Brady.