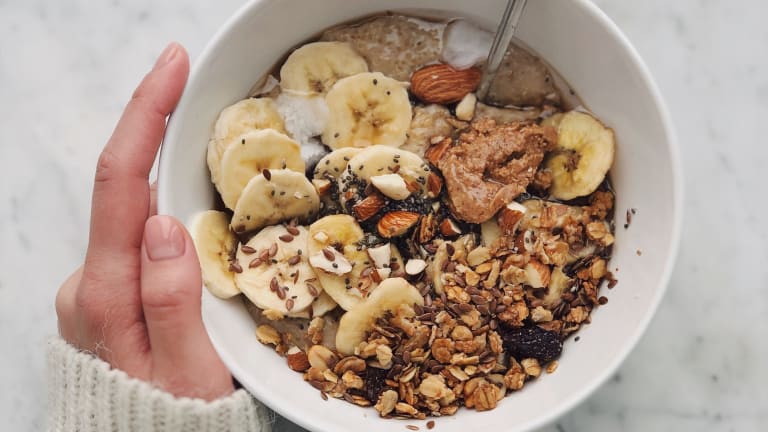 Low-Fat Diet Significantly Reduced Risk of Death After Breast Cancer
Dr Rowan Chlebowski from City of Hope reviews new study on the impact of a low fat diet and survival from breast cancer.
by MedMaven Updated 10/2022
People who consume a low-fat diet can experience various health benefits such as a reduced risk of developing heart disease and becoming obese. And the results of a new study suggest that women who consume a low-fat diet have both a reduced risk of developing breast cancer and are more likely to survive after they overcome breast cancer.1
Led by City of Hope, my colleagues and I analyzed data from the Women's Health Initiative, which featured a cancer prevention clinical trial. For the trial, 48,835 postmenopausal women, ages 50 to 79, were randomly assigned to a low-fat diet. About 19,600 women were part of the low-fat diet group, and a nutritionist instructed them on how to reduce their fat intake to 20 percent of their daily calories, as well as eat more fruits, vegetables and grains. In the other group, approximately 29,300 women learned about good nutrition and a healthy diet but they did not have to change their eating habits.
Women on the low-fat diet continued it for 8.5 years; they also continued to have contact with a nutritionist. The study's results are now being reported after nearly 18 years of follow-up.
The low-fat diet worked on various fronts. First, the dietary intervention was successful in significantly reducing dietary fat intake; there was an average reduction in weight of about 5 pounds.
Second, of the 48,835 patients enrolled in the study, 3,061 developed invasive breast cancer during an average of 11.4 years of follow-up. However, compared to women with stable weight, those who lost weight (greater than 5 percent weight change) were 12 percent less likely to develop breast cancer following multivariable analysis.
Third, women randomly assigned to a low-fat diet also had a significantly reduced risk of death after surviving breast cancer. For the women with breast cancer, the low-fat eating plan decreased their risk of death by 22 percent. Furthermore, 82 percent of those women were alive 10 years after diagnosis compared to 78 percent of the women who were in the normal diet comparison group.
Weight loss of greater than 15 percent was associated with a 37 percent reduction in breast cancer risk. In other words, the more weight a woman lost, the more likely she was to avoid developing breast cancer. Women who were obese and had lost some of the weight as part of the diet also diminished their risk of death after breast cancer.
Now, we think, and are conducting additional analyses to confirm: 1) a woman's body responds to obesity with an inflammatory reaction; part of that reaction can stimulate breast cancer growth, 2) a low-fat diet reduces estrogen levels and reduces insulin resistance, which can decrease breast cancer growth.
The takeaway message, perhaps especially for postmenopausal women with early stage breast cancer, is "moderation." Women in the intervention group reduced their dietary fat intake to about 25 percent of their calories (not a big change from an average intake of about 32 percent) and had a weight loss of about 5 pounds. It's clear that making moderate adjustments to your diet can have a huge impact.
Reference:
Rowan Chlebowski, M.D., Ph.D., is one of the most influential breast cancer researchers in the world. As a clinical breast oncologist with a Ph.D. in reproductive biology, he has a credentialed clinical and research interest in breast cancer therapy and prevention, menopausal hormone therapy influences on cancer and chronic disease, and lifestyle influences on breast cancer incidence and outcome. He is best known for studying breast cancer issues in the Women's Health Initiative (WHI). He has published widely and led reports in well-cited journals such as JAMA, New England Journal of Medicine, Lancet, Lancet Oncology, Journal of Clinical Oncology, Journal of the National Cancer Institute and JAMA Oncology.