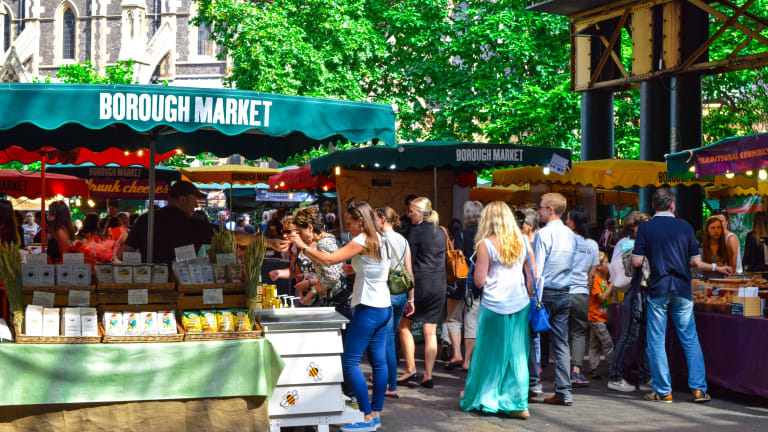 Know Before You Go: Farmers' Market 101
Planning to shop local for your produce this summer?
If so, learning a bit about your neighborhood vendors and the produce they sell can ensure that you find the quality you are looking for.
The number of farmers' markets across the country is growing, fueled by an increase in interest among consumers in buying local food and supporting a more sustainable food system. In fact, according to the US Department of Agriculture (USDA), "the number of farmers markets has grown by 67 percent since 2008; there are now more than 7,800 listed in USDA's National Farmers Market Directory."1
Many people who choose to shop at farmers' markets like to know that they are supporting their local community by helping provide local jobs and boost the economy. The environmental benefit is also important to farmers' market regulars: buying food that is grown locally rather than trucked into the area means a reduced carbon footprint and less packaging. And, of course, there is the quality and taste difference that many of us notice— those locally grown, vine-ripened tomatoes generally taste much better than the store-bought varieties, which are often picked when green and ripen as they are shipped across the country.
But it is not only where our food comes from and the environmental impact that draws consumers to buy their produce at local farmers' markets; it is the ability to learn how the food is produced and to choose foods that meet their personal standards. But buyer beware: not all markets are created equal, and buying food at a farmers' market does not guarantee quality or responsible production.
It is often assumed that all the food at farmers' markets is local, clean, and healthy, but, unfortunately, this is not always the case. Due to their popularity, farmers' markets are being co-opted by wholesalers, retailers, and farmers who may not be so committed to a local, sustainable food system. The result is a wide range of vendors and many different types of markets. In some cases, vendors may be reselling produce supplied by wholesalers (including produce from other countries). If you are committed to buying from local farmers, ask the market manager or coordinator whether it is a "producers only" market, which means vendors are local farmers selling food that they have produced. Many markets include a mix of local and other vendors.
Also be aware that "local" does not automatically mean organic. Small farms are just as capable of using chemicals in their production of food as are large commercial growers. If buying organic is important to you, ask if the produce is USDA certified organic, or ask the farmer about his or her practices. Terms like no spray and natural really do not mean much because there is no clear definition of such terms. That said, getting organic certification is a lengthy and expensive process, and some small growers may be producing food organically according to USDA standards but have not undergone the certification process. Long story short: ask questions to be sure you know what you are buying.
Developing relationships with the farmers themselves is one way to know what you are buying. Most local farmers are excited about their products and can tell you how they were produced and about their farm. They can also give you tips on how to use their produce, let you know what's coming next week, and will often give you a small price break or throw in an extra apple or two. Connecting with the vendors will make the experience of shopping locally more satisfying and productive.
More Market Know-How
Tips for making your trip to the farmers' market affordable and delicious
Arrive Early before the Crowds for the Best Choices—or come late if you can't stand a crowd or are looking for good deals. Often at the end of the day, a farmer will lower the price a bit or give you more for your money.
Scan the Market before Making Purchases to See What Is Plentiful, which items may be more expensive, and what looks most fresh and appealing. Once you have seen what's on offer and have done a quick price check, fill your basket!
Carry Cash and Small Bills to Make Transactions Quick and Easy. Don't be too aggressive about bargaining; remember, most farmers make a modest living, and the transaction needs to be beneficial to both of you. Think of it this way: you may pay a little more, but you really do get more—the freshest food, hopefully grown with sustainable growing practices, and the knowledge that you are supporting your local community and the environment.
Pay Attention to Season. If a vendor is selling strawberries in November, it is likely that the produce is not local, unless that farmer has a greenhouse. Knowing what is in season is very important in buying healthy local produce.
Be Flexible. The more common produce items may be more expensive at a farmers' market than at a neighborhood grocery store, but specialty items or more-seasonal items are often less expensive. Take a tip from professional chefs and base your shopping strategy on what is most fresh, least expensive, and in peak season.
Make Sure You Bring Strong Bags To Carry Your Purchases. The thin plastic bags often provided by vendors can tear easily and are hard to handle.
In Peak Summer Months, It May Be A Good Idea To Place A Cooler With An Ice Pack In Your Car to ensure that your produce gets home in the best possible shape. And don't plan to make a lot of extra stops on the way home—produce deteriorates quickly in the heat; it will not only spoil faster but can lose much of its nutrient content if not properly transported and stored.
Wash Your Produce As Soon As You Arrive Home. Beyond the obvious dirt from production, the produce has likely been handled by quite a few people. Make an effective cleaning solution in a spray bottle by combining 1 cup water, 1 tablespoon lemon juice, and 2 tablespoons white vinegar. A couple of sprays and a long rinse can help ensure that your produce is safe to eat. Remember, if you find a bug or two, it's a good thing— it means fewer pesticides were used!
Reference
Our Mission. US Department of Agriculture website. Available at: . Accessed April 13, 2015.
https://www.usda.gov/wps/portal/usda/usdahome?navid=KYF_MISSION
Paulette Lambert, RD, CDE, is director of nutrition for California Health & Longevity Institute, located within Four Seasons Hotel Westlake Village (chli.com). With more than 27 years of private practice after an extensive clinical education, Lambert has wide-ranging experience in clinical nutrition and the development of individualized dietary plans.