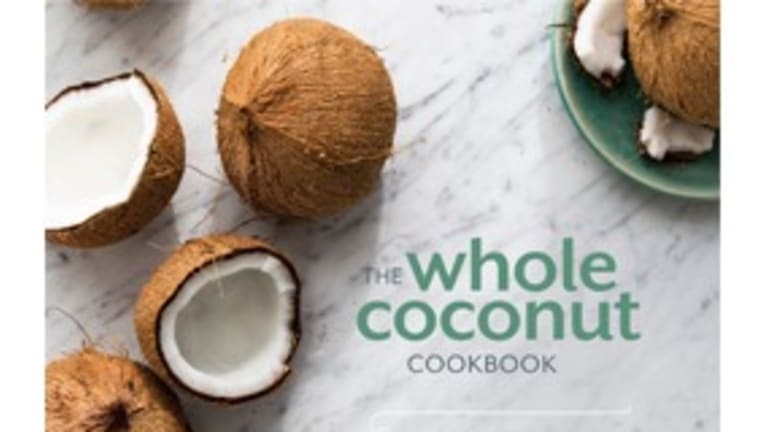 Cooking with Coconut
A new cookbook offers recipes and nutritional know-how to integrate this tropical superfood into your home cooking.
No longer limited to the novelty shelf in the produce section, coconut in myriad forms is popping up in every aisle in the grocery store: coconut oil, coconut butter, coconut yogurt, coconut milk, and coconut flour are just a few of the products you may have noticed. Now, a new cookbook highlights the coconut and all its variety of uses and offers insight into the many health benefits of this tropical fruit.
In The Whole Coconut:Vibrant Dairy-Free, Gluten-Free Recipes Featuring Nature's Most Versatile Ingredient (Ten Speed Press, 2016; $16.99), natural foods chef and nutrition educator Nathalie Fraise describes the role of the fruit in the transformation of her own diet and her road to wellness and offers creative, delicious recipes that reflect the vast array of the coconut's uses and health benefits. The book provides valuable insight into both the nutritional value of the coconut and the optimal uses of the various products we see today, creating a great resource for home cooks.
The Whole Coconut:RECIPES
CHICKEN VEGETABLE THAI RED CURRY BOWL
​
When we think of coconut-based main dishes, we often think of curries, and for good reason. Creamy coconut milk blended with any type of curry blend yields a perfectly spiced and flavored sauce or soup that is difficult to resist. Kaffir lime leaves can be found in well stocked grocery stores or Asian grocers. To keep this dish vegetarian, replace the chicken with your vegetarian protein of choice, and replace the fish sauce with coconut aminos (though do be aware that fish sauce gives Thai dishes a unique taste that is difficult to replicate).
Ingredients
1 tablespoon coconut oil

½ yellow onion, diced
Sea salt2-inch piece fresh ginger, peeled and minced
2 cloves garlic, minced
3 ½ cups coconut milk

¼ cup red curry paste
¼ cup lime juice
½ lemongrass stalk, cut diagonally in 2 or 3 pieces and bruised with a mallet
2 kaffir lime leaves
2 tablespoons coconut aminos
1 tablespoon fish sauce
3 chicken breasts, cut into bite-size pieces

½ head cauliflower, cut into small pieces
½ head broccoli, cut into small pieces

2 large carrots, unpeeled, sliced into bite-size pieces
½ cup peas
¼ cup chopped cilantro, plus more for garnish
1/3 cup chopped basil, plus more for garnish

Cooked brown rice noodles or brown rice, to serve
SERVES 4 TO 6
Heat a large Dutch oven over medium-high heat. Melt the coconut oil, and add the onion and a pinch of seasalt. Cook, stirring often, until the onion is translucent, about 5 minutes. Add the ginger, garlic, coconut milk,curry paste, lime juice, lemongrass, and kaffir lime leaves. Bring to a boil, reduce the heat, cover, and simmeruntil thickened and reduced by one third, 12 to 15 minutes. Whisk in the coconut aminos and fish sauce.
Add the chicken, cauliflower, broccoli, and carrots. Cook until the chicken is cooked through but not dry and thevegetables are just tender but still brightly colored, 5 to 7 minutes. Turn off the heat. Add the peas, choppedcilantro, and chopped basil. Using tongs, fish out the lemongrass and kaffir lime leaves and discard. Taste andadd more coconut aminos or fish sauce if you'd like a saltier taste.
Serve immediately over the noodles or rice.
CREAMY VEGETARIAN POLENTA
​
Oh, my. This creamy polenta is so easy to make, and very, very addictive. It's pure comfort
food, and topped with sautéed vegetables and lentils, it makes a substantial and healthy meal.
Ingredients
3 cups coconut milk
What is Medicare Advantage
Medical Advantage or MA plan is a health plan provided by a private organization that partners with Medicare to offer healthcare services with their Medicare Parts A and B privileges.
2 cups vegetable broth, preferably homemade
Sea salt
1 cup polenta
2 tablespoons coconut butter
2 tablespoons nutritional yeast
Black pepper
2 tablespoons coconut oil
2 large leeks, white and light green parts, finely chopped
2 cloves garlic, minced
1 bunch asparagus, tough ends removed, chopped into 1-inch pieces
1 cup shelled green peas
2 cups chopped tomatoes
1 tablespoon lemon juice
1 cup cooked lentils

1/2 cup parsley, finely chopped, plus extra for garnish
2 tablespoons olive oil

SERVES 4 TO 6
In a large saucepan or Dutch oven, combine the coconut milk, broth, and 1 ½ teaspoons of sea salt. Bring to a boil over medium-high heat. Add the polenta, trickling it through your fingers into the liquid like rain and whisking vigorously the whole time. Reduce the heat to bring to a low simmer, and cook, uncovered, whisking vigorously several times so the polenta doesn't clump, until the polenta is soft, 45 to 55 minutes. Add the coconut butter, nutritional yeast, and black pepper to taste. Mix well.
While the polenta is cooking, heat a large sauté pan or wok on medium heat. Melt the coconut oil, then add the leeks and garlic with a pinch of sea salt. Cook, stirring often, until the leeks are soft but not browned, about 5 minutes. Add the asparagus and cook, stirring often, until bright green and still firm, about 3 minutes. Add the peas, tomatoes, lemon juice, lentils, and about 1 ½ teaspoon of sea salt (or to taste) and cook long enough to warm everything through, about 2 minutes. Stir in the parsley.
When the polenta is done, top it with the vegetables and lentils. Sprinkle with the extra parsley and drizzle with the olive oil. Serve immediately.
DATE AND ALMOND TRUFFLES
​
Although truffles are traditionally made out of chocolate, the word has come to accommodate any combination of ingredients that hold that characteristic round shape and size. In this recipe, almonds, dates, coconut oil, coconut sugar, and shredded coconut are combined to make a perfectly moist and flavorful treat without any refined sugars or processed ingredients. This is as healthy as a dessert can get! Soaking the almonds overnight helps to remove the phytic acid and anti-nutrients contained within them. Phytic acid binds to minerals in the body and prevents their absorption. Wet almonds will not work in this recipe, though, so if you choose to soak, you will also need to dehydrate them afterwards. You can do this in a dehydrator or your oven, on the lowest setting, for a couple hours (but the almonds will then no longer be raw). Rolling the truffles will leave your hands oily: once you are done, just rub the oil into your skin— coconut oil makes a great moisturizer!

Ingredients
1 cup raw almonds, soaked overnight then dehydrated
4 dates, pitted
3 tablespoons coconut oil
2 teaspoons coconut sugar
2 teaspoons vanilla extract
1/4 teaspoon sea salt
2 tablespoons shredded coconut
MAKES ABOUT 15
Place the almonds, dates, coconut oil, coconut sugar, vanilla, and sea salt in the bowl of a food processor. Process about 2 minutes, until you can pinch the mixture between your fingers and it holds together. If the mixture is still very loose after 2 minutes, add 1or 2 more pitted dates and process again. You can also add 1 teaspoon of water to help the mixture stick together.
Using about 1 tablespoon of mixture at a time, roll the truffle mixture into small balls between your hands. Put the shredded coconut in a small bowl and roll the truffles in the shredded coconut until well coated.
Serve immediately or store in an airtight container for later use. The truffles will keep, refrigerated, for 2 weeks.