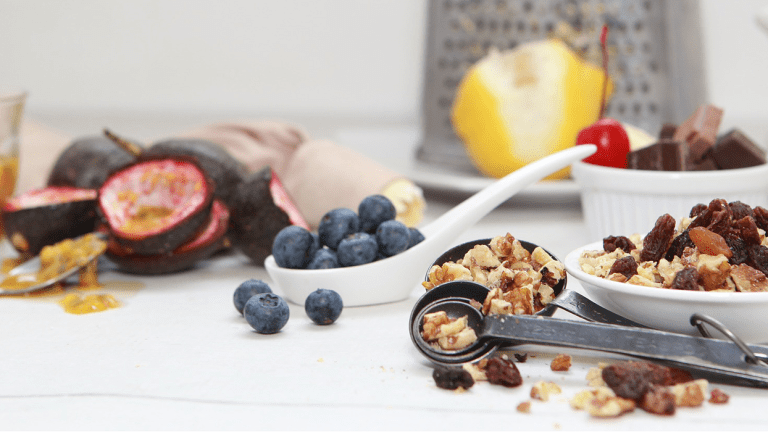 "B" Is for "Bone Health: Vitamin B Might Help Keep Your Bones Strong
Calcium-rich foods aren't the only thing you can eat to keep your bones strong.
Research suggests that vitamin B might also help you maintain bone health.
Over the years research has taught us that we can help keep our bones strong as we age with weight-bearing exercise and a diet rich in calcium along with vitamin D from sun exposure and diet. More recently, researchers have found that another dietary nutrient—vitamin B—might play an important role in keeping our bones strong. In fact, increasing evidence is linking low bone density, or osteoporosis, and increased risk of fracture with vitamin B deficiency.1
When researchers looked at the role of vitamin B in bone health, they found that several different types of vitamin B appeared to possibly help keep bones strong and protect against osteoporosis. The forms of vitamin B likely at work in this way were B2, B6, folate, and B12.2
Foods Rich in Vitamin B
In addition to potential benefits to bone health, vitamin B can help protect against a number of other health issues. These include anemia, fatigue, and mental health problems. With that in mind, there are plenty of good reasons to make sure you're getting enough vitamin B in your diet.
Consider making these vitamin B-rich foods a regular part of your meals:
For folate: fruits and vegetables, whole grains, beans, breakfast cereals, and fortified grains and grain products
For vitamin B6: fortified cereals, beans, poultry, fish, and some vegetables and fruits, especially dark leafy greens, papayas, oranges, and cantaloupe
For vitamin B12: animal products (such as fish, poultry, meat, eggs, or dairy), fortified breakfast cereals, and enriched soy or rice milk
Vitamin B Supplements
Talk with your doctor before you starting taking any type of vitamin B supplement. Potential side effects of vitamin B vary depending on the specific form of the vitamin and any medical conditions you may have. Risks include allergies, bad interactions with other medications, covering up serious medical conditions, or making a condition worse. Your doctor can determine which types of vitamin B supplement is right for you and how much you should take.
References:
Clarke M, Ward M, Strain JJ, et al. B-vitamins and bone in health and disease: the current evidence. Proc Nutr Soc. 2014 May;73(2):330-9. doi: 10.1017/S0029665114000044.
Dai Z, Koh WP. B-Vitamins and Bone Health—A Review of the Current Evidence. Nutrients. 2015 May 7;7(5):3322-3346.