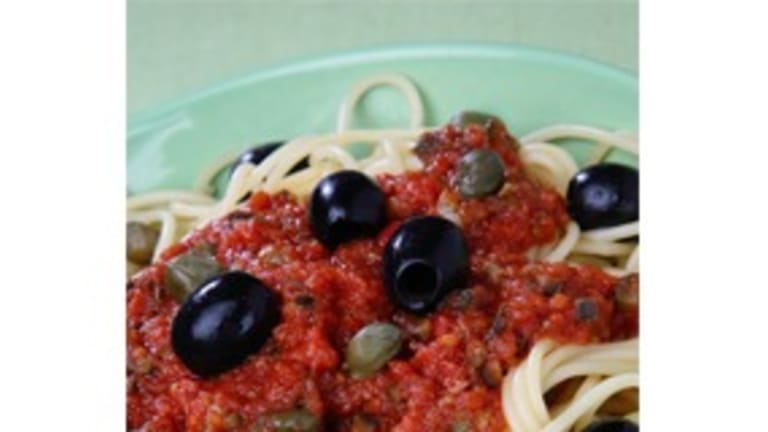 Angel Hair Pasta with Roasted Tomatoes, Olives and Capers
Angel Hair Pasta with Roasted Tomatoes, Olives and Capers
This easy-to-make pasta dish bursts with a wonderful sweet and savory flavor profile thanks to the sweet cherry tomatoes and salty olives and capers. Delicious and a perfect week-night dish for busy cooks.
Ingredients
8 ounces angel hair pasta
1 pound cherry tomatoes
½ tablespoon chopped garlic
1 tablespoon olive oil
½ cup chopped kalamata olives
2 tablespoons capers
2 tablespoons chopped parsley
Sea salt and pepper to taste
Directions
 Bring a large pot of water to a boil. Cook pasta until al dente.


 On a foil-lined baking sheet, toss tomatoes, olive oil, and garlic. Roast at 375 degrees for 15 minutes.


 Toss pasta, tomatoes, olives, capers, and parsley together.


 Season with salt and pepper. Serve warm.

Serves: 4
Calories per serving: 250
Calorie equivalents: 2 carbohydrate, 1 vegetable, 1 fat
Recipe courtesy California Health and Longevity Institute