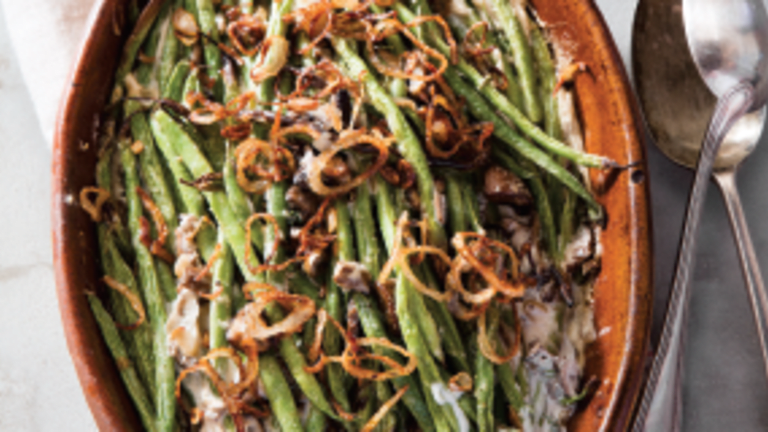 Against All Grain Celebrations: A Year of Gluten-Free, Dairy-Free, and Paleo
IBD forced Danielle Walker to re-create her favorite holiday foods and change her diet - Cooking with Crohn's and UC
When a diagnosis of an autoimmune disease forced her to change her diet, Danielle Walker chose to re-create her favorite holiday foods and build new culinary traditions for friends and family.
Danielle Walker grew up loving the festive foods that made holidays and gatherings special. She has memories of happy hours spent in the kitchen, preparing food and catching up with friends and family. So when she was diagnosed with ulcerative colitis, an autoimmune disease that affects the colon, and made the decision to adhere to a grain-free diet to seek relief from symptoms, the thought of how that change would affect how she engaged in the celebrations she had always loved was devastating.
As Danielle worked through her personal health and diet challenges, she started sharing her journey, first through a Facebook page and then through a blog—Against All Grain—where a thriving community was soon sharing their experiences and rallying around the creative recipes Danielle developed.
Recipe Blood Orange and Honey-Glazed Ham
I associate glazed ham with Easter after years of my family's ordering honey hams wrapped in gold tinfoil that we picked up from the local store. If your family usually enjoys ham on Thanksgiving or Christmas, this recipe will work wonderfully for those holidays, as well. My favorite part about a large glazed ham is using it for leftovers throughout the rest of the week, so this recipe intentionally yields more than 8 servings. (Yield: 12 servings)
Ingredients
8- to 10-pound bone-in, skin-on smoked uncured ham
Sea salt and freshly ground black pepper
½ cup ghee, grass-fed unsalted butter, or coconut oil
Juice and finely grated zest of 3 blood oranges
½ cup light-colored raw honey
¼ cup whole-grain mustard
8 fresh sage leaves
¼ teaspoon ground cloves
¼ teaspoon ground cinnamon
2 pounds baby carrots, cleaned and trimmed
1 blood orange, sliced, for garnish (optional)
Preheat oven to 300°. Using a sharp knife, score the skin and fat of the ham in a 2-inch diamond pattern. Place the ham fat side up on a roasting rack in a roasting pan. Season the meat generously with salt and pepper. Bake the ham for 1½ hours.
Meanwhile make the glaze: Combine the ghee, orange juice, orange zest, honey, mustard, sage, cloves, and cinnamon in a small saucepan. Simmer for 30 minutes or until the mixture has thickened into a syrup.
Increase the oven temperature to 350° and remove the roasting pan. Season the carrots with salt and pepper and scatter them around the bottom of the roasting pan. Baste the ham with the glaze and return the pan to the oven. Bake for another 30 minutes, basting occasionally, until a meat thermometer inserted into the center of the ham reads 135° and the carrots are tender.
Transfer the ham to a cutting board, cover, and let rest for 20 minutes before carving. Serve the carrots on the side and place slices of blood orange decoratively around the platter for garnish.
Make it Ahead
You can make the glaze three days in advance and store it in an airtight container in the refrigerator. Reheat the glaze in a saucepan over low heat. Season the ham and place it in the roasting pan, covered with plastic wrap, in the refrigerator the night before. Clean and trim the carrots up to two days in advance and store them in a bowl of water, tightly covered, in the refrigerator. Alternatively, bake and slice the ham the morning of the brunch and spoon the juices onto the bottom of a platter. Arrange the ham and carrots on top, then cover and leave at room temperature for up to two hours. Reheat in a low oven just prior to serving.
​
She published her first cookbook, Against All Grain: Delectable Paleo Recipes to Eat Well and Feel Great in 2013. Her second, Danielle Walker's Against All Grain: Meals Made Simple: Gluten-Free, Dairy-Free, and Paleo Recipes to Make Anytime , followed in 2014.
Danielle has now released a third cookbook, Danielle Walker's Against All Grain Celebrations: A Year of Gluten-Free, Dairy-Free, and Paleo Recipes for Every Occasion, focusing on the foods associated with holiday traditions and special days throughout the year, the foods that become part of the fabric of our most treasured memories.
Here, Danielle shares the inspiration behind Celebrations along with some of her personal experiences, highlighting her passion for infusing joy and creativity into recipes that meet the dietary needs of not only those following a grain-free diet but also anyone interested in healthful, delicious foods to mark a special occasion.
Q: What inspired your new book,Celebrations?
A: When I began my own journey, I experienced a definite sense of loss, a grief that came from living with a restricted diet and worrying that I wouldn't be able to enjoy celebrations and traditions in the same way. As I built my community, I heard the same thing from others who were sharing their experiences.
Holidays are especially emotional for many of us who face dietary restrictions because they are so tied to really specific food memories: Thanksgiving means green bean casserole and biscuits and stuffing; Christmas means making gingerbread houses and passing around fudge. You have the fear that if you can't eat those foods, you'll be losing a lot of your special holiday traditions.
There was a real need expressed among members of the community for revised versions of those favorite celebratory recipes—not only so they could enjoy the foods themselves but also so they could host family and friends and serve delicious versions of those dishes that everyone would love.
The book is also a great resource for hosts who themselves aren't gluten- free but are cooking for guests who are. Anyone can pick up the book and cook things that everyone can enjoy—without needing to make two different recipes.
Q:Each recipe in the book Includes insights into your personal holiday traditions and family memories, so all are clearly very meaningful, but do you have a few favorites that you feel especially excited to share?
A: I am really happy to include the recipes for several different flavors of birthday cake and frosting. I hear from people so often that their kids' birthday parties are a big point of anxiety because they're hosting other kids, and their own child doesn't want to feel different or left out because of a dietary restriction. I wanted to offer a lot of options—to mix and match—because all kids have their favorites. Those cakes were a labor of love for me, and I imagine so many children and adults enjoying them on their special day, so that's really meaningful to me.
Just recently I made a chocolate- chocolate cake for my son's sixth birthday. We had 18 kids here, and I was actually nervous about how the cake would go over; six-year-olds are pretty opinionated, and they're generally used to eating cakes made from regular sugar and wheat flour. I almost got store-bought cupcakes, but then I thought, No, I'm going to make this cake! The end result: all the kids devoured my cake. That was so great to see—and such great validation for the cookbook. I love knowing that people will be able to use these recipes and that everyone—not just those of us with dietary restrictions—will love them.
Q:Celebrationsis your third cookbook, and your against all grain community continues to thrive. what does this community mean to you?
A: The community has been the catalyst behind all three of my books. The blog has been an incredible place to share my story, and I am so happy to be able to provide a place for people to connect with me and with others facing similar challenges, to find support and information. I continue to focus a lot of attention and energy on the online community because I remember being in that place of feeling I had nobody to turn to; I had so many questions.
Seeing the impact of the community and the cookbooks on people's lives keeps me inspired and keeps me doing what I'm doing. It's such a gift to continue to hear from people who are feeling positive changes in their wellness and their family life as a result of the recipes and support.
Q:Do you have any tips or insight for someone who might be facing health challenges, as you did, and just starting the transition to a grain-free diet?
A: There's no question that it's tough at the beginning to deal with it all. I think especially for people who have a serious diagnosis that is "incurable," you're looking ahead at your life and a disease that you will live with forever, which is incredibly hard.
I think finding like-minded people who can offer encouragement and information is huge, especially at the beginning. If you're having a challenging day, seek out support, whether online or from someone you know who has been there.
I also tell people, as hard as it sounds, that the best thing to do is dive in to this transition full on. Clear out your pantry—put it in boxes in the garage if you're not sure you can commit—and restock with ingredients that will be good for you. And give it a good, solid 30 days; give it a 100 percent try to see any real results. If you dabble, you won't see any real improvement. I hate to say that because people want to inch in slowly, but the best thing you can do is go full force. If after 30 days you don't see improvement, look into other options.
What is Medicare Advantage
Medical Advantage or MA plan is a health plan provided by a private organization that partners with Medicare to offer healthcare services with their Medicare Parts A and B privileges.
Recipes
Green Bean Casserole with Crispy Shallots
Thanksgiving just doesn't feel the same without this creamy casserole, so I have re-created it Against All Grain–style, without the heavy cream, monosodium glutamate (MSG), or gluten. I could eat the mushroom sauce in this dish by the spoonful.
Yield: 10 to 12 servings
1 cup (about 150 grams) whole raw cashews
2 tablespoons ghee or extravirgin olive oil
8 ounces cremini mushrooms, halved
1 shallot, peeled and chopped
1 clove garlic, crushed
2 tablespoons sherry (optional)
1 cup water
1¾ cups chicken stock
1½ teaspoons fine sea salt
½ teaspoon freshly ground black pepper
1 teaspoon fresh thyme leaves
2 pounds haricots verts (thin green beans), ends trimmed
Topping
½ cup palm shortening, bacon fat, or ghee, for frying
2 shallots, peeled and thinly sliced into rings
Place the cashews in a bowl and cover them with boiling water. Soak for 1 hour.
Meanwhile heat the ghee in a skillet over medium heat. Add the mushrooms, shallot, and garlic and sauté for 10 minutes or until the mushrooms and shallot have softened. Pour in the sherry and simmer for 5 minutes to reduce the liquid.
Drain and rinse the cashews, transfer them to a blender, add the water, and blend until very smooth.
Add the mushroom mix, half the stock, and the salt, pepper, and thyme to the blender and pulse a few times until the mushrooms are bite sized. Pour the mixture into a bowl and stir in the remaining stock. Set aside to cool for 15 minutes.
Preheat oven to 350°. Combine the mushroom mixture with the haricots verts and spoon into a casserole dish. Bake, covered, for 30 minutes, until the beans are tender and the sauce is bubbling. Uncover and bake for 15 minutes more.
Meanwhile, to make the topping, heat the palm shortening in a small, deep saucepan over medium-high heat. Working in batches, panfry the shallots for about 5 minutes, until golden brown. Drain and cool in a single layer on a plate lined with paper towels.
Top the casserole with the crispy shallots and serve warm.
Make It Ahead
Because this dish involves a few steps, it's helpful to do it in stages ahead of time. Make the sauce up to three days in advance and store in an airtight container in the refrigerator. Trim the haricots verts and store in a bowl of water, tightly covered, in the refrigerator for up to five days. Prepare the assembled casserole up to two days in advance, cover, and store in the refrigerator. Bring to room temperature, then bake as directed.
Persimmon Prosciutto Salad
Persimmons and a pomegranate vinaigrette give this salad festive color and flavor. I especially love the crunch from the pomegranate seeds and pumpkin seeds.
Yield: 10 servings
6 ounces thinly sliced prosciutto, cut into ribbons
4 bunches watercress, thick stems trimmed
3 Fuyu persimmons, pitted and sliced
½ cup pomegranate seeds
½ cup roasted pepitas (shelled pumpkin seeds)
Dressing
½ cup extravirgin olive oil
⅓ cup pure pomegranate juice
⅓ cup white wine vinegar
2 teaspoons light-colored raw honey
1 teaspoon Dijon mustard
Fine sea salt and freshly ground black pepper
Divide the prosciutto, watercress, persimmons, pomegranate seeds, and pepitas among 10 plates, or combine all the ingredients in a salad bowl and toss to combine.
To make the dressing, whisk together the olive oil, pomegranate juice, vinegar, honey, and mustard and season with salt and pepper. Drizzle 1 tablespoon of the dressing over each salad, or add ½ cup of the dressing to the salad bowl and toss to coat. Serve immediately with the extra dressing on the side.
Reprinted with permission from Danielle Walker's Against All Grain Celebrations: A Year of Gluten-Free, Dairy-Free, and Paleo Recipes for Every Occasion by Danielle Walker, copyright © 2016. Published by Ten Speed Press, an imprint of Penguin Random House LLC. Photography by Erin Kunkel © 2016
Tidbits
Pure pomegranate juice can be found in most grocery stores, or you can put 1 cup of pomegranate seeds in a citrus juicer and squeeze it over a bowl to extract the juice.
"Reprinted with permission from Danielle Walker's Against All Grain Celebrations: A Year of Gluten-Free, Dairy-Free, and Paleo Recipes for Every Occasion by Danielle Walker, copyright © 2016. Published by Ten Speed Press, an imprint of Penguin Random House LLC."
Photography credit: Erin Kunkel © 2016
Danielle Walker's book is available for sale here.