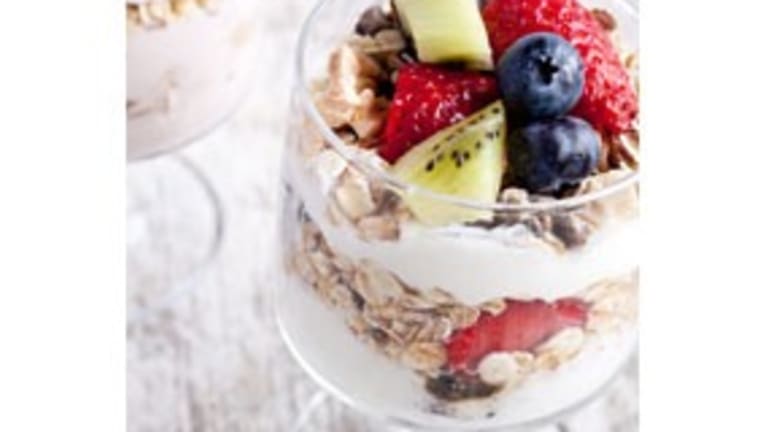 A Better Breakfast
You've heard it a million times: Start your day off right with a nutritious breakfast.
​
​
Your mama told you; doctors and dietitians agree.
"Skipping breakfast, or making it carb- or sugar-heavy, sets you up for cravings and crashes and low energy later on," says Mary Purdy, a registered dietitian nutritionist at Bastyr Center for Natural Health in Seattle
A healthy breakfast can help keep your weight in check. You're more likely to get all the vitamins and minerals your body needs when you have breakfast. And breakfast can help you stay alert and energized throughout the day.
But the typical American breakfast is anything but healthy, notes Kerry Strom, a registered dietitian in Baltimore. She cites IHOP's popular "Breakfast Sampler" — a plate of eggs, bacon, sausages, ham, pancakes, and hash browns[1] as an example. The dish contains nearly 1,200 calories, 23 grams of saturated fat, and 3120 mgs of sodium[2] — well over half of the recommended daily calorie intake, nearly twice the recommended daily limit of saturated fat[3], and more than double the daily sodium limits[4], according to the American Heart Association.
Are you more the grab-and-go type who munches on a muffin while heading to work?
Beware: Breakfast pastries are loaded with sugar and fat — and low on nutrition. "Refined grains and sugars — such as scones, bagels, and sweet muffins — cause a rise in blood sugar and can create an inflammatory environment in our bodies," Purdy says.
So what should you be eating instead? Your morning meal should provide you with complex carbs, fiber, protein, and a small amount of fat, according to the Mayo Clinic.[5]
What is Medicare Advantage
Medical Advantage or MA plan is a health plan provided by a private organization that partners with Medicare to offer healthcare services with their Medicare Parts A and B privileges.
Does that sound as dreary as dry toast? Fear not. You can still eat the foods you love. Just tweak them to include more healthy fats, fiber, and fruits, while cutting back on saturated fat and simple white carbs. The below chart will show you how to swap that coronary-causing breakfast with a satisfying breakfast that's heart-smart and delicious.
Building a Better Breakfast

Breakfast need not be elaborate or time consuming to have a positive effect on your day. Studies show that consuming a high-fiber, low glycemic breakfast results in better concentration throughout the day. On the contrary, a high glycemic breakfast, such as a pastry, can have disastrous results on your mood and energy.

A healthy breakfast should have some fiber and some protein to provide you with the boost you need to start your day. Don't be afraid to think outside the box—eat whatever you like, not just designated "breakfast" foods. Sugary cereals are out and protein is in. Get creative and find the fuel that works for you. Below a few suggestions for building a breakfast that works:

Optimal Oatmeal: Combine oatmeal, sliced fruit, nuts, and a dash of real maple syrup. Add a splash of almond milk and you have a delicious bowl full of nutrients. Slow cooked oatmeal is healthier than its instant counterpart, which is loaded with sugar. If you don't have time to stand over the stove and stir all morning, consider throwing steel cut oats, water, and a dash of cinnamon into the crockpot before bed. You'll awake to the delicious aroma of breakfast.

Dinner for Breakfast: We've been trained to think breakfast has to be sweet and starchy, but that's not the case. A slice of turkey on whole-grain toast with a side of carrots is an excellent, well-balanced breakfast that is sure to energize you.

Eggs on the Go: Eggs are a wonderful source of protein and energy. If you don't have time to whip up an omelet in the morning, try hard-boiled eggs. Make a batch at the beginning of the week. This is an excellent grab-and-go breakfast for those people who think they don't have time for breakfast. Grab an egg and a banana and you can still dash out the door.

Smoothies: Smoothies are a great way of packing endless nutrients into one glass. For those who don't like to eat in the morning, a smoothie can be a good compromise. Your imagination is the only limit when it comes to creating a healthy smoothie.
​
[1] Breakfast Sampler. IHOP website. Available at . Accessed March 19, 2015.
[2] IHOP Nutrition Information. Available at . Accessed March 19, 2015.
[3] Saturated Fats. American Heart Association website. Available at . Accessed March 19, 2015
[4] Frequently Asked Questions (FAQs) About Sodium. American Heart Association website. Available at . Accessed March 19, 2015.
[5] Healthy Breakfast: Quick flexible options. Mayo Clinic website. Available at . Accessed March 19, 2015.