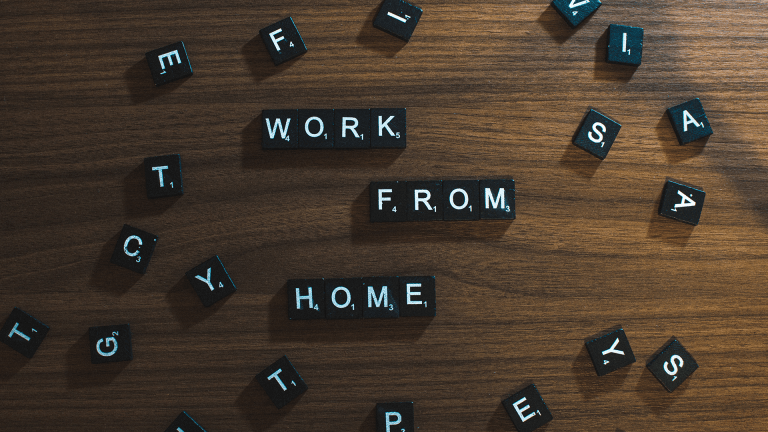 Working at Home for the Long Term? Look to Your Health.
Working remotely from home? Here's what you need to know to ensure your overall well-being.
by Diana Price 2/2021
Ali Golden's morning routine looks similar to that of many working mothers: Up at 5 a.m. most mornings (thanks to a geriatric dog who needs an early walk), she generally catches a bit more rest after letting the dog out before the alarm goes off at 6:15 a.m. Out of bed, she wakes her five-year-old son and helps him get ready to be at the bus by 7 a.m. After that, it's a quick shower before commuting to her job as a senior systems consultant for a software company.
But here's where Ali's routine both veers from what we might expect and reflects the "new normal" of professional women in the COVID-19 pandemic: her "commute" takes about two minutes and involves walking out the door of her house to an extra room attached to the garage, which she has converted to a home office. "I open and close three doors, flip on a light and my computer, and I'm ready to go," she says.
Ali actually began working at home about five years ago when her son was a few months old (her daughter was five at the time) and the juggle of her 30-mile commute and parenting two young children became difficult. Her fiancé is a trucker and is often gone for extended periods, so much of the day-to-day management of the family falls to Ali. At the time, her employer granted her a flexible, hybrid schedule that allowed her to split her workweek between home and the office.
When the pandemic hit and work shifted to and entirely remote schedule, Ali was grateful to have a home office and a routine in place, but she notes that the unique stressors and challenges of working and parenting from home full-time were significant.
Before schools re-opened, she says, "Even though my kids are both generally fine in the house on their own, I would stress out when I went into my office—just thinking about the mess they might make or what I would walk back into." Remote learning at the time meant that there might be three different Zoom meetings going on at one time if Ali was working in the house and guiding both kids through online school. "It feels like a vacation now that school is back in-person," she says.
But though the kids are back to school, Ali says that she still feels the stress of what has been an intense period and the toll it has taken. "I feel like I have little breakdowns every couple of weeks now. There are just still so many factors that I feel I have no control over—the pandemic, politics, school schedules—and I just feel like I'm adrift."
For Ali, who lives in a rural community, social isolation can exacerbate anxiety now that she's working at home full time. "There are days when the only people I see are my immediate family," she says. "I do connect with friends via Facetime and messaging, which is great, but in-person interaction can be pretty limited."
In addition to the impact on her mental health, Ali says, the pandemic and full-time remote work have meant she has put off regular preventive care. "I have put off some medical appointments this year. I just didn't want to add to the burden on the healthcare providers when they were dealing COVID cases."
Ali's experience mirrors that of many women who are navigating both the increased stress, and, in some cases, physical health concerns related to this unprecedented period. Now, as many companies plan to maintain fully remote or hybrid plans for the long-term, women are looking ahead at the potential of a permanent change to working from home.
According to a survey of HR, legal and compliance, finance and real estate leaders, conducted by business research and advisory firm Gartner, 82 percent of respondents reported that remote working will continue in some form beyond the pandemic. [i] With remote work a likely ongoing reality, what lessons can we take from this pandemic experience to ensure our home space is a healthy space for work, family, and self?
Attend to Your Health—and Your Self
Women who have transitioned from working in an office outside the home to remote work amidst the restrictions and isolation of the pandemic have experienced a variety of impacts to their physical health.
Ali isn't alone in putting off regular preventive care. In the early months of the pandemic, many women postponed non-essential healthcare, including annual exams and mammograms. Nazaneen Homaifar, MD, MBA, an obstetrician and gynecologist at UCSF Health, says that though she and her colleagues are now seeing patients again in person for preventive visits, "I think there's still this lingering sense among some patients that these appointments aren't essential and that it may be safter not to come in [given remaining COVID-19 cases]."
While Dr. Homaifar appreciates both patients' understandable concern for their health and their desire not to burden providers, she wants her patients to know that "we have the right systems in place to screen people and to keep them safe. We are here to deliver healthcare, and we want people to go back to getting the essential preventive care they need." And, she adds, in case there's any question, preventive care and family planning services are not elective.
If you're concerned about accessing care through your local provider or health system, reach out and get guidance directly from your local resource to understand the current process for in-person visits. If you're not comfortable with an in-person visit, telehealth visits are also an option in many cases.
"A silver lining of this pandemic has been critical thinking in how we deliver care and what actually needs to be done in person," Dr. Homaifar says. "I can do a lot of my visits via telehealth, saving the patient time and focusing in on their questions." And, she notes it's a trend that will continue, which is a benefit for women in remote positions. "It's especially convenient for women working at home. You may wait in a virtual waiting room, but you can carry on with your life and work as you wait."
Of course, she adds, there are visits—when a pap smear is needed or a certain symptom requires an exam, for instance—when an in-person visit is necessary, and women should not hesitate to let their provider know if at any time they're prefer an in-person appointment for any reason. "I hope it's not lost on patients that the push toward telehealth doesn't mean we don't want to see them in person for certain issues. I encourage women to advocate for themselves and speak up if they think there's something that requires a physical exam."
Finally, Dr. Homaifar hopes that women will consider addressing their healthcare needs as an important element of overall self-care. "In many cases, women take on more responsibility for managing household and caregiving tasks, which can impact physical and mental health," she says. "As difficult as it might be, try and carve out time for yourself, whether for a brisk walk outside or a time set aside for mindfulness, and communicate your needs to your partner and family." Remember, she adds, "the same thing I tell my post-partum patients applies to all women—in order to be a good parent, a good partner, and a good employee, you have to be good to yourself."
Remember to Move
In addition to being aware of changes in healthcare delivery and attending to preventive care, women working from home should consider the way their home workstation and remote work scenario affects their physical activity and daily movements.
The Centers for Disease Control and Prevention (CDC) recommends that adults between the ages of 18 to 64 engage in at least 150 minutes of moderate intensity physical activity (think a brisk walk) and engage in strength training twice in a week; for adults over 65, the recommendation is the same, with the addition of balance exercises.[ii] If you're working from home and your exercise routine has been derailed, consider how you might integrate movement into your remote-work routine.
Andrew Bang, DC, chiropractor at the Cleveland Clinic Center for Integrative Medicine says, "The most significant impact to women's health in a switch to remote work is the tendency to be more sedentary in general."
Even small changes in a routine like moving from your bed to your home desk instead of walking from your car into your office building or taking a few steps from your kitchen table to the coffee maker instead of walking a few blocks from your office to a coffee shop can result in a lot less movement overall. While the outcomes of that change include the obvious—potential for weight gain and associated increased risk for heart disease and other conditions—there's another significant negative effect: decreased bone density.
Physical activity increases bone density, and longer periods of sitting lead to bone loss and greater risk for osteoporosis.[iii] "There are two ways you build-up bone density," Dr. Bang says, "sheer forces of life and muscle contraction." Any decrease in your daily activity means fewer opportunities to build bone.
To counter that and reap the other significant benefits of physical activity, Dr. Bang says, make an effort to move throughout the day, even in small periods of time. "Remember that you're entitled to breaks throughout the day—even at home," he says. "Take 10-20 minutes and do a quick exercise video on YouTube—there's something for everyone." And, he notes, it won't only boost your bone health and build muscle. "Exercise will actually stimulate your brain and improve your focus, too. You'll likely be more productive and offer your employer more if you take a break and move."
When you're engaged in tasks that do require you to sit or stand in one position, be sure your workstation offers an ergonomic setup. Dr. Bang says that remote workers experience many of the same things as office workers do—carpal tunnel, neck pain, back pain—but often don't have access to the equipment to create an ideal station. If this is the case, he notes, use props you may have at home to align with the following recommendations: Arrange your monitor or laptop screen so that you're line of site is a couple inches below the top of the monitor; keep your elbows at your sides and bent at 90 degrees to reach the keyboard; use a chair with lumbar support; and, keep knees level with your hips and feet resting on the ground.
And, Dr. Bang notes, beware of trying to multitask by using fitness equipment as seating. "I see people using exercise balls as chairs, but that's not good for 8 to 10 hours," he says. "Remember that nobody would exercise their core that long at the gym." Ideally, he says, you'll move between standing and sitting throughout the day."
Address Mental Health
As you rethink your healthcare and exercise strategy in a remote work life, you may also find that your approach to mental health and self-care requires reframing. The pandemic year has presented unprecedented challenges to mental health, and employees new to remote work—a well as those with established work-from-home routines—have encountered unique stressors.
A survey of participants in a leadership development program conducted by Awaris and Boston Consulting Group found that "66 percent of leaders observed an increase in overall stress levels in the virtual workplace, and 81 percent found that people struggled to set boundaries and to disconnect from work. Taken together, the findings suggest that the loss of personal connections and work-life boundaries can exert tremendous pressure on the emotional well-being of leaders and their teams in the virtual workplace."[iv]
Clinical psychologist Laura Murray, MA, PhD, a Senior Scientist at Johns Hopkins University, says that the pandemic year has indeed added a new layer of stress to working women's lives. "As a nation, we're definitely struggling with mental health right now, and women, specifically, are in situations where they are having to juggle more responsibilities."
For those looking ahead at long-term remote work and maybe already feeling depleted by the experience of the past year, Dr. Murray says there are strategies to navigate the unique challenges of working from home for the long-term.
First, do your best to maintain healthy lifestyle habits—eating well, maintaining good sleep habits, exercising—which provide a solid foundation for mental health. Second, take practical steps to organize your time to set boundaries by creating a daily schedule for yourself that sets aside time for work, movement, and rest and provides structure.
Third, know that a flexible mindset can go a long way toward working through both burnout and the unexpected events on any given day. Remember that working from home is new territory, and rigid expectations around time management and productivity may not be realistic. As you get to know this new landscape, you'll encounter new challenges and unexpected distractions. When confronted by a specific situation that sparks a negative thought cycle or the ongoing anxiety around your new normal, Dr. Murray says, recognizing that you have power over your thoughts and reactions can go a long way: "I always like to remind people that as human beings, we have a fluid state of mental health; we have the ability to move ourselves out of our current state."
For instance, she says, if you know that when you're working at home, your stress response is triggered when you walk into the kitchen and find your family has left a mess, take steps to solve that problem. Set ground rules for your family around expectations in this scenario: "I'm working at home, and what I need from you is to keep the kitchen clean. If not, these are the consequences." Obviously, she notes, this behavior modification takes some shaping, "but it can be incredibly empowering to communicate your needs and work toward solving the problem."
For those feeling burnout—a common experience among remote workers, especially in the pandemic year—focusing on gratitude can be a powerful tool to reframe your experience. "You often hear of people keeping gratitude journals," Dr. Murray says, "but I feel like gratitude is also something that you can work into your cognitive thoughts all day. When you do, it can shape the way you see your life and remind you that have a vote in stopping the cycle of negativity that might be contributing to burnout."
Finally, if you feel unable to move through feelings of anxiety or overwhelm, seek professional help. "If you're having trouble functioning, are seeing some of your relationships decline, or if you're just at a point where you really feel that what you've tried, isn't working, seek help," Dr. Murray says. Mental health professionals work with patients across a wide spectrum of needs, she adds, "you don't need a diagnosis of a major depressive disorder to seek care. We see many patients with mild symptoms of anxiety or stress."
And, if you notice a colleague or friend who is struggling—and you have the bandwidth yourself—reach out and offer support. Dr. Murray notes that the circumstances of the pandemic, and potentially ongoing remote work wherein we won't be connecting with colleagues in person as often, may warrant a more proactive effort to connect. "If you notice that a colleague is showing signs of struggle—maybe they have missed several meetings because they are juggling childcare or they seem especially anxious—reach out. A remote situation can present an opportunity to build new relationships and support one another in a different way."
Looking Forward
If there's a through line to strategies aimed at a healthy remote work life, it's adaptability. Whether thinking in new ways about accessing healthcare, creating new exercise habits that fit into your day at home, or striving for a flexible approach to challenges and stressors as they arise, prioritize your mental and physical health as you create a flow that works best for you.
References
[i] Gartner Survey Reveals 82% of Company Leaders Plan to Allow Employees to Work Remotely Some of the Time. Gartner website. Available here. Accessed February 15, 2021.
[ii] Benefits of Physical Activity. Centers for Disease Control and Prevention website. Available here. Accessed January 27, 2021.
[iii] S.F.M. Chastin, O. Mandrichenko, J.L. Helbostadt, D.A. Skelton. Associations between objectively-measured sedentary behaviour and physical activity with bone mineral density in adults and older adults, the NHANES study, Bone,2014 (64): 254-262.
[iv] Meissner M, Tamdjidi C, Stephan L, and Martini J. Balancing Well-Being and Performance in the Virtual Workplace. Available here. Accessed February 15, 2021.