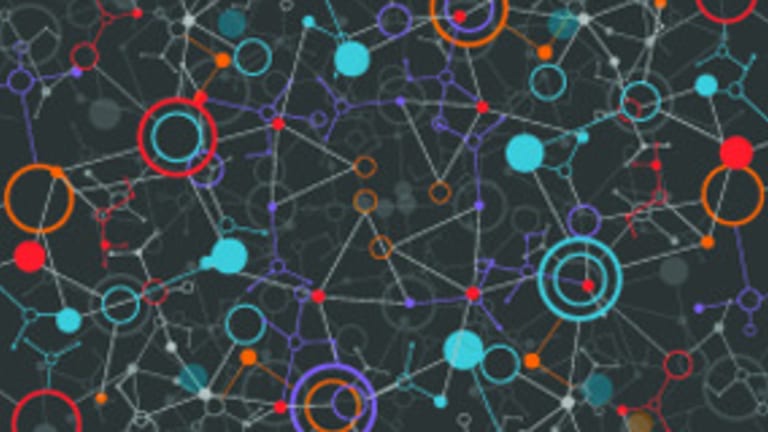 The Stories We Tell: Women, Cancer, and Social Media
In this age of online communication, social media plays a bigger role in many women's journeys.
Since its inception the Internet has played a role in healthcare. But what started as primarily a source of information, as patients learned the benefits—and the pitfalls—of "googling" a diagnosis, has now evolved to become a much more interactive experience. Communities in which members share insights and support, often with expert direction, are a huge draw for patients facing a variety of diagnoses today. Networks built around cancer—whether through Facebook, Twitter, and the like or blogs and hosted communities—have a particularly active presence in healthcare social media.
Social Media and the Informed Patient
The rise of social media in cancer care has coincided with a movement in which patients are becoming more active in healthcare decisions and seeking more-personalized care—educating themselves about diagnoses, treatment options, and prognoses as well as reaching out for emotional support.
"We've seen a shift from the doctor as authority to more patient participation, more questions," says Meg Monday, director of medical education for OMNI Health Media, which operates the social network CancerConnect.com () and also publishes Women magazine.
"Patients are realizing that they do have a role in decision-making," Monday explains. "The former tendency was to be more passive and defer to one's doctors; now patients are using the Internet to collect information and approach their physicians with questions relevant to their care." The result, she says, is a more empowered, educated patient group: "You can use social media to make sure you're getting optimal treatment; you can learn about risks and benefits to help you choose treatment and become your own advocate."
Deanna J. Attai, MD, is a breast surgeon practicing in Southern California, who, together with cofounders Jody Schoger and Alicia Staley, moderates the online breast cancer community #BCSM (bcsmcommunity.org). Originally launched as a "tweetchat"—a live, moderated Twitter conversation—#BCSM is an online community for women and men affected by breast cancer. Dr. Attai says that with the growth of networks like #BCSM, she has seen pronounced progress in patient education. "There's no question that patients are more informed now than ever before," she explains, adding that not only are patients learning more but the level of learning is more sophisticated.
"In the early days of the Internet, patients would come in with reams of printed information," Dr. Attai says, but often this content was not helpful to patient or doctors; the endless, untargeted material could confuse or overwhelm patients and frustrate physicians. "A lot of it wasn't accurate or relevant to their care." Now, Dr. Attai says, patients may still arrive for an appointment armed with data, but smartphones and tablets have replaced stacks of paper, and, perhaps most importantly, the information tends to be more directed toward their care. As a result, informed patients are asking questions more relevant to their case.
The True Value of Connection
In addition to diagnosis and treatment information, cancer patients count social and emotional support among the biggest benefits of social media. The support component of online communities has been "huge," says Monday: "Social media gives patients and caregivers the ability to share and not feel so alone." And while the emotional side of a cancer diagnosis is not always a first-line concern in treatment, Monday says, it is nevertheless a significant issue for patients, and online networks are meeting this important need.
For many cancer community members, social media is primarily just that: social. "Some people use chats to just hang out and be around friends," says Alicia Staley of #BCSM. "They're not necessarily looking for medical information."
Charles Weaver, MD, a medical oncologist and the chief executive officer of OMNI Health Media, agrees that many patients join these networks primarily for emotional support. He says that he has seen social media have a particular impact among patients who travel to treatment centers far from home, where they make friends with other patients. "The people you meet in the chemo room, for example, can become powerful sources of support," he explains. "Social networks allow you to stay connected once you return home, making these friendships ongoing sources of support."
A Broader Reach
#BCSM's Jody Schoger, who is a breast cancer survivor and a public relations and communications professional, says that social media has expanded patient access to others with similar diagnoses. You can now search using the most specific details to find patients in comparable circumstances. For example, instead of looking for others with, say, colon cancer, you can search by stage, type of treatment, age and gender, and more.
"Generally speaking, cancers tend to come under one umbrella," such as breast or colon, Schoger says. "But when you're diagnosed, you learn that there are many diseases and variations of diseases within that category." As such, connecting with another patient with the same "umbrella" diagnosis can have limited benefit. For example, within breast cancer there are different stages, hormone status, and individual patient characteristics; patients within the breast cancer spectrum may have very different experiences and may be able to best support those with like diagnoses and treatment plans.
"Social media gives you access to someone who has just what you have," says Schoger. And that's something you might not be able to find in your hometown or through personal connections.
#BCSM's Alicia Staley says that in her experience the ability to network within specific disease parameters has been particularly valuable. Her chances of finding someone with a similar experience within her own circle were slim; she is a three-time survivor of Hodgkin's lymphoma who then developed breast cancer. "Until I got on Twitter and started looking for women who fit the profile, the likelihood of finding someone with that unique combination of cancers was low," she explains. But through Twitter she has made a number of such connections. "Social media shrinks the world," Staley says. "It's much easier to find specific types of patients and build a network."
Keeping It Relevant: The Challenge of So Much Access
As the cancer-focused social media movement evolves, there are some areas in which experts recommend caution. Possible pitfalls include misreported information, unfounded claims, and patient bias.
"There's a lot of information out there," says Dr. Attai, "and individual patients need to filter through it and find what's relevant to their case or find a reliable resource to do so." Just as one size does not fit all when it comes to treatment, one study or reported outcome will not apply to all patients. And with treatment-related information, it is important to filter through early studies of therapies that will not be available for some time and find those that are likely to be available soon. "There's still a lot of filtering and personalization that needs to happen," she explains of the need to sift through information. "And that's where we still have a long way to go in social media"—with or without expert help—and find what might apply to you.
According to Monday, potential downsides of social media include the availability of non-evidencebased claims of cures and access to anecdotal information (one person's self-reported experience). "I see people looking for a magic remedy," says Monday, adding that patients with a serious diagnosis can be especially vulnerable to believing unsupported statements, which can confuse the treatment decision-making process. She says that it is risky to focus solely
on another patient's experience without first evaluating whether that individual's outcome is relevant to you. These potential pitfalls, however, can be avoided with simple precautions. "Make sure information is evidence based," recommends Monday. "Share your experiences and look for others in similar circumstances— but always discuss information you gather online with your doctor." Done right, Monday says, social media is a terrific vehicle for cancer patients to get informed and be better prepared to ask questions.
Make the Best Use of Social Media
According to Dr. Attai, one of the biggest benefits of social media for cancer patients is the opportunity to connect with others who have had similar experiences—those who have "been there, done that." In her own community, #BCSM, she says she has seen a lot of mentoring. "Patients who have gone through treatment are connecting with newly diagnosed patients and helping with essentials like questions to ask their doctors." In effective online communities, she says, "patients are taking care of each other."
Dr. Attai emphasizes that one of the most valuable things patients can do for one another through social networks is help guide physician interaction. "That's very different from telling someone what to do," she explains, which is sometimes what happens when friends and family step in to offer advice. And while there may be members in any given community eager to tell you what to do, you can find organizations steered toward education and guidance.
Monday recommends setting specific expectations to keep your social media activity on track—making sure you are getting useful information and not being misled or overloaded with data. Here are some questions that might provide a good framework for initial forays into a disease-specific community:
What are the risks and the benefits of my planned treatment?
What are the potential side effects?
Should I get a second opinion?
Should I consider a clinical trial?
Finding Your Community
What is Medicare Advantage
Medical Advantage or MA plan is a health plan provided by a private organization that partners with Medicare to offer healthcare services with their Medicare Parts A and B privileges.
Just as you put thoughtful consideration into choosing your medical team, you will want to spend time finding a social network that meets your unique needs. Schoger recommends a shrewd evaluation of any networks you may join. "Take time to research communities," she says.
"Get to know the people and the information and find where you  it." Certain red flags indicating organizations that may not be helpful include those that appear to be promoting their own cause (more or less using social media purely as a marketing tool) more than delivering relevant information.
Staley agrees with Schoger's recommendation: "See what's out there," Staley says, "and pay attention to what's going on in these communities." This way, she adds, you can look for the focus and the tone you want. For example, you may want to be wary of communities that appear overwhelmingly negative— where members are more interested in venting their frustrations than seeking, accepting, and offering support. (Even with increasingly more positive, trustworthy communities online, some bad apples remain.)
Be patient, encourages Staley, and know that this process can take time. You will know you have found the right group when a community virtually "throws an arm around you," she says.
Staley says that carefully defining your needs can lead you to the community that is right for you: Are you looking for education, social support, or both? Do the experts filter and deliver information in a way that you can understand?
Staley says that she turns to #BCSM for emotional support as well as support with understanding data. "I rely on Schoger and Dr. Attai to guide me through the technical side," she says, explaining that trustworthy expert help also has an emotional benefit. "Before #BCSM I'd dive into studies and try to understand, but I'd find it so stressful." With expert moderators Dr. Attai and Schoger to guide her through the data, Staley says, she no longer has anxiety over what medical findings mean and to which ones she should pay attention.
Dr. Attai says that as a physician she is particularly wary of online groups with a negative feel— organizations that seem focused on criticizing treatments or doctors. Though there is a time and a place to discuss poor outcomes, you are less likely to find real benefit in a community with this as its primary focus. Look instead for groups that emphasize evidence-based  treatment and effectively moderate negative feedback. Dr. Attai says that because more medical professionals are participating in social media, there are more opportunities for positive interaction between physicians and patients and more beneficial sharing of information.
Real Connections
One thing that is remarkable about joining a positive social network is that you can form genuine relationships. "Online connections are as real in real life," says Schoger. She explains that when members of a solid online community meet in person, they tend to enjoy the same connection they share online. "The online connections can accelerate friendships and bonding," Schoger says, and the support is strong. "#BCSM members remember each other's surgeries and milestones— they check in with each other; they know they're not alone."
Add the opportunity for expert guidance and more-informed decision- making to these very real friendships, and it is easy to understand why social media is becoming an indispensible part of many women's cancer journeys.
Logging On and Giving Back
Social networks, Dr. Weaver says, are also creating a way for patients to give back by connecting with other patients to offer support, encouragement, and insight. Furthermore, the ability to log on at any time from anywhere and connect with someone in need can have a huge impact. "I'm hearing that one of the things patients most value about social media is this opportunity to make a difference," he says.
Diane Orner, a uterine cancer survivor and a member of the CancerConnect.com community, uses the social network to both give and seek support. Thanks to the online platform, she has been able to connect with patients who can benefit from her experience, understand her particular challenges, and offer meaningful advice.
"No one really understands unless they have been there," Orner explains. As an example, she shares a specific interaction with a member who had been treated with the same chemotherapy regimen—a treatment that left both Orner and her online friend with large amounts of fluid in their stomachs. It was an incredibly uncomfortable experience, Orner says, but knowing that someone else was going through the same thing and "got" what she was feeling was a huge relief.
Orner also has a medical professional's view of the role of social media in cancer. As a nurse, she has connected with other nurses who are also cancer patients and has enjoyed sharing information with other professionals. "It's hard to get inaccurate information by us!" she says, and she appreciates the information her colleagues share, as she trusts their informed perspective.
But in Orner's view, the ultimate role of social media for cancer patients is to support one another. "I share my story, hoping to help someone else," she says.
Social Networks
Expand Patient Support at Cancer Centers
Cancer treatment centers are recognizing the value of social media in the healthcare setting.
Increasingly, centers are implementing these networks as a way to stay connected with patients and caregivers, expanding the support they are able to provide beyond the hospital and doctor's office, with access to reliable information and an understanding, concerned community. In other words, social media is becoming a way for patients to take home with them the support they experience during treatment.
Memorial Sloan Kettering Cancer Center (MSKCC; mskcc.org) in New York City is one center using social media to further support patients and caregivers. In 2010 it launched Connections, its online community. In addition, MSKCC is very active on Facebook and Twitter, and it uses YouTube to share video content.
Making Connections
Napolitano, moderator of Connections, the online community of Memorial Sloan Kettering Cancer Center (MSKCC), says that the forum gives members the opportunity to connect with others in similar situations, share experiences, and exchange support and advice. The MSKCC network works similarly to Facebook in that members can "like" a particular post, connect (or "friend") others and follow their activity, and send private messages.
Where Connections and other cancer center–affiliated communities differ from many online networks is the need for discussions to be moderated by a qualified individual. The information that passes through these communities can be complex and sensitive and may influence treatment decisions. It is therefore critical that someone like Napolitano is on hand to moderate posts and exchanges. Managed effectively, information shared in these forums can be invaluable.
"As moderator, I direct people to information and support resources and encourage engagement," Napolitano explains, adding that she turns to additional experts when needed. "I rely on professionals from our Department of Social Work and our Survivorship Center to weigh in when a discussion thread is likely to benefit from their expertise."
Popular discussions on Connections, says Napolitano, include managing side effects, coping with fear of recurrence and anxiety about follow-up visits and scans, and supportive care topics, such as complementary therapies and diet and nutrition. She adds that family and social concerns—such as talking to your children about your diagnosis and treatment and the challenges of caregiving—are also popular threads.
Napolitano says that most Connections members are looking for insight and feedback from others who have been through a similar situation. "Experts agree that being able to compare and relate to peer experiences can make a meaningful difference in how people cope," she explains, adding that both sides of the  conversation—recipient and provider—stand to benefit. "It has been shown that writing things down can be therapeutic, as can the ability to both give and receive support," she says.
Caitlin Hool, senior media associate in MSKCC's Department of Public Affairs, says that the center's social media presence in addition to Connections further extends support to its community. "We post a range of content on our social media channels," Hool says, "including research findings, new clinical trial openings, expert perspectives on recent news, health tips, information about support groups, and patient resources." And with a nod to the communitybuilding aspect of social media, Hool adds, they also share some fun with followers, such as the occasional "throwback Thursday" picture (a social media meme where users post older photos of themselves or friends on Thursdays).
Bad eighties hairstyles aside, Hool says that, like Connections, the purpose of all MSKCC social media activity remains patient and caregiver support: "Most importantly, we use Facebook and Twitter to engage with our patients—to share in their good news and address their concerns." She adds that it is also a priority to be a trustworthy resource: "We engage in the bigger cancer conversation on social media, particularly Twitter, to get reliable information to individuals who need it, whether that's through Twitter chats or following breaking news stories."
Though Hool cites providing news and education as an important function of social media, she comes back to the patient as the primary focus of these networks, explaining that with social media patients voices are heard. "Being a patient in today's healthcare system can be incredibly frustrating," she says, "and trying to find answers or help can feel like shouting into the void." With actively managed networks like MSKCC's portals, however, patients are acknowledged. "When individuals tweet at us or post on our Facebook wall, we don't ignore it," Hool says. "We do everything possible to get that patient or family member the answer, action, or resource they need."