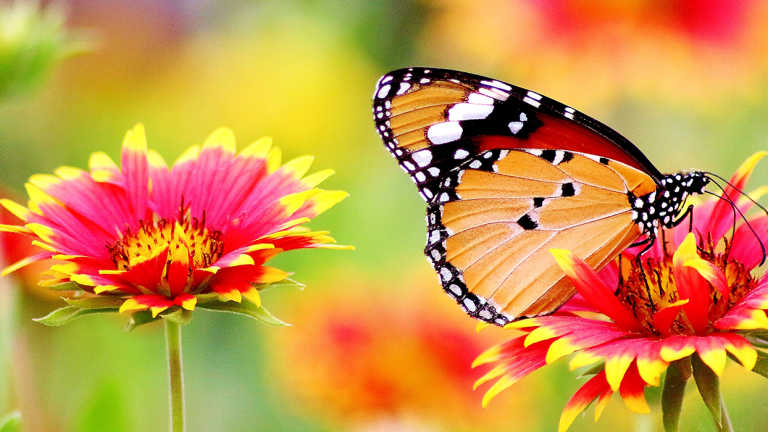 Starting Over - The Importance of Embracing Change
Every day is an opportunity to start fresh.
Some people call it a do-over, a clean slate, or repotting. Call it what you will, starting over is an inevitable part of the human experience. We are all called to start anew throughout our lives, sometimes in small ways, sometimes in big ways, sometimes by choice, and sometimes out of necessity. Sometimes we start over as the result of crisis or despair, and other times we start over from a place of joyful discovery. Sometimes we plan and strategize, and other times we take big leaps of faith. One thing is certain: change is an inevitable part of life.
Change Is Growth
"There is no evolution without change," explains Rev. Roya Camp, staff minister at the Center for Spiritual Living in Seattle, Washington. "We don't grow unless it's through change. It's when we're really up against it that we have an opportunity to grow."
Camp considers herself somewhat of a collaborator with change—she was working as a reporter at a daily newspaper when she felt the urge to enroll in ministerial school, and she continues to study the themes of change and growth that permeate most traditions.
Camp uses the tree of life as an example. It is a symbol associated with the Kabbalah and Judaism and represents the path of life and upward growth, but the idea of growth transcends religion. In fact, both religion and mythology provide many examples of transformation—resurrection, rebirth, the hero's journey. The language we use to describe the process may differ according to belief or tradition, but the process is the same: we encounter challenges, we face them, and we are changed by them.
"Humans around the globe throughout time have had this sense that the way we tap higher wisdom is through sometimes really wrenching turns of events," explains Camp. "We get closer to God; we grow in wisdom during times of change."
Embracing Change
It's human nature to resist change, but that's like trying to swim against the current—fruitless and exhausting. Instead, Camp recommends viewing change as a part of the journey through human existence. It's neither good nor bad; it's simply a part of the range of experience.
"People who have been through crisis may say it was hard, but none of them say it was bad," the minister observes. "That to me is huge. They get on some cellular level that this grew them in ways that maybe they would not have chosen or in ways that were uncomfortable but that were not necessarily bad."
Indeed, most of us do find that challenges and changes bring us to a new place in our lives that we may not have discovered otherwise—the present moment.
The three stories included here exemplify this turn toward the present—all three women have had to dig deeply and start anew.
In Sickness and in Health
When a wife becomes a caregiver, everything changes.
Barbara Dillman was in the prime of her life. Her kids were grown, her husband's career was thriving, and she was enjoying a life rich with friends, volunteer work, and travel.
That all changed in August 2002, when her husband, Chuck, was wheeled in for a simple 30-minute surgical procedure that went horribly wrong. Barb was sitting in the waiting room when she heard "code blue" over the intercom. "I knew," she recalls. "I just knew that life was forever altered."
Forever altered indeed. Due to complications during surgery, her husband suffered an anoxic brain injury that left him physically and mentally handicapped. For months Barb danced with uncertainty as she tried to ascertain the scope of Chuck's recovery. Prior to the surgery, Chuck was a world-renowned leader in the field of biomechanics, at the pinnacle of his career. Post-surgery, he had lost critical brain function as well as the use of his left side. In an instant Barb had to start over. Her role changed from wife and best friend to include caregiver.
Initially, Barb was so busy with her new role as a caregiver that she didn't have time to contemplate the future. "Quite honestly, that was such a busy time that it ended up being kind of a buffer zone," she says. "It buffered life before and after the brain injury."
It took several years before the reality of her new life sank in. "I never had a period of mourning," Barb says. "My husband didn't die, but there was a definite loss. He is a totally different person. It took me a long time to realize that I never mourned the loss of the person I love."
Barb didn't just lose the man she loved; she lost her whole way of life—but in the process she found more of herself. Her biggest challenge was learning to slow down. "I've had to really relearn who I am and just be in the moment," she explains. "I had to learn a new definition of what contentment is."
This was no easy task for a woman accustomed to juggling a life full of responsibilities, commitments, and activities. "I resented the fact that I had to change," Barb admits. "I enjoyed life before. I liked being busy and doing things and learning things. But I finally realized that I could either adapt, adjust, and learn, or I could be angry and resentful."
She chose to adapt and find the simple joys in each day. Barb shares that at the end of each day, her husband asks her if she has had a good day. "I'm learning to really think about that and in my heart say yes and feel it and believe it," she says.
This is not to say that her journey has been easy—in fact, it has been anything but. She has faced loneliness, despair, financial challenges, and the inevitable exhaustion that characterizes the day-to-day life of a full-time caregiver. It has required her to dig deeply and examine her spiritual foundation. "I've always had a strong faith, but this has reinforced it," she says. "I really believe this life is a journey. It's sort of like we're whitewater rafting—we think we're steering the boat, but the river is doing its part, too."
Though she didn't get to choose her new life as a caregiver, Barb says she wouldn't trade it if it meant giving up the life she shared with Chuck prior to the brain injury. "It's sort of like that Garth Brooks song," she explains. "I think so many people go through life missing the dance. I had the most wonderful chapter of my life with Chuck, and I'm so glad I didn't miss it.
"Life is cyclical. We're lucky if we have good chapters in our life," she says. "We don't know what is going to happen next or when we're going to be called on to start over. All we can do is be in the moment."
Rising from the Ashes
When your house burns down, it's not about the stuff.
On September 6, 2010, April Story was enjoying a blissful morning at her mountain property outside of Boulder, Colorado, when she saw a huge column of smoke. April was no stranger to wildfires. After 30 years in the mountains, she had been evacuated countless times, so she didn't panic.
She slowly began to gather a few things she might want to take with her if she had to evacuate: two computers, some clothes, some toiletries, and a permaculture book from her library. She was saddling her horses at 3 p.m. when about 20 firefighters descended on her yard with urgent instructions to evacuate. There was no time to hesitate. She refused to cut her horses loose and instead rode them down the canyon. One car passed her. "It was an eerie feeling to be the last person coming down that canyon," April recalls. "I kept visualizing that my house would be this little green oasis that was somehow preserved."
A few days later she learned that her house was gone within 20 minutes of her departure. Miraculously, no one was hurt in the fire, but 169 families in the area lost their homes. Life changes in an instant.
April lost everything—her home, her business, everything she had built over the past 30 years—but her reaction was startlingly clear and calm. "I knew that grief was not the answer because I had gone to the darkest corners of grief in the past and there was nothing to be gained there," she said. Instead she turned to the light and decided to embrace her unexpected blank slate.
For April there were so many gifts and lessons in the fire. Right away she realized that it wasn't about stuff. "In an instant I was liberated and relieved," she says. "I have no business, no house to dust, nothing." People started offering her stuff, but she didn't want it. First of all she had nowhere to put it, but, second, she was enjoying her newfound lightness. "I have no things," she says. "I'm on this incredible journey of appreciating the lightness of being associated with the lack of things, and I'm never going to be the same."
April distinguishes between being and doing. She was always a doer, but the fire changed that. "Life is about *being;*it's not about doing. Everything in my world was an accumulation of my doing, and everything I had done in life was—poof—gone, but I didn't feel changed at all," she explains enthusiastically. "I'm more me than ever. I'm not bogged down with all the physical stuff."
Where some people saw tragedy, April saw possibility. The fire marked a turning point and made her more aware of her spiritual connection and more committed to living life fully. "I feel this sort of intimacy with God because that was a big, raging fire and I was up in it until the very last minute," April says. "I am on an absolute high. I just had a brush with the Divine and I'm still here."
For April starting over means taking one day at a time and consciously choosing each step of the journey. She will rebuild—both her house and her business—but she knows that both may look different. As an artist who raised and preserved wildflowers, she lost all of her inventory, so she is starting over from scratch.
"It will be an adventure," she laughs. "I'm a creator. I'm as light as I'll ever be. I feel more alive than I have ever felt. I feel more possibility than I ever have because I realize that I am showing up with the fullness of my being in any moment wherever I am—and I don't need any stuff to do that; I just need me."
A Clean Slate
An expat discovers that home is where the heart is.
"I seem to reinvent myself every 20 years," Julie Ann Storr explains. She lived in her hometown of Newcastle in New South Wales, Australia, until she woke up one morning at age 21 and thought, I think I'll move to Sydney. Within six weeks she had a job and a new life in Sydney.
Nearly 20 years later, Julie Ann repeated the process—only this time her move took her across an ocean and through a bankruptcy.
Julie Ann was running her dream business in Sydney—promoting spiritual teachers and events—but when the global financial crisis hit, her passion was no match for the state of the economy. Try as she might, she simply couldn't lift the business out of financial struggle. In the midst of her efforts, someone mentioned a conference in Boulder, Colorado, and "my whole body was hit with an electric jolt," Julie Ann recalls. "I didn't know why, but my body was telling me to go."
Never one to ignore intuition, Julie Ann moved mountains to make sure she was at that conference the following spring. That visit to Boulder marked a turning point. "I fell in love with Boulder the second I arrived," she says. "It just felt like home. I felt like I could breathe. I felt like I'd had a big drink of water after being in the desert for a long time."
Two weeks later Julie Ann cried when it was time to head back to Australia. She knew deep down that she wanted to be in Boulder. She didn't know how or when she would make it happen, but she knew she had to.
Julie Ann returned to Australia and got busy. What followed was a grueling period of losing everything—her house, her car, her business. From the outside her life appeared to be falling apart, but in reality it was falling together.
Four and a half months later, she was back in Boulder with a six-month tourist visa and a deep desire to stretch those six months into something more permanent. Though the transition felt right, it was not without challenges. She had no money and no job, and she was in a foreign country, but Julie Ann just knew that it felt right.
"I was happy," she explains. "It was bubbling up from the inside. This place just makes my soul happy."
Once in Boulder, Julie Ann embraced the blank canvas that was her life. She found work and love and created a new home, but most important she found a deeper connection to herself. "I've been humbled. I'm more calm and genuinely happier," she says of her simpler life. "I've created space in my life for what I really want. I had lots of dark moments but never any regrets," she confesses. "Those dark moments force you to get very present. I'm definitely more present."
Liquid Stars
A Tanka Sequence
By Pamela A. Babusci
praying
all day & all night
to God
never questioning why
cancer invaded my life
until the doctor
tells me what stage cancer
i have, my fears
will hang like dewdrops
on a bleeding heart
pale gray clouds
across the morning star
i gather
strength & courage
for my first chemo
wishing my mother
was here to hold my hand
during treatments
from beyond life
i can feel her blessing
after chemo
getting thinner & thinner
my body
its shadow
fading on the wall
hair falling out
in clumps in my brush
on the floor
like petals
of a dying lotus
cancer is merely
a detour in life…
walking down
a nameless road
i stop & pick wild violets
no way off
this cancer journey
i set sail
into the blue batik sky
& glide without wings
autumn leaves
shedding into the misty day
slowly, slowly
my hair
growing back
who will rebuild
the ruins of my heart
after cancer?
i scoop up liquid stars
& drink them
Pamela A. Babusci is an award-winning haiku and tanka poet and haiga artist. Some of her awards include the Museum of Haiku Literature Award, International Tanka Splendor Awards, Yellow Moon Tanka Competition (First Place), Kokako Tanka Competition (First Place), The Saigyo Awards for Tanka (First Place, 2009), The International Tanka Festival in Tokyo (Fifth Place, 2009), and the Basho Festival Haiku contest.
Pamela has illustrated several books, including Full Moon Tide: The Best of Tanka Splendor Awards, Taboo Haiku, Take Five: Best Contemporary Tanka 2008, The Haiku Chapbook: Chasing the Sun, and her first tanka collection: A Thousand Reasons (2009). She was the logo artist for Haiku North America in New York City in 2003 and Haiku North America in Winston-Salem, North Carolina in 2007. Pamela has a deep desire to be creative on a daily basis, which feeds her spirit and soul and gives meaning to her life. Poetry and art have been an integral part of her existence since her early teenage years and will continue to be a driving force until she meets her creator.
About this poem, which Pamela wrote after treatment for ovarian cancer, she says, "I have always written poetry in times of sadness, joy, or trial in my life. So, after I completed chemotherapy treatment for Stage I ovarian cancer, I wanted to express my innermost feelings to convey exactly how I felt during my cancer journey. Writing 'Liquid Stars' has been a blessing and has been instrumental to my inner-healing. My desire is that reading my tanka sequence will bring others comfort, strength, and healing."