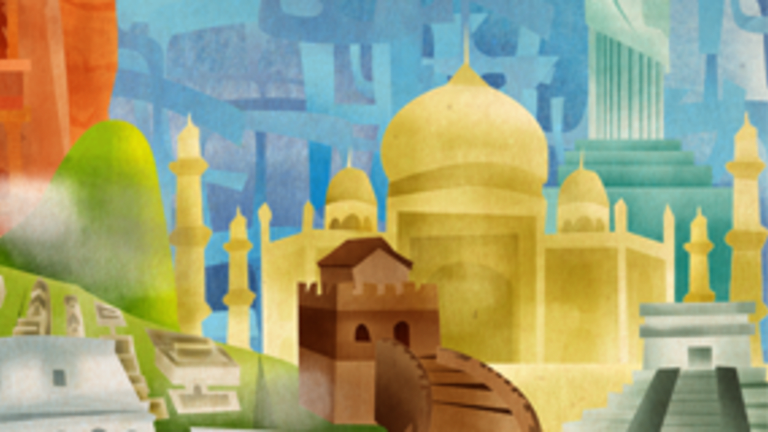 Spiritual Travel: A Journey of Discovery
Spiritual travel is attracting travelers inspired to seek deeper knowledge of themselves and the world around them.
Spiritual Travel: A Journey of Discovery
by Laurie Wertich
Spiritual seeking has long inspired travel. The act of pilgrimage, or journeying to a sa­cred place that has spir­itual significance, is an age-old practice. More broadly, the opportu­nity that contemplative journeys provide to discover inner solace, purpose, clarity, or redemption has propelled travelers to launch transformative voyages throughout the ages.
Today a wide range of travel opportunities that fall under the "spiritual" umbrella are booming— everything from faith-based travel to holy sites to spa and wellness vacations that include meditation and healing elements are attracting travelers from all walks of life.
Defining Spiritual Travel
Camille Hoheb, founder and man­aging director of Wellness Tourism Worldwide (WTW; wellnesstourism­worldwide.com), says that while tra­ditionally spiritual travel may have referred to religious pilgrimages like those of Catholics to Rome or Muslims to Mecca, spiritual travel is recognized by the travel industry today as encompassing a much wid­er range of experiences: "Spiritual tourism today is more modern in its secularity and approach to bal­ancing mind, body, and spirit and exploring outside one's self. Within the industry there is overlap in ter­minology between religious, faith, and spiritual tourism," she says.
What all of these terms describe is an experience that is as much about the traveler's inner journey as it is about the destination. "I use the term transformational travel," says Peta Panos, founder of Spiritu­al Quest Journeys (spiritualquest­journeys.com), "as that covers tours that include a guided inner journey as well as the physical journey to destinations of interest to spiritual people. Typically, these destinations cover sacred sites and, in many cases, ancient mysteries."
Because each traveler's needs and interests are unique, what is trans­formative is highly personal: a solo trek that allows time for contempla­tion and reflection; a group tour to a sacred site that offers insight into a religious or mystical tradition; a retreat that melds physical relax­ation and mind-body modalities. Consistent among women who choose to travel with a spiritual intention, no matter the geography or itinerary, is a desire to step out of their daily lives to provide space to turn within.
Seeking Something More
"The word seeking is what I hear most often among our clients," says Halle Eavelyn, co-founder of Spirit Quest Tours (spiritquesttours.com). What travelers are seeking ranges from general spiritual curiosity or cultural interest to what Halle calls "acute seeking"—a search for emotional healing in the wake of trauma or an extreme change, like a divorce or the loss of a loved one.
Camille Hoheb of WTW says that the growing interest in travel that addresses emotional and spiri­tual well-being is reflected in polling conducted by WTW and presented in Wellness Travel: Shaping Amer­ica's Health & Economy: "In a poll of US travelers, respondents indicated psychological health and emotional well-being are as much, if not more, important than physi­cal health," she says. Travelers are increasingly seeking vacations that allow them not only to disengage from work and technology but also, Camille says, "to connect with one another, with nature, and with a higher purpose."
A World of Options
There are myriad options for spiritual travel itineraries and experiences. The world and all its culture, history, and inspiring landscape are at your feet when you are looking to plan a trip that will offer the opportunity to either observe spiritual tradition or turn inward and explore your own spirituality.
Camille says that the range of destinations and itineraries is literally far-reaching. Just a few that she mentions off-hand: temple visits in South Korea, temple stays in Japan, yoga retreats all over the world, visits to shaman healers in South America, and hiking and trekking trips. As varied as the locations are the travelers' intentions, she says: "Travelers could be attracted by the history of a place, to the architec­ture of a holy site or building, or to a culture's way of life and spiritual beliefs."
Peta Panos says that Egypt, which offers a unique draw of spiritual and cultural interest for many, remains a popu­lar destination among travelers who participate in Spiritual Quest Journey groups. "Egypt is a fascinating destination, as are all the theories about who built the sites and when." To help tour group members enjoy the full range of experiences offered by the destina­tion, Peta says the tour is led by an Egyptologist, an indigenous wisdom keeper, and a Spiritual Quest Journey staff leader, offering travelers both insight and inspiration.
Bali is another very popular des­tination for a variety of tour oper­ators and many spiritual travelers. Spirit Quest Tours' Halle Eavelyn says that participants in the com­pany's Eat, Pray, Love tour (named for Elizabeth Gilbert's bestselling memoir) are often attracted by the opportunity to engage in the island's spiritual customs, including consul­tations with indigenous healers and participation in traditions around honoring ancestors, that are unique to Bali.
Also especially popular right now among travelers with spirituality in mind is India. Peta says the mix of culture and landscape offers a rich experience. "India is one of my favorite destinations," she says. "The incredible people, diverse culture, and natural beauty are magical."
Ticket to Transformation
Travel of any kind can be eye-open­ing. Leaving home, whether for a weekend of camping or a month of exploration in a foreign country, provides the opportunity to disen­gage from the patterns and people who influence our daily consciousness and clear the way for new thoughts and inspiration. When a spiritual intention is added to a trip's itinerary, many travelers find the experience truly is transformational.
Spirit Family
Group tours can provide spiritual travelers with welcome support and community that remain beyond the trip's itinerary.
Kathleen Sellers was going through a difficult divorce when she read Elizabeth Gilbert's memoir, Eat, Pray, Love, which describes the profound healing from her own divorce that the author ex­perienced in her time on Bali. Inspired, Kathleen Googled "Eat, Pray, Love tour" and found a description of Spirit Quest Tours' Eat, Pray, Love tour. "I booked it right away," she says.
What is Medicare Advantage
Medical Advantage or MA plan is a health plan provided by a private organization that partners with Medicare to offer healthcare services with their Medicare Parts A and B privileges.
What followed for Kathleen was a transformative experience that included personal healing and clarity around her divorce. Through individual and group healing and meditation in the con­text of Bali's spiritual traditions, she felt herself make a profound shift: "By the end of the trip, I was a different person; I looked at things differently, I looked at my divorce differently, at my ex-hus­band differently. I was able to say, 'I'm going to be okay.'"
While the personal transformation was significant, the tour offered another unexpected and lasting gift: a community of kindred spirits. "Everyone on that tour has become family," she says.
Another member of that Bali family, Lisa Lofton, says that the connections forged during that tour remain strong and provide group members with invaluable ongoing support: "At the end of the trip, I set up a group album on Facebook, and everyone contributed photos. I named the group Spirit Family. We all keep in touch on a regular basis and cheer each other on," she says.
Theresa Irvine says that, from the group's first meeting, the travelers felt a kinship that was sustaining and powerful: "From the moment we all met, I felt connected to the group. When we gathered and went through these transformations during our time together, we were all passionately present with each person. And after, we're still there to hold that place for one another."
Recently, the bonds of the Bali "spirit family" brought Kath­leen, Lisa, and Theresa together for a hiking trip in Utah, as the trio continues to benefit from the connection they formed: "We're family now," Kathleen says.
Solo Travel with Soul
According to a recent survey by travel booking site Booking.com, 72 percent of American women are "en­thusiastic about solo travel and have traveled on their own for work or va­cation," and 25 percent of those fe­male solo travelers are choosing spa or wellness retreat vacations—a cat­egory that encompasses many types of spiritual travel experiences.
Janice Waugh, founder of Solo Traveler (solotravelerblog.com), says that spiritual travel can be ideally suited to women traveling alone: "Traveling solo allows you the time and space to find your center—to discover your personal beliefs and values without the influence of those who affect your everyday life."
Itineraries and options for travel with a focus on the spirit abound for solo travelers. For those interested in planning a solo spiritual trip, Jan­ice encourages prioritizing time over expense: "A spiritual trip requires time—at least one week, preferably three—in which to decompress from the ordinary, but you don't need to spend a lot."
Affordable options might include a stay at a hostel near a hiking trail, which would offer opportunity for walking and contemplative time in nature while not breaking the bank. Janice says: "Every time I have a hik­ing path ahead of me, I feel I'm on a spiritual journey; landscapes put me in touch with the world and with my­self." If budget is less of a concern, many retreat and resort experiences exist that provide more-luxurious ac­commodations and increasingly also offer mind-body experiences to en­hance spiritual exploration.
"All is fair," Janice says of the dif­ferent approaches to solo spiritual travel. "It's a matter of what's import­ant to the individual traveler."
An Opportunity to Dig Deep
Elvia Espinal had always been drawn to Egyptian history and spiritualism when she traveled to Egypt with a Spirit Quest Tours group. While she had been intrigued by the culture, experiencing a Sufi performance and also a meditation session within the Great Pyramid were transformative spiritual ex­periences that touched her deeply. In fact, she was inspired to book a second tour—this time to Mo­rocco—to further explore Sufism, the inner, mystical experience of Islam.
In addition to cultural exploration, both tours al­lowed her the chance for inner contemplation: "The experience offered me healing and hope," she says. "Because of these trips, I was able to see deep with­in myself, understand myself more thoroughly, and gain greater awareness of my constant connection to the divine."
Service for the Spirit
Connecting guests with local healers has become a vital part of one resort's commitment to guests' wellness.
Bali, Indonesia, has long attracted spiritual travelers, drawn by the unique spiritual and cultural traditions stemming from Balinese Hinduism—a religious tradition that blends Hinduism, Buddhism, the indigenous population's animist beliefs, and devotion to ancestors. The many ceremonies and rituals that are integrated into daily life offer opportunities for spiritual seekers to observe and participate in a variety of rich experiences, and the traditional healers who provide physical and spiritual counsel have become sought after among visitors.
While travelers can engage in local spiritual traditions and seek out healers on their own, many tour operators and resorts on the island now offer to connect guests with healers so that they can experience this tradition firsthand.
Adhiyanto Wongso, director of communications for The Mulia Bali, a luxury resort on the island's southern tip, says that the resort noted the demand among visitors to meet with healers, known as balian in Balinese, and developed a guest experience to meet the need: "We wanted to create an opportunity for guests to truly connect to the Indonesian culture and focus on their health and well-being."
Adhiyanto says that guests seek out appointments with a balian for insight into physical health issues and emotional wellness. The appointments are coordinated by The Mulia concierge staff, who organize transportation, ensure that guests' privacy is guaranteed, and take care of all the details associated with the appointment.
Offering this service fits with The Mulia's commitment to providing guests with a Bali experience that highlights "all the nature and spirit of the island," Adhiyanto says, and complements the lifestyle wellness program at The Mulia Spa. "We truly believe that the peace of mind is the peace of the body," he adds.