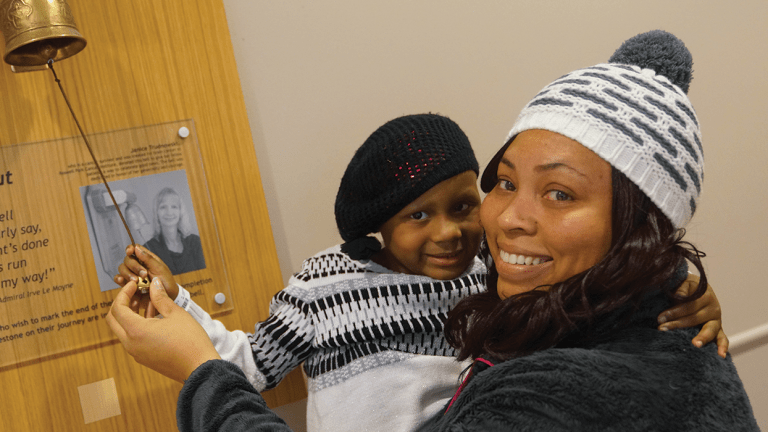 Single Parenting a Child with Cancer
Finding support during a child's cancer treatment
In January 2016, after Natalie Morley, age 4, was kicked in the face at daycare by another child, a lump appeared near her temple. Concerned because the lump wasn't getting any smaller, Natalie's mother, Ariel Riddick, took her for a series of doctor's appointments. By mid-February, when the lump still hadn't subsided, her pediatrician ordered a CT scan and biopsy. Natalie was diagnosed with stage 3 Embryonal Rhabdomyosarcoma.
"Thank God for the kick! Without it we may have never known what was going on," says Ariel. Natalie just completed a 43-week treatment plan that included radiation and chemotherapy under the medical supervision of Women and Children's Hospital and Roswell Park Cancer Institute physicians.
Family Support
As a single mother, Ariel has had to rely on others, including her parents and brother, as a support system during this incredibly difficult time. "My parents have been a great help in spending time with Natalie while I'm at work or offering to watch her so I can refill the energy bar. Before I ran out of FMLA leave, my brother accompanied us to treatment to learn the ropes. When I went back to work, he stepped in for me, taking my daughter to treatment, being present for a clinic appointment, in-home nursing appointments, scans, giving meds, and accepting medicine deliveries. He put up with me, my emotions and my need to be present even while away through coordinating conference calls, FaceTime calls, and so on. Without them all, I don't know how we could have made it this far."
Beyond the support of Ariel's parents and brother, friends and family offered their time. "Stopping by the hospital to hang with Natalie so I could shower or grab a cup of coffee gave me the opportunity to get things done that my newly busy schedule didn't allow me to do," she explains. Others helped by dropping off meals. "Sometimes the smallest things do make a difference," Ariel says.
Keep Current With The CancerConnect Community Newsletter
Connect With Others In The CancerConnect Community To Share Information And Support
Ariel's Tips for Other Single Parents
1.Find your tribe and ask for help.

Whether it be from family or friends, the hospital psychologist or parent services. It is impossible for one person to do it alone. With so much out of your control, it seems only natural to try to control everything else. But you can't do it all. Asking for help allowed me to worry less about things that would have taken my attention away from my daughter.
2.Ask questions.

When you don't know something or need something explained, open your mouth and ask. Being informed and knowledgeable makes you better prepared to advocate for your child.
3.Be gentle with yourself.

You are going to forget something—whether it's ordering a medicine refill, giving a medicine, or attending an appointment. Don't let this unravel you. As a human bearing an unbearable weight, you are bound to make a mistake. Forgive yourself, figure out a way to prevent it from happening again, and move forward.
4.Let your child live.

It's entirely too easy to put your child in a bubble for the duration of treatment— to want to shield them from every possible germ that may make them vulnerable. In all honesty, I did. But as time passed and I saw just how strong Natalie was, I realized I have to let her live. By letting her visit family and play soccer, we were yet again trying to find a rhythm in this new normal. You better believe I tried my best to bring that "bubble" with me as much as I could. Packing bags of extra clothes, hats, always having sunscreen and sanitizer on hand. Being prepared for whatever may happen helped me let go a tiny bit. Her spirit is what brought me the rest of the way. Her spirit has shined through during this entire experience. Even on the days that truly suck. Her smile and laughter can be heard echoing through the hospital. Or she can be seen singing and dancing in my living room. And I thought I was going to have to be strong for her. Her strength and grace through everything drive me to push forward. With everything she endures, she continues to smile and shine. If she can do that, then there is nothing that I can't do.
5.Keep the faith.

Last but not least, Natalie's cancer diagnosis brought me all the way to the edge. Rather than crumpling into a ball on the floor somewhere or falling face first into a depression, I decided to leap headfirst into my faith. I know that may not be the case for everyone. But I can only speak from my personal experience. I began to appreciate the blessings in my life and talked to God about everything. God gives me hope. Hope is the light that guides us. When it gets dark, hold on tight to that light and charge forth into the darkness. There is no darkness so dense, so menacing, or so difficult that it cannot be overcome by light.
This article originally appeared on the Roswell Park Cancer Institute Cancer Talk blog atRoswellPark. org/CancerTalk. Roswell Park Cancer Institute is a National Cancer Institute–designated Comprehensive Cancer Center in Buffalo, NY.