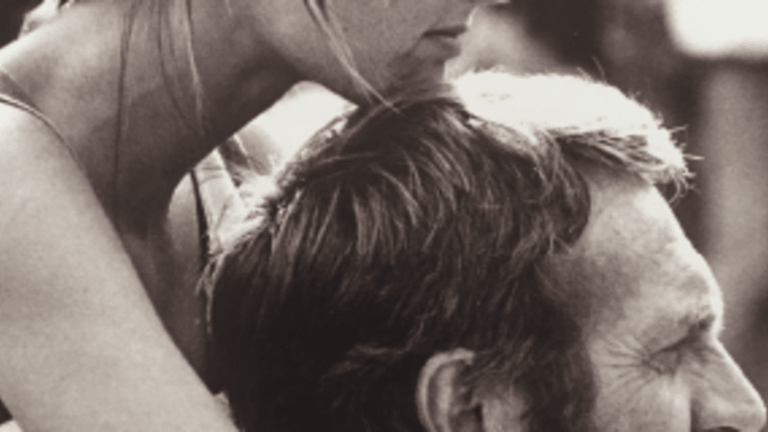 Remembering Steve McQueen
Barbara Minty, also known as Barbara Minty McQueen, is the widow of American film star Steve McQueen.
Remembering Steve McQueen
by Kari Young 8/2018
Barbara was born in Seattle, Washington, and spent several years growing up in Corvallis, Oregon. Upon her graduation from high school in 1971, Minty entered the world of fashion, becoming one of the highest paid and most photographed models of her time.
McQueen saw Minty's photo in an advertisement and arranged a meeting with her in July 1977. A few years later they married, and she was by his side till his death. She is the author of Steve McQueen — The Last Mile. It documents her three-and-a-half year relationship with the movie icon, and includes candid shots from 1977 to 1980 – McQueen's years out of the spotlight. It chronicles Barbara's early history and modeling career; her years with McQueen at Trancas Beach and Santa Paula as well as behind-the-scene photographs on the sets of Tom Horn and The Hunter. The book is written in passage form, weaving Barbara McQueen's personal history, her relationship with her famous husband and the stories behind the hundreds of candid pictures she took.
Excerpt:

Steve McQueen

The Last Mile
Almost a year after he was diagnosed with mesothelioma Steve lost his courageous battle with cancer. On his chest was the New Testement Bible that Billy Graham had given to him.
I was there in Juarez, Mexico when Steve underwent surgery to remove a couple of tumors. He made it through surgery, but his heart just wasn't strong enough to pull through post-op. Chad, Terry and I were stayng at a hotel across the street from the clinic. Around 4 a.m. I awakened out of deep sleep and bolted upright in my bed.I had a strange feeling that something was wrong. Moments later the phone rang twice in Terry's room, but no one answered. I sensed the next call placed would be to me. Seconds passed when the phone in my room rang and my heart sank.
That's it, I thought.He's gone. When I picked up the receiver, a voice on the other end confirmed that Steve had passed away.
The first person I called was Billy Graham, who consoled me for the next half hour. He basically told me that Steve was in a much better place. Billy said that he constantly prayed for Steve, but also prayed that whatever happened, it was God's will and that there was a reason why he took Steve. His words comforted me greatly, and I've never forgotten his kindness in my time of need.
What is Medicare Advantage
Medical Advantage or MA plan is a health plan provided by a private organization that partners with Medicare to offer healthcare services with their Medicare Parts A and B privileges.
Steve's death was a blow to those who personally knew and loved him, as well as for the millions of fans who watched his movies and followed his career. Iwas especially saddened because I didn't get to say goodbye. Although it rather made it easier to deal with his death, nothing ever truly prepares you for that moment when someone you love passes on.
I traveled back the next day to Santa Paula with Dr. Dwight McKee, Steve's personal nurse, Annie, Steve's metabolic technician, Teena Valentino, her husband Jack, and Grady Ragsdale. All of them had spent several months trying to save Steve's life. We all got drunk, cried our eyes out and talked until we were totally spent. I collapsed into bed a little after midnight and awoke our of a deep sleep around 4 a.m., which was right around the time Steve had died the prior morning. It was a cold night, but all of a sudden the room turned hot. I pulled down the sheetsonly to feel Steve's arms wrapped around me.
"It's okay, honey." I heard Steve's voice say. "Don't worry. I'm fine. Nothing hurts, I'm young again and I'm so happy. Be happy and go on with your life." He gave me one last hug and that was it—he was gone. I pulled the sheets back up and slept peacefully for the next few hours. It was closure.
When I awoke later that morning, I had a big smile on my face and danced around the kitchen. Everyone noticed my sunny disposition, Annie asked, "So, Steve visited you, too?"
"My honey came to see me," I said. "He was the Steve I knew, the man I fell in love with. Everything's okay,:
Often I have wondered had Steve not died, whaat my life would be like today. I believe we would still be living on our ranch in Idaho, perhaps with three or four kids and lots of dogs, cats, cows, and horses.
Even though he was a bit of a male chauvinist, I think Steve would be proud of the person I am today—very independent and self-sufficient. The three-and-a-half years I had with Steve was the most beautiful learning experience of my life, and it was a gift. He was a great teacher and a beautiful man. And I loved him very much.
Even though more than 30 years have passed since his death, Steve has never left my side. In fact, he lives on my front porch. I still have the two rocking chairs from our home in Santa Paula, and every time I sit on the porch rocking back and forth admiring the Montana countryside, I am comforted with the knowledge that he's still here with me.