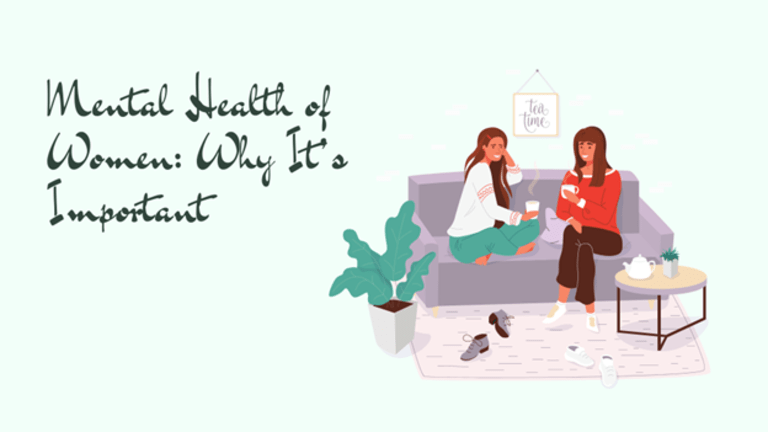 Mental Health of Women: Why It's Important
Mental health is an essential topic for everyone, especially women.
Mental health is an essential topic for everyone, especially women. Reports have shown that women are more likely to struggle with mental illness than men and are less likely to seek treatment.
Women who suffer from mental health issues often have a more challenging time getting treatment. This is mainly due to the stigma surrounding mental health. Many people believe that women who need help are "crazy" and will get over it.
When suffering from excessive stress and personal problems, women tend to internalize their feelings, leading to depression, eating disorders, and substance abuse. That's why women must seek out mental health treatments designed specifically for their needs. Some solutions include medication, therapy, meditation, or enrolling in rehabs.
But are these really necessary? This article will explore why the mental health of women is important. We'll also look at the common signs and causes of mental health issues.
What is Mental Health?
Mental health is a state of well-being in which we can use our strengths and cope with life's challenges. It affects how you feel, think, behave, and interact with others and your environment.
Mental health involves emotional and psychological well-being. It affects how we handle stress, relate to others, and make choices about the future. Some people are born with a greater risk of developing mental illnesses. Yet, there are steps one can take to stay healthy by promoting good mental health including detox centers.
Signs of Poor Mental Health in Women
If you're struggling with a mental health issue, knowing where to turn for help can be challenging. Mental health residential treatment centers aim to provide effective treatment options for your individual needs. At the heights treatment center, you'll get drug rehab programs if you seek long-term mental health treatment options to transcend sober living.
Common symptoms of poor mental health of women include;
Feelings of sadness
Irritability
Anxiety and worry
Loss of interest in activities once enjoyed
Changes in appetite or sleep patterns
Fatigue
Low self-esteem
Thoughts of death or suicide
Difficulty concentrating or making decisions
Restlessness
Lack of energy
Feeling guilty about things that are not one's fault.
Causes of Mental Issues In Women
The mental health of women is often overlooked. As stated above, women are more likely than men to develop depression, anxiety, and other emotional problems. This can have a devastating effect on their lives and those around them.
Many factors can affect the mental health of women. Some of these include:

Pregnancy and postpartum depression. Pregnancy can be very stressful for the mental health of women. Any woman who has had postpartum depression before should speak to her doctor about how best to manage it during pregnancy. She may also need some extra support during this time and after giving birth.
Hormones. While men and women have sex hormones like testosterone and estrogen, women have much higher estrogen levels than men. This can lead to mood swings and other emotional difficulties during different phases of a woman's menstrual cycle.
Stressors. Women face stressful situations more often than men do. They may have less control over their work environment or less access to paid family leave and other benefits. This can worsen any existing mental health issues and lead to new ones.
Traumatic life events such as sexual abuse, physical abuse, and domestic violence can lead to long-term adverse effects on the mental health of women. These traumatic experiences can also increase her risk of developing post-traumatic stress disorder (PTSD).
Living in an unhealthy relationship can be highly stressful, but women face additional challenges in this area. In many cases, abusive partners use manipulation to control their partner's life. This includes psychological abuse such as name calling and managing what their partner does or where they go. These relationships often result in low self-esteem and feelings of worthlessness for the victim.
Health issues. Many women live with chronic illnesses such as arthritis or diabetes that cause pain and discomfort. Women with these conditions often experience depression and anxiety because they feel like they are unable to live their lives normally. This can lead to feelings of hopelessness, which can contribute to mental health issues.
Eating disorders are mental illnesses that affect millions of women and men. Eating disorders are unhealthy preoccupations with food, weight, and body shape.
Substance abuse. Women with mental health issues are more likely to struggle with substance abuse. This is especially true for women diagnosed with post-traumatic stress disorder (PTSD). Substance abuse is often seen as a problem that only affects men, but the fact is that women struggle with substance abuse too. Although women's addiction rates remain lower than those among men, they're still significant enough to warrant attention and treatment.
Anxiety disorder is a mental health condition that causes excessive and persistent feelings of fear and apprehension. Because women tend to process emotions differently than men, they may also have different anxiety disorder symptoms than men. 
The Importance of Women's Mental Health
Women face ongoing discrimination in many areas, including pay inequity, sexual harassment, and workplace discrimination. These factors contribute to higher mental health problems in women than men.
Consequences of Mental Health Issues On Women
Women who have mental health issues face many challenges in their daily lives. They may have trouble managing their emotions or controlling their impulses and actions. They may have difficulty sleeping or concentrating on tasks at work or school. And they may feel overwhelmed by stress or grief which can lead to depression or anxiety disorders.
Women who have been diagnosed with depression or anxiety are more likely to abuse drugs or substances. This is because drugs and alcohol can be used as a coping mechanism when dealing with the stressors associated with mental health issues.
It's important for women who suffer from mental health problems like addiction to seek help at rehab centers that specialize in treating both conditions together. These centers have staff members who have experience working with both issues at once so that your addiction treatment will be personalized based on your needs.
We must avoid the root cause and fight mental health issues in its early stages. Here is why mental health treatment is important for women:
Women Have a High Rate of Depression
Women are also more likely than men to be diagnosed with eating disorders like anorexia nervosa or bulimia nervosa.
Besides, women are diagnosed with post-traumatic stress disorder (PTSD) at twice the rate of men. This could be because they are more likely to report having experienced a traumatic event in the past compared with men, according to NIMH. Yet, a residential treatment center can help women by providing individualized programs for recovery.
High Risk of Substance Abuse
The symptoms and effects of addiction are different for women than for men. Women are more likely to have co-occurring mental health disorders and engage in risky sexual behavior while under the influence of drugs or alcohol. Women are at a high risk for developing some types of mental illnesses including depression and anxiety disorders.
These conditions can lead to substance abuse problems, which can make it difficult for them to function normally in society or even in their own lives. As these conditions worsen, they may end up needing residential treatment centers or outpatient facilities that specialize in treating mental health issues along with substance abuse problems.
Improved Overall Health
Women are more likely to experience physical symptoms of anxiety, such as headaches and chest pain. They're also more likely than men to experience depression, leading to a higher risk of heart disease. Women with depression have an increased risk of early death from heart disease.
Women also often suffer from co-occurring disorders like substance use and eating disorders. These poor eating disorders can lead to weight gain and other problems such as high cholesterol levels and high blood pressure. These conditions increase your risk for heart disease, stroke, and diabetes, which are significant causes of death among women.
Improved Relationships
Mental health of women is vital since they are more likely to build strong relationships with friends or family. This is because they are less likely to get irritated or angry when someone makes them feel uncomfortable. They will also be able to listen to other people's problems without judging them or thinking that what they have been through is not as bad as what they experienced.
They will also be able to empathize with others more quickly than those who don't have good mental health. This means they can help others in any way possible without feeling like it's too much effort on their part or that they don't want to bother anyone else with their problems.
Boost Self-Confidence and Self-Esteem
Mental health problems can make it difficult for you to do your best at work or school and lead a happy life. They can also affect your relationships with people close to you, including family members and friends.
Mental health of women is key in ensuring they build their self esteem. If you have a mental illness, it can feel like your whole world is falling apart around you. In reality, though, there are many things you can do to help yourself feel better. You can start with getting help from a professional who knows what they are doing.
How to Improve Mental Health
Mental health is essential for everyone, no matter what sex or gender they identify with. Here's how you can improve the mental health of women:
Don't be afraid to ask for help
Know when to seek professional help
Spend time with friends and family
Exercise regularly
Eat healthy food and get enough sleep
Use stress management techniques such as breathing exercises and mindfulness meditation
Identify what makes you feel good about yourself, and do more of it
Visit an outpatient alcohol rehab center for addiction treatment
Conclusion
Continued research into mental health of women is vital, as many mental illnesses can be treated and managed. Even one employee going through this experience can have repercussions and stress on the entire team. Everyone has their own needs and limitations, which employers should understand.
For those of you with loved ones battling a mental illness, find ways to show your support and encourage them to speak out. You never know when or how they will feel comfortable speaking to someone outside the family or friend circle. The most important thing is communicating with them so they always feel safe and supported.
About the author:
Joni Ogle, LCSW, CSAT, Chief Executive Officer at theheightstreatment.com has over 25 years of clinical experience, management, and leadership in working with adults and young adults suffering from addiction and trauma. She is a licensed clinical social worker and a certified sex addiction therapist with additional training in Recreational Therapy, Pia Mellody's Post Induction Therapy, and Dr. Brene Brown's The Daring Way Shame Resilience curriculum.