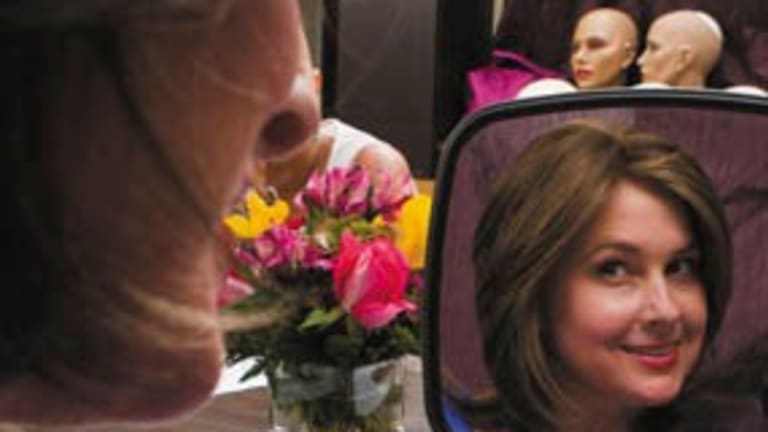 Giving the Gift of Confidence and Dignity
Look Good, Feel Better
Women battling appearance-related side effects of cancer treatment can benefit from the transformative impact of simple hair and makeup tips.
As a cosmetologist and a hair stylist, I work with wonderful clients every day. While I love the relationships I have built with my clients in my job "behind the chair," my most fulfilling work is as a volunteer with Look Good Feel Better. This organization provides women with free workshops to teach them hair and makeup techniques to cope with the changes to their appearance that they experience while undergoing cancer treatment.
I am always amazed at how the women at the Look Good Feel Better workshops open up to one another. They are all going through a similar experience, and there's something special about being able to relate to others on that level. There is a bond that occurs when women come together for two hours, take off their wigs, and learn simple techniques to re-create lost eyebrows with makeup or learn how to properly accessorize with different head coverings such as turbans, wigs, and scarves. It is truly inspiring to see the difference a single workshop can make in the confidence level of the women who participate. They open up, they smile, they have fun, and in the process they find hope and courage in a community of women on the same journey.
I am honored to be part of the Look Good Feel Better family and to play a small role in helping women face their cancer treatment with greater confidence and dignity. Here I share some of the best tips from our workshops. I encourage women who are going through cancer treatment to visit lookgoodfeelbetter.org to find a workshop to experience this program.
Makeup Tips
It is common to develop sensitive skin during chemotherapy and radiation. To reduce dry, flaky skin, clean your face with a creamy cleanser, then dot a light moisturizer on your forehead, cheeks, chin, and nose and gently blend. Be sure to always use a sunscreen with a sun protection factor (SPF) of 15 or higher.
Cancer treatment can change your skin tone. Women often think that foundation is the first step to a makeup routine, but for cancer patients it is crucial to apply a concealer underneath your foundation to cover spots or discolorations.
One of the hardest things for women going through cancer treatment is the loss of their hair—and this includes eyebrows and eyelashes. When eyebrows thin or fall out, choose an eyebrow pencil shade in your current hair or wig color, or just slightly darker, and use short, feathery, upward strokes to simulate the look of hair.
What is Medicare Advantage
Medical Advantage or MA plan is a health plan provided by a private organization that partners with Medicare to offer healthcare services with their Medicare Parts A and B privileges.
Choose a powder blush in a shade that complements your skin tone. A beauty professional or cosmetologist can help select contour shades to offset facial puffiness or gauntness.
Cancer treatment can increase your vulnerability to infection, so keep hygiene a high priority. Always wash your hands before using products. Use clean cotton balls, swabs, or disposable sponge-tip applicators—not your hands—for dispensing makeup.
Hair Tips
Don't be afraid of wigs. Wigs have come a long way! Just like you would for other big purchases, when choosing a wig be sure to do your homework. It is a good idea to bring a friend for backup and support. Believe it or not, you can actually make wig shopping fun!
Once you have chosen a wig, it is important to get the perfect fit. Take it to a stylist or a trained Look Good Feel Better volunteer for help with the fit.
Don't be afraid to mix it up. There is no reason to stick with one wig. A variety of styles are available to consumers. You can also purchase bangs or partial wigs separately to help change up your look.
Hats and turbans are creative and cost-effective options for women battling hair loss. If your head or scalp feels hot or irritated when wearing a wig, consider these fun accessories. For tips on choosing a hat or tying a turban or scarf, visit lookgoodfeelbetter.org.  _
Hans Kalsethas been volunteering with Look Good Feel Better as a facilitator for workshops at District of Columbia area hospitals for 14 years, and more recently he has been volunteering in Montgomery County, Maryland. Kalset is the co-owner of Eivind and Hans of Georgetown, a salon and spa.
TheLook Good Feel Betterprogram was founded and developed in 1989 by the Personal Care Products Council Foundation, a charitable organization established by the Personal Care Products Council, the leading national trade association representing the global cosmetic and personal care products industry. The program is a collaboration of the Personal Care Products Council Foundation, the American Cancer Society, and the Professional Beauty Association, a national organization that includes salons, spas, distributors, manufacturers, and more than 25,000 beauty professionals. For more information visit lookgoodfeelbetter.org.