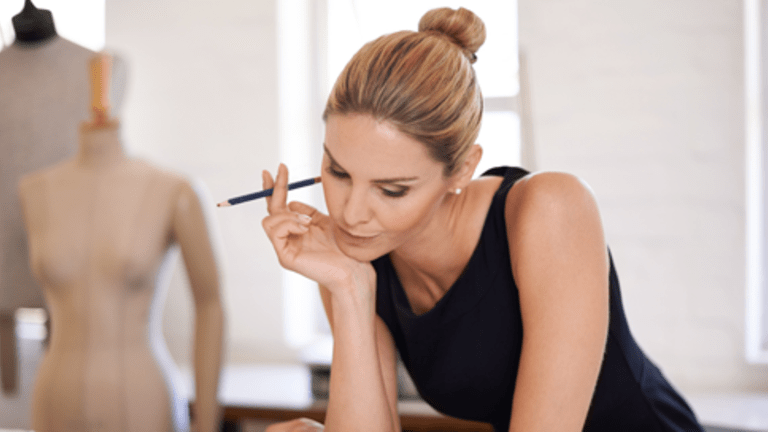 Fashion and Function
Designer Hilary Boyajian creates beautiful, stylish clothing for post-surgical breast cancer patients.
Designer Hilary Boyajian draws inspiration from family history, high fashion, and stories of survivorship to create beautiful, stylish clothing for post-surgical breast cancer patients.
When Hilary Boyajian was working on her senior thesis at Parsons School of Design, she knew she wanted her final project to address women's health issues and was drawn to the idea of socially conscious fashion. In particular, inspired by her own grandmother's survivor story and impressed by the mission of the nonprofit organization Shop Well with You (see sidebar), Hilary sought in her final project to collaborate with the organization to explore body-image issues related to cancer diagnosis and treatment and to produce clothing created specifically for women who have undergone treatments for breast cancer.
"I chose to focus on breast cancer because it's in my family but also because it's so widespread," says Hilary. "Everyone I meet seems to know someone personally who has been affected by this disease. I wanted to explore the relationship between women, breast cancer, and clothing, as I've always been fascinated by female body image in our society."
The outgrowth of Hilary's original thesis is her recently launched clothing line, Chikara, which, implementing the findings of her thesis research, produces high-fashion, flattering, comfortable clothes designed to accommodate women whose post-surgery bodies reflect the changes—including shifting and asymmetry—that a lumpectomy, mastectomy, or double mastectomy will create.
The research and the careful intention behind each piece of clothing is clear in viewing the line, and Hilary says the collection reflects her desire to respond to a common theme she repeatedly heard from many survivors she met. "My research revealed that many women were uncomfortable wearing prostheses and dissatisfied with the postmastectomy wear currently on the market," she says. Those who did not opt for reconstruction or prosthetics felt entirely left out of the loop, and even those who were choosing those options were being served in only a limited way. "Existing postmastectomy wear consists primarily of bras, prostheses, camisoles, and bathing suits. I realized that if women don't embrace these products, they are left to their own creative devices when looking for clothes to fit their new body types, particularly if they're experiencing breast asymmetry following a single or bilateral mastectomy, a lumpectomy, radiation therapy, or even reconstructive surgery." The answer to the dissatisfaction these survivors were experiencing, Hilary felt, lay in creating a fresh, modern clothing line that "created the notion of prosthesis externally rather than internally."
Do You Have the Perfect Nose?
The British Association of Aesthetic Plastic Surgeons (BAAPS) regularly releases an annual audit, and the figures from 2018 showed that some 28,000 procedures took place in 2018.
Though the idea of an "external prosthesis" may seem strange, Hilary describes that the illusions she can create with fabric as part of the design can act in the same way an internal prosthesis would perform. "I play with different ways of manipulating fabric to balance the asymmetry—from ruching to ruffles, circular flounces, godets, pleating, smocking, draping, and gathering." And, Hilary says, though her mission is to create pieces that flatter post-surgical forms, as a designer she strives to create clothing that can be worn by all women. "I love creating pieces that are inspired by this need but can be worn by any woman regardless of her medical history. It's exciting to play with classic silhouettes like tunics, cardigans, dresses, and wraps and then drape the area with three-dimensional fabric. I drape on mannequins that are single- and no-breasted."
In addition to allowing for asymmetry, Chikara designs feature elements like raglan, dolman, and kimono sleeves to accommodate lymphedema; and wrap and cardigan designs allow for limited arm mobility. The designs also utilize breathing and wicking fabrics to aid in heat transfer and cooling for women experiencing body temperature fluctuation. The beauty of the clothing—aside from its functionality—is achieved in modern, graceful designs created in soft, supple fabrics that Hilary carefully chooses to accommodate both the sensitive skin of survivors and the draping, folding, ruching, and ruffling that make the pieces so unique. "I like to work primarily with natural fibers: cottons, silks, wools. I'm also interested in organic fibers. Right now my favorite fabric is ultrafine Merino wool. The quality I use has next-to-skin softness, a beautiful drape, natural wicking properties, and temperature control (keeps you warm in the cold and cool in the heat), is biodegradable and renewable, anti-microbial, washable, and anti-wrinkle, and is available in many vibrant colors."
Throughout Hilary's designs runs the high-fashion sensibility that she feels strongly women should not have to relinquish in the face of a cancer diagnosis. Herself inspired by designers like Oscar de la Renta, Issey Miyake, Rei Kawakubo, John Galliano, and Vivienne Tam, Hilary is passionate about the role that fashion can play in a woman's recovery. The positive impact of putting on something that makes you feel stylish and sexy and is at the same time functional can put a positive spin on what for many women becomes a dreaded experience after cancer. "Everyday rituals like dressing can be a constant reminder of a woman's cancer experience as she routinely confronts side effects such as scars, breast loss, hair loss, soreness, fatigue, and weight changes," Hilary says. The loss of identity that accompanies these changes, she continues, can be difficult to cope with, and "endlessly searching for clothes that fit correctly and hiding under layers of excessively large tops to escape your own body should not be the only fashion approach."
The goal should be for a woman to have the opportunity to embrace her sense of style by choosing from pieces that accommodate her changing body while flattering her figure and comforting her. "If women are presented with more clothing options post-surgery, they benefit positively from knowing that the fashion industry has recognized the need for a high-fashion yet functional clothing line dedicated to breast cancer survivors." This acknowledgment of their special need along with clothing choices that themselves instill a renewed confidence can be powerful tools in recovery. Most important, Hilary says, in wearing clothes that fit both their changed bodies and their fashion sense, "women will feel strong and beautiful so they can focus on the more important issues in their lives."
Hilary Boyajian's Chikara line is available online at www.chikaradesign.com and at Hackensack University Medical Center's Shoppe on Fifth.