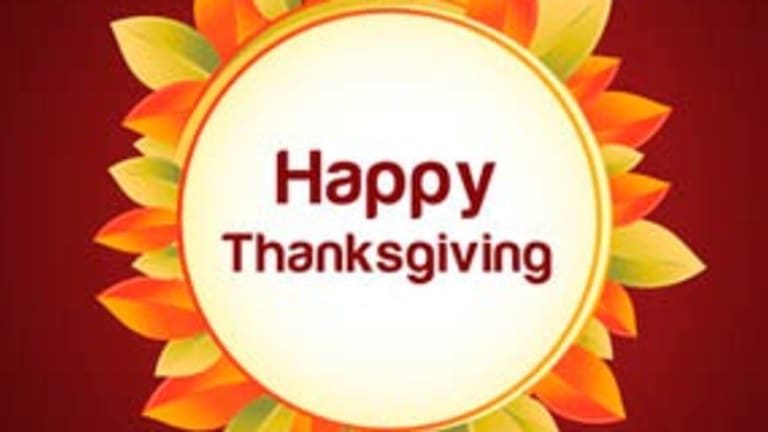 Celebrate the Thanks in Thanksgiving
Teach kids the art of gratitude for a meaningful holiday.
by Colleen Weaver
Thanksgiving is traditionally a day of family, food, and football—but shouldn't it be more than that?
Between the excitement of Halloween and Christmas lurks an oft overlooked holiday for kids and families. Thanksgiving may lack the fun of candy and costumes or the magic of Santa and reindeer, but it has an important lifelong lesson for our kids—gratitude.
There are two critical words in Thanksgiving: thanks and giving. It is a time to give thanks. Instead, the four-day weekend has morphed into a food-fest that marks the kickoff to the holiday shopping season.
It's tempting to succumb to the hustle and bustle that surrounds the holiday, but with a little intention, you can keep your focus where it belongs—on gratitude.
Gratitude Isn't Stressful
Most women will attest that the week prior to Thanksgiving is stressful. We may have to make travel arrangements, do the grocery shopping, clean the house, prepare for house guests, set the table, bake, and so much more. The joy and the gratitude of the holiday immediately seep out the cracks of our lives, and what started out as a fun idea—host Thanksgiving dinner—turns into a stressful chore.
But this whole system runs counter to the true spirit of the holiday—gratitude and joy. Gratitude is a deep sense of appreciation that leaves us feeling warm and blessed. (See The Gift of Gratitude.) Unfortunately, if our attention is on lumpy mashed potatoes or upcoming Black Friday sales, it's easy to miss that feeling of gratitude. But people who maintain the true focus of Thanksgiving know a secret—gratitude tastes more delicious than pumpkin pie.
Take Back Thanksgiving
You don't have to give anything up to put the thanks back into Thanksgiving. You may choose to spend your four-day weekend traveling to see family, skiing, watching football, or simply gorging on turkey, mashed potatoes, and pie. If you love these things, by all means, continue to do them—just do them from a place of gratitude.
Try these tips for having a truly thankful Thanksgiving:
Plan ahead. By preparing food ahead of time, you'll give yourself some breathing room and relieve some of the pressure of the holiday. Stock ingredients in advance and prepare your table several days early. You'll be thankful that you don't have to scramble around at the last minute.
Delegate. You don't have to do it all. In fact, part of the joy of the Thanksgiving meal is sharing in the preparation. Everyone wants to contribute—so let them. We all take satisfaction in knowing that we have something to share.
Establish an attitude of gratitude. Create a build-up of gratitude in your home in the weeks preceding the holiday. Some families place a gratitude jar in a central location, along with slips of paper. Throughout the week, family members jot down things for which they are grateful and drop them in the jar. At the Thanksgiving meal, they empty the jar and read the gratitude statements.
Share. Many people are alone for the holidays. Invite a neighbor or elderly person to share Thanksgiving with you. You'll feel good and so will they.
Volunteer. Thanksgiving is an excellent time to be of service. Most soup kitchens are inundated with volunteers on Thanksgiving day, but consider sharing your time or services elsewhere—or on the day after Thanksgiving when many people are preoccupied with Christmas shopping.
Whatever your Thanksgiving tradition, remember to enjoy the holiday and focus on all that you have to be grateful for—family, friends, health, food, community, and more. That feeling of gratitude is likely to spill over to the next day and the next. Before you know it, it will feel like Thanksgiving every day.
Teach your children that Thanksgiving is about more than football and feasting, consider incorporating one of these traditions into your Thanksgiving celebration.
Gratitude Box: At the beginning of November, place a box or jar in a central location, along with strips of paper and writing utensils. Encourage your family to record the things they are grateful for and drop them in the box. Make it a game—can they record something every day or every time they pass by the box? Open the box at the Thanksgiving meal and read the statements aloud.
Two Trees: Many families have incorporated the tradition of a Thanksgiving "tree", to which they add leaves of gratitude each day in November. Consider having two trees—a thanks tree and a giving tree. (Your kids can help you make the trees out of paper or cardboard, and cut out leaves for the trees.) Place the trees in a central location and make it a family ritual to place leaves on the tree every day—each family member can add leaves to both trees by writing something they are thankful for and something they have done to give to or help others. This keeps your family centered in gratitude and giving.
Thanksgiving Book: Create a Thanksgiving book that grows with each passing year. Every family member creates a page of gratitude each year—it could be a drawing, a poem, or simply a list of things they are grateful for. Be sure to write the date on it and then place it in a binder. It's fun to place the Thanksgiving book on a coffee table during the month of November to allow your family and guests to reflect on the gratitude and gifts of years past and present.
Thankful Tablecloth: Buy a large white sheet or tablecloth to use for the Thanksgiving table. Provide markers and brace yourself for the chaos and fun that ensues. At Thanksgiving dinner, have each person add his/her mark to the tablecloth. Guests might choose to write their name, draw a picture, write something they are grateful for, trace their hands, or find any way to leave a mark that says, "I was here." Save the tablecloth and add to it each year. It's fun to read the tablecloth at Thanksgiving dinner each year and remember Thanksgivings of years past. (Some people take the time to embroider over the writing each year after Thanksgiving, but permanent marker works just as well!)
Thankful Leaves: Place blank leaves at each place setting when you set the Thanksgiving table. As guests arrive, instruct them to take time to visit the table and write something on each person's leaf. It might be a compliment or something they are grateful for about that person. When guests arrive at the table for dinner, they'll be greeted by a "warm fuzzy" on their plate.
There are countless activities and traditions you can incorporate into your family Thanksgiving. Gratitude can be fun and meaningful. Here's to a Thanksgiving filled with thanks and giving.