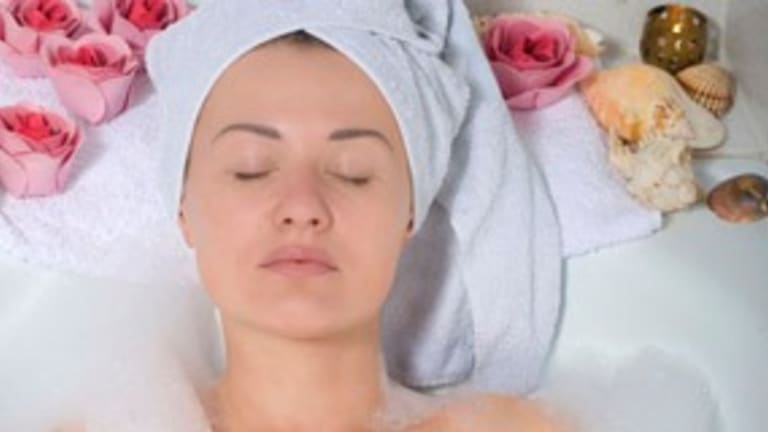 Bath Time
Warm water, bubbles, and essential oils can melt your stress away.
Bath Time
by Laurie Wertich, Medically Reviewed by Dr. C.H. Weaver 07/27/21
​
We live in a fast-paced world full of meetings, responsibilities, and traffic jams. If you're looking for a way to relax and unwind, try a little hydrotherapy.
What is Hydrotherapy?
Hydrotherapy involves the use of water for pain relief or restoring and maintaining health. Historically, hydrotherapy was believed to cure disease. A Bavarian monk named Father Sebastian Kneipp popularized hydrotherapy in the 19th century because he believed water could remove waste from the body. While we now know that hydrotherapy won't cure disease, it can provide relaxation and stress relief.
Practicing Hydrotherapy
Hydrotherapy is really just a formal name for soaking in warm water. It can be wonderfully relaxing and rejuvenating to soak in the healing waters of a hot spring or mineral spring, but hydrotherapy can just as easily be practiced at home in your own bathtub.
Benefits of Hydrotherapy
Soaking in hot or warm water can produce a profound sense of relaxation. Bathing calms the nervous system. Warm water causes blood vessels to dilate, increases blood circulation, and relieves tight muscles. In addition, submerging the body in warm water produces a sense of weightlessness, which eliminates the constant pull of gravity and results in an overall sense of relaxation. The feeling of the water produces a massage-like sensation that gently kneads the body into a relaxed state.
Bathing can relieve aches and pains associated with menstrual cramps, hemorrhoids, arthritis, and muscle spasms. It can also help you fall asleep at night.
Take the Plunge
You don't need access to a special mineral springs or hot tub to enjoy the benefits of bath time. You can create a sanctuary of relaxation right in your own home. Try these simple home baths and feel your stress ooze away:
Basic bubble bath: Run hot water, add bubbles, and voila—you have a simple, quick stress reliever. Immerse yourself in the water, close your eyes, and feel the bubbles lap against your skin as you drift off into never-never land.
Epsom salt bath: Epsom salts are an excellent detoxification tool. Add Epsom salts to your bath for relief from inflammation, sore muscles, arthritis, or hemorrhoid pain. They provide great relief after a workout or anytime you are feeling "emotionally toxic."
Baking soda bath: Add baking soda to your bath during the cold, dry winter months to relieve itchy, dry skin.
Oatmeal bath: Oatmeal baths are effective for relieving skin rashes or poison ivy.
Essential oils: Essential oils add an element of aromatherapy to your bath. Add a few drops of lavender to your bath to create an oasis of calm.
Herbal bath: Some health food stores sell herbal bath blends that you can place in a pouch and add to your bath water. A blend of chamomile and lavender is sure to induce relaxation.
Whatever your preferred bath-time ritual is, be sure to dim the lights, light a few candles, and turn on some relaxing music. You'll feel a sense of blissful relaxation in no time!