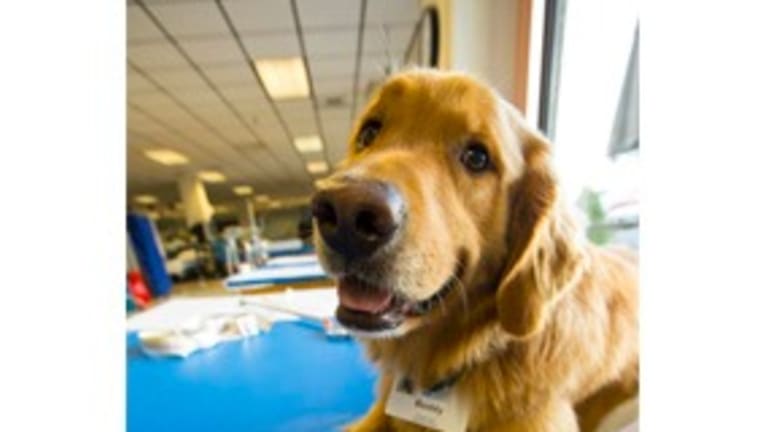 Animals Help Patients Heal
Hospitals and other care facilities around the country are increasingly incorporating animal therapy.
Healthcare has gone to the dogs at medical centers and clinics throughout Portland, Oregon. For that matter, it's gone to the bunnies at NYU Langone Medical Center's Hospital for Joint Diseases, and to the cats at Levindale Hebrew Geriatric Center and Specialty Hospital in Baltimore.
Hospitals, rehab units, geriatric centers, cancer centers, and healthcare facilities nationwide are discovering the benefits of incorporating animal therapy in patients' care. "Therapy animals help with pain control, anxiety, motivation, and blood pressure," says Heidi Hunter, MD, medical director of inpatient rehabilitation at St. Francis Medical Center in Cape Girardeau, Missouri.
Numerous studies have shown that animals provide immediate and long-term physiologic, social, and psychological benefits, including stress reduction, relaxation, and companionship, according to a 2008 clinical review[i] published in the American Journal of Critical Care. Adult patients who spent 12 minutes with a therapy dog had decreased anxiety and stress levels and improved cardiopulmonary pressures when compared to those who did not spend time with a dog according to a 2007 UCLA study.[ii]
Dr. Hunter takes her own dog, a 6-year-old golden retriever named Buddy, pictured here, on morning rounds. "Patients who are working on balance will walk him. For arm strength and coordination, they will throw his tennis ball and brush him. If they have difficulty speaking or remembering, they will walk around the halls and tell people about Buddy," she says. Buddy is such a valued staff member that he even has his own name badge.
Ryan Jaslow, a spokesperson for NYU Langone Medical Center, says the therapy bunnies who make the rounds at the Hospital for Joint Diseases have a similarly positive impact: "When an impatient is having a tough time, a bunny can be brought to the bedside. Doctors and therapists from around the hospital recommend therapy bunnies to help their patients' rehabilitation."
At Levindale, cats are on call for patients. The center is home to four resident felines (all rescued). Helene King, who works in the communications department at Levindale, says the impact of the animals on patients' well-being is clear: "It has a relaxing, happy effect. When [patients] see an animal, they smile and reach out to touch it, which melts away stress."
In addition to the cats, Levindale also receives regular visits from dogs, and the center has birds and fish that live on site. The animals relieve the patients' feelings of loneliness, helplessness, and boredom, says John Ottena, who manages the hospital's Recreational Therapy Department. "Sometimes animals are used for therapy. Other times they provide emotional satisfaction," Otena explains. "Walking up and down the hall for a therapy session can be a chore. But if a patient is walking Bella [a dog] around, they instead get joy out of [the activity]," Ottena says. "I've watched a patient who was agitated and pacing around actually sit down and visibly relax to pet a dog."
Canine therapy teams make the rounds throughout Portland, Oregon, comforting patients in more than 35 facilities, from assisted living and memory care communities to children's medical centers and clinics. "Our teams regularly visit Kaiser Permanente Sunnyside Medical Center, Providence Child Center, Powell Valley Assisted Living & Memory Care Community, and Bridge to Independence for survivors of traumatic brain injuries," says Shawna Harch, a spokesperson for Portland Area Canine Therapy Teams.[iii]
"Animals help patients heal in vital ways," says licensed clinical psychologist Pia Salk, who specializes in the human-animal bond in her Irvington, New York practice. "While working with at-risk young adults and their families, I often offer the option of having one of my rescued dogs join us in therapy. While living in California, I founded a program that paired at-risk youth with sanctuary animals—including chickens, cows, horses, dogs, pigs—that shared similar histories of abuse and neglect. It was remarkable to witness the mutual healing."
[i]Halm MA. The healing power of the human-animal connection. American Journal of Critical Care. 2008 Jul;17(4):373-6.
[ii]Cole KM1, Gawlinski A, Steers N, Kotlerman J. Animal-assisted therapy in patients hospitalized with heart failure*.* American Journal of Critial Care. 2007 Nov;16(6):575-85; quiz 586; discussion 587-8.
[iii] Animal Assisted Therapy & Education. DoveLewis.org website. Available at