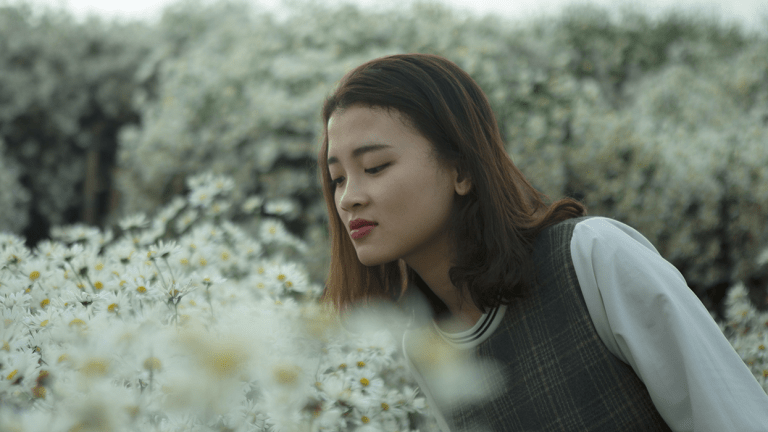 7 Ways Gardening Is an Exercise in Mindfulness
Have you ever wondered why your first glimpse of a patch of crocuses each spring elicits happiness?
Whether or not we have a garden of our own, something in our DNA draws us to flowers. The connec­tion goes beyond appreciating the surface beauty of the blossom. The very act of connecting with flowers and other plants instills a sense of calm and inner peace that boosts our overall happiness levels.
Science backs up the Chinese proverb that tells us If you want to be happy for a lifetime, be a gardener. Research shows that people who spend time cultivating plants experience less stress, have a more positive outlook on life, and are healthier both phys­ically and mentally.1
Having led a highly nomadic life during my first 30 years, I was a late bloomer when it came to learning the happiness bene­fits of gardening. Once I settled down 20 years ago (not without some resistance, I might add), my garden became my first mind­fulness mentor—long before I had ever heard the term.
Read on to learn how time in the garden can lead to mindfulness—and, in my experience, happiness.
1.Gardening grounds us in the present moment. The sensory experience of garden­ing—working the soil, feeling the breeze on our cheeks, inhaling the fragrance of a rose, experiencing the strain in our muscles as we lift a shov­elful of dirt, tasting a freshly plucked berry—keeps the gardener grounded in the present moment. Worries about the future or the past dissolve in an instant while digging in the dirt. The garden channels all energy into the here and now, the only place where anything real happens.
2.Gardening connects us to the source of cre­ation. By cultivating new growth and beauty in the environment and helping the earth de­liver its gifts, we are acting in alignment with the big-picture plan of the universe. The earth rewards us for paying attention to its needs. As Ralph Waldo Emerson once wrote, "Earth laughs in flowers."
3.Gardening—and maintaining a compost pile in particular—teaches us that beauty will eventually arise from the muck. This is a good lesson to hold in your heart in the midst of dark times. You might be bogged down in a life situation that feels like a slimy mix of coffee grounds, vegetable skins, and rotting leaves, but with time, patience, and self-reflection, positive trans­formation occurs.
4.Gardening teaches us how to weed out nonbeneficial plants to make room for new growth of our choosing in much the same way that mindfulness teaches us to weed out non­beneficial thoughts that don't serve us. Each practice supports the other, resulting in a flourishing of our internal and external gardens.​
5.Gardening nurtures creativity. Color, texture, and form are the paintbrushes in landscape design. But gardening's creativity benefits extend beyond the flower border; by engaging our senses, gardening pulls us into the creative space of the right brain. The quieter, more spacious mind that gar­dening cultivates prepares fertile ground for creative ideas and problem solving to take root and reach for the sun. The universe wants us to create!
6.Gardening teaches us to let go of our need for control. My favorite garden writer, Marga­ret Roach, sums it up best in The Backyard Parables: "As I often remind myself and any­one listening, there is one thing I know with certainty about gardening after 30 years of study and practice: Things will die." Gardeners learn to accept imperma­nence with the knowledge that spring will return one day without fail.
7.Gardening teaches us that even on rainy days focusing in on the details unveils sparkling, unexpected beauty. And without that rain, growth is impossible.
No matter how many teachers I follow, no matter how many books I read, the garden has always offered up life's most important lessons in happiness. It has taught me patience, to let go of the need to control, to let go of expectations.
The garden is a place of and for trans­formation. Most importantly, the garden has taught me that a quiet mind is a calm, content, and aware mind, open to hearing the messages whispered from the uni­verse to our hearts. And from that place, our sense of purpose arises.
Stay Current With The A Woman's Health Newsletter
Stress Relief Through Gardening
Remember, if you're looking for a way to get some physical exercise, breathe deeply and relieve some stress look no further than your garden. Planting and tending a garden is an excellent way to alleviate anxiety and create a quiet respite amidst a busy life.
Why Gardening Works to Relieve Stress
Some people see a garden as a chore and others see it as a bountiful opportunity for organic, delicious food. In truth, it can be a little bit of both. Still planting a garden produces a long list of benefits with little or no downside.
Physical exertion: Gardening is physical work. Activities such as digging, planting, raking, pruning, weeding, and harvesting provide a physical outlet for the tension we store in our bodies. There's nothing like a little manual labor to relieve stress.
Sunlight: Gardening exposes you to sunlight and fresh air, both proven mood boosters. It allows you to soak up the vitamin D as well as the light that triggers a happy response in the brain.
Meditation: Anyone who has spent hours weeding the garden understands the meditative quality of the task. Gardening is often repetitive and focused. It offers a quiet space for contemplation. You may feel more clear after time spent in the garden, even if you haven't been thinking about anything of importance. It allows a space for your brain to take a break.
Perspective: Gardening is an act of hope. We plant seeds and trust that they will grow. Tending to a garden is a way of stepping outside of ourselves and it helps to put things in perspective. Nurturing something outside of ourselves shifts the focus away from self and this can be valuable in times of anxiety and stress.
Getting Started
If you've never gardened before, it can feel intimidating to start—but it doesn't have to be. A garden can be as big or small as you want it to be. Some people garden large patches of land, while others choose small container gardens on a patio. Choose what feels right for you. A few tips:
Start small.
Plant things you love. If you love the beauty of flowers, grow flowers. If you love the idea of healthy, organic produce, grow vegetables.
Make time for it. Gardens need regular attention. Make it a priority, lest it turns into a stressor instead of a stress reliever.
Reference
Matsuo E. Humanity in horticulture—healing and pleasure. Acta Horticulturae. 2008;790:39-44. doi: 10.17660/ActaHortic.2008.790.3
Martha Brettschneideris an author, blogger, speaker, mas­ter gardener, and award-winning photographer. In 2009 she was diagnosed with breast cancer, which reoriented her perception of body, mind, and spirit. A former international economist, Brettschneider transformed from a left-brained businesswoman to a meditation-touting creative finally at peace with the world. She chronicles her journey in her debut book Blooming into Mindfulness: How the Universe Used a Garden, Cancer, and Carpools to Teach Me That Calm Is the New Happy (Damselwings Press, 2016; $14.95). She lives in Virginia with her husband, two sons, and her plant-eating golden retriever, Apollo (who has taught her the art of letting go). Connect with Martha on her website,marthabrettschnei­der.com, or on Facebook, Instagram, Pinterest, and Twitter.