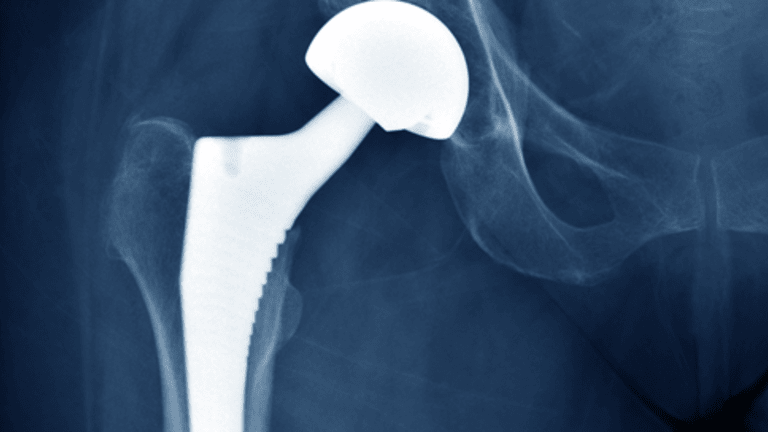 Understanding Joint Replacement - Is a new joint the answer to your pain?
An interview with Dr Boothby, Orthopedic Surgeon about joint replacement - Is a new joint the answer to your pain?
by Laurie Wertich and C.H. Weaver MD
Kathi Dunn endured six years of chronic pain before deciding to undergo hip replacement surgery. The 68-year-old graphic designer from Hayward, Wisconsin, had always been very active—power walking, hiking, canoeing, and even planning her vacations around outdoor activities. But all that changed when the pain set in.
Looking back, I realize that I started choosing safe things, just in case the pain escalated," Kathi explains. "It got to the point where I was bowing out of almost everything."
For someone whose goal is to hike all the national parks, the pain and the reduced activity took its toll—mentally and physically. "About a year ago, I realized I was losing my life," Kathi says. "One of the pivotal moments came when we were planning our vacation and I realized that I couldn't plan the things I wanted to do."
That's when Kathi started researching her options. After trying just about everything under the sun—including acupuncture, pain management, physical therapy, yoga, and more—she finally opted for a total hip replacement.
Joint Degeneration and Joint Replacement
Many of us toss around terms like joint replacement or hip replacement without understanding exactly what it means. A joint is where two or more bones come together—such as the hip, knee, shoulder, or elbow. Over time joints experience wear and tear, which is referred to as joint degeneration. The most common cause of joint degeneration is arthritis, but joints can also be damaged by trauma, autoimmune disorders, and medications.
Joint replacement surgery is exactly what it sounds like: removing a damaged joint and replacing it with a new, albeit artificial, one. The most common joint replacements are hips and knees, but other joints that can be replaced include shoulders, elbows, ankles, and fingers.
Artificial joint implants are made of plastic, metal, or both. Sometimes a surgeon replaces the entire joint, which is referred to as a total joint replacement, and other times a surgeon opts to replace only the damaged parts of a joint, which is referred to as a partial joint replacement.
Joint Replacements Are on the Rise
It is not your imagination—joint replacement is becoming more common. In fact, more than 1 million people undergo joint replacement in the United States each year, and that number is expected to rise to 4 million by 2030.(1)
Women are undergoing about 500,000 joint replacement surgeries per year. The majority of joint replacement procedures are performed in individuals older than 65, but more and more people between 45 and 65 are opting to undergo the procedure.2 The most common joint that is replaced among female patients is the knee.3 Men and women have equal rates of total joint replacements in each of the joints, although women undergo twice as many partial hip replacements as do men.4 Partial hip procedures are often used to treat fractures.
Michael Boothby, MD, orthopedic surgeon and founder of the Orthopedic & Sports Medicine Institute in Fort Worth, Texas, explains that joint replacement has become much more common in the past 15 to 20 years for two reasons: because the population is getting older and because the surgery itself has improved.
"We have an active, aging population, and the surgery has gotten easier, the instrumentation has improved, and the implants have evolved," Dr. Boothby explains. "In the old days, joint replacement took several hours and a couple of surgical teams. Nowadays it's a much more straightforward process."
Dr. Boothby specializes in sports medicine and minimally invasive knee and shoulder surgery. He performs a lot of knee replacements in his practice. "Joint replacement is not as big a deal anymore. We can perform a knee replacement in under an hour," he says. What's more, patients are usually up and walking that same day.
When to Choose Joint Replacement
Kathi had the perfect reason for considering a joint replacement: the pain was affecting every aspect of her life.
"When you start making decisions in your everyday life that are based on that pain, it might be time to consider joint replacement," explains Dr. Boothby. "If, for example, you don't want to go to your grandson's football game because you're worried about climbing the bleachers, that knee or hip is really starting to drive your decisions and it's time to take a closer look."
Joint replacement isn't an emergency situation like a heart attack; it is an elective procedure—and ultimately it is up to an individual to decide when it is time. Dr. Boothby says that a lot of younger patients are opting for the surgery. "It used to be that if you were 55 and had severe degeneration, we told you to come back at age 65, so you were stuck for the next 10 years suffering," he says.
But things have changed. First, the technology has improved and the implants now last longer. Instead of 10 to 12 years, many implants now last 15 to 20 or even 25 years. Second, the revision surgery—the term for replacing the implant when it wears out—has gotten easier. "It used to be a long, crazy ordeal to get an implant out and replace it, but now it's much easier," Dr. Boothby says.
As a result, individuals who want to stay active can opt for the surgery at a younger age. "We only go around once, and we want to leverage our good years," Dr. Boothby says. "Between age 50 and 60, those are really good years. If you are in pain, you might not want to wait until you're 75 because you want to be active now, not later."
In Kathi's case, she wanted her life back, and she knew she had exhausted every other option.
Preparing for Joint Replacement Surgery
Kathi went to a regional joint replacement center in Duluth, Minnesota, for surgery. And she didn't just show up for the surgery—she prepared for it. "I think a lot of people don't choose the surgery because they have fear, and the only reason they have fear is because they don't have enough knowledge."
The hospital gave Kathi a guidebook for hip replacement, and she read it cover to cover. She attended meetings at the hospital prior to the procedure and spoke with staff members several times by phone. "It was my choice to be actively involved," she explains. "It helped me feel like an active participant, so I had enough knowledge and a high comfort level going into it."
Dr. Boothby says that this kind of preparation is critical: "Good communication is key. Everyone comes with different preconceptions and ideas, and it's important to address all of their questions."
Know the Risks and the Complications
Although joint replacement surgery is considered safe, any surgical procedure carries inherent risk.
All surgery carries the risk of infection. With joint replacement some patients can experience early infection, meaning it occurs in the days or weeks following the surgery; others may experience late infection, meaning it occurs years down the road. Infection of a joint replacement can be a serious complication and may even necessitate removal of the implant. To reduce the risk of infection once you have a joint replacement, you may be told to take antibiotics anytime you undergo an invasive procedure, such as dental work or colonoscopy.
As with any surgery, there is the risk of developing a blood clot, although the use of blood-thinning medication and compression stockings helps minimize this risk.
Other complications associated with joint replacement are stiffness, hip dislocation, and implant loosening or failure. Stiffness can be the result of scar tissue buildup, which is why it is so important to begin activity immediately and adhere to a physical therapy program. Hip dislocation can occur for a variety of reasons, including falls and sitting too low. Patients who undergo hip replacement are usually given hip precautions, such as not crossing the legs, avoiding turning the foot inward, and using elevated seats. Though they are designed to last much longer than they used to, over time implants can loosen or wear out. This may require revision surgery—the replacement of a replacement.
Undergoing Joint Replacement Surgery
Joint replacement surgery typically takes one to two hours and requires an average hospital stay of about three days. Some people leave the hospital sooner, and some stay longer.
Dr. Boothby explains what the first three days look like:
Day one is a recovery day. The anesthesia is still circulating in the body, the joint is uncomfortable, and you may feel groggy.
Day two is a transition day. You will perk up and feel more normal. You'll be up and around with therapy, and the surgical dressing will be changed.
Day three is about meeting goals. Before you can go home, you must be able to walk a certain distance and navigate stairs safely.
Immediately after surgery, movement is key. Patients who undergo knee replacement will wake up to find their knee in a continuous passive motion device, which bends the knee back and forth to restore range of motion. What's more, most patients will be up and walking pretty quickly.
"The coolest thing about all this was that about an hour or two after I got back to my room after surgery, they had me up and walking," Kathi says. "They weren't just going to let me sit around. They've learned that after surgery, you need to get moving."
Dr. Boothby says that this is standard practice: "We are pretty aggressive with physical therapy now, and we get patients up and walking right away, usually on the same day as the surgery."
"It was so empowering and it was painful," Kathi says. "But it gave me so much hope right away that I wasn't going to be laid up for a long time."
Recovering from Joint Replacement Surgery
Indeed the whole idea is that patients who undergo joint replacement will not be laid up. In fact, most people begin physical therapy pretty quickly after surgery and progress from using a walker to a cane within two weeks. After a month most patients do not need an assistive walking device.
Kathi says that the hardest part about the whole experience was arriving home from the hospital and facing the 12 steps that lead to her front door. There was no railing, so her husband assisted her just like he had been taught at the hospital. "That felt like the longest walk I had ever taken in my life and the most painful," she recalls. "That day was the hardest, but from there everything became easier."
Kathi performed her physical therapy exercises diligently and progressed quickly. Within three months she was walking a mile a day, and within six months she was back in peak form, joining her walking group for 8-mile power walks. "My surgeon told me that at six months I wouldn't even think about the surgery, that it wouldn't be top-of-mind anymore," Kathi says. "He was absolutely right."
While recovery varies from individual to individual, on average most patients experience a full recovery within three to six months.
With his knee replacement patients, Dr. Boothby says, "A good rule of thumb is that from the day of surgery to the day they come whistling back through my door saying they feel great is usually about three months."
The Big Picture
The goal of joint replacement surgery is to get people back to full strength and full activity, but Dr. Boothby insists that it is important that people have realistic expectations. "We are not trying to give you the knee you had when you were 18 years old. That is not possible," he explains. "We can't make it a normal knee, but we can make it a lot better than the one you have right now."
That said, the results of joint replacement are quite good. Most people experience more mobility and better quality of life.
"I am so happy I did this," Kathi says. "I think about a few years of my life that I kind of missed out on, and it makes me sad that I didn't do this earlier."
Questions to Ask Your Doctor
If I do not have this surgery, what can I expect?
If I do have this surgery, what can I expect?
What are the risks and the complications of this surgery?
How many of these surgeries have you performed?
Do you have outcomes data?
Are you using the most recent technology?
How invasive is this procedure?
How large will the scar be?
How much pain can I expect, and how will it be managed?
How long will I be in the hospital?
How long will the implant last, and what can I do to ensure that it lasts as long as possible?
How long is the recovery process? What can I expect in the days, weeks, and months following surgery?
Will I have any limitations after surgery?
Choosing a Doctor
If you are considering a joint replacement, what should you look for in a doctor or clinic?
Experience. Choose a doctor who specializes in and performs a lot of joint replacements.
Volume. Outcomes are consistently better at hospitals where a high number of procedures are performed and with doctors who perform a high volume of procedures.5
Outcomes. If possible, check outcomes data and choose a doctor with a high success rate and a low complication rate.
​
References
Kurtz S, Ong K, Lau E, Mowat F, Halpern M. Projections of primary and revision hip and knee arthroplasty in the United States from 2005 to 2030. Journal of Bone and Joint Surgery (American Volume). 2007;89(4):780-85.
Learmonth ID, Young C, Rorabeck C. The operation of the century: total hip replacement. Lancet. 2007;370(9597):1508-19.
Orthopedic Stats and Facts. Department of Research & Scientific Affairs, American Academy of Orthopaedic Surgeons website. Available at: http://www.aaos-annualmeeting-presskit.org/2012/orthofacts/Orthopaedic_Stats_and_Facts.pdf.
Health, United States, 2009: With Special Feature on Medical Technology. National Center for Health Statistics website. Available at: http://www.cdc.gov/nchs/data/hus/hus09.pdf#executivesummary.
Katz JN, Barrett J, Mahomed NN, Baron JA, Wright RJ, Losina E. Association between hospital and surgeon procedure volume and the outcomes of total knee replacement. Journal of Bone and Joint Surgery (American Volume). 2004;86-A(9):1909-16.
http://www.aaos-annualmeeting-presskit.org/2012/orthofacts/Orthopaedic_Stats_and_Facts.pdf.
Copyright © 2018 CancerConnect. All Rights Reserved.