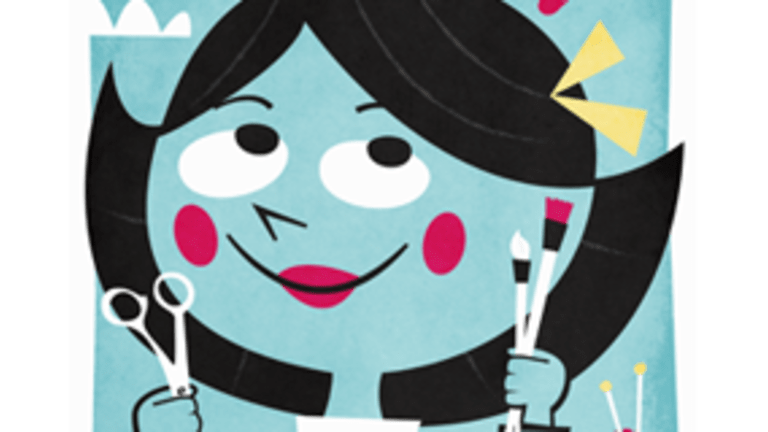 True Calling: Turn Your Passion into your Profession
Three women find passion and purpose through transforming their professional lives.
No matter how carefully you plan your ca­reer, how well you prepare for it, how hard you work at it, and how much you love it—at some point it may be time for a change. Perhaps you were handed a pink slip. Maybe your industry shifted or the economy took a dive. Family issues may have forced a change. It could be that the work that once seemed perfect just isn't a good fit anymore.
Suddenly You Need To Figure Out: What Now?
The three women who share their stories here each found herself in this position after years in her re­spective field. Here's how they rein­vented their careers to pursue their passions.
It Was All About Adapting
For 15 years Anastasia "Stacey-Marie" Stevenson flourished as a fashion designer in Los Angeles. High-end boutiques and department stores carried her lines, she had her own private label, and big celebrities wore her creations. But despite her success, Stacey-Marie could not compete with mass-produced clothing from China. As she struggled to support her business, she also desperately missed her family in Savannah, Georgia. So when her mom became ill in 2006, Stacey-Marie moved back home. Her mother passed away shortly thereafter, but Stacey-Marie stayed on in her hometown.
Now owner of Coastal Creative Events, Stacey-Marie says creativity, hard work, and a willingness to adapt propelled her new career as a wedding planner and wed­ding app developer. Here, Stacey-Marie shares more about her professional transformation.
Were you happy as a fashion designer?
I loved it. I spent hours at the fabric warehouse, hand-cutting samples and shopping for ribbons, but­tons, and trim. But there was no way to compete with the low price point of mass producers in China.
How did you transition from LA fashion designer to Savannah wedding planner?
My family needed me. I needed them. It was all about adapting and finding enthusiasm for something I loved as much as fashion design. Like designing clothing, wedding planning allows me to take a blank canvas and make it gorgeous. I've been cooking huge family meals every holiday since I was around 15 years old. I love prepping for parties and creating elaborate centerpieces. This was all training for event planning.
How did you build your business?
A beautiful, informative website was key. After paying thousands for a subpar website, I searched the Internet for tools and built my own (creativesavannahweddings.com). This set me apart, as in 2006 most planners did not see the need for a website.
I focused on the needs of the destination bride be­cause no one else was. I figured out how to cut out the middleman. I bought chairs. I made custom arches. I ca­tered. I became a florist. Brides wanted a local wedding company that offered everything—a one-stop shop with the best quality at reasonable prices.
What does the future look like?
With Pinterest, Instagram, and thousands of wedding blogs, more brides are doing their own flowers, decor, and catering. So I created a DIY wedding app (howto­diywedding.com) with comprehensive guidance, videos, and tutorials—plus apps for military, Jewish, gay, desti­nation, and eco-friendly weddings.
Your advice to other women facing big changes?
My career paths have been like recipes: trying new things, a pinch of this and that; and if it doesn't work, revise and try something else. Evolve—but stay true to yourself and what makes you happy.
Follow Your Heart
Melissa Garcia had everything go­ing for her. A successful attorney, she was married to her high school sweetheart and loved being a mom to her three kids. But something was "so wrong—in my bones," she says. "I was miserable at work." So nearly two years ago, the 37-year-old New Yorker took a huge leap and resigned from her lucrative job to start a business as a personal fashion stylist.
How did you choose your new career?
Fashion and styling were always in my blood. My grandpa was a tailor, and my grandma would knit and crochet dresses without a pattern. I still wear them today! Friends would ask me to help them dress for events. Strangers stopped me on the street, asking me where I got the pieces I was wearing. I was nev­er without the latest fashion mag­azine and wore trends before they were trends.
So why did you spend a whole decade in the wrong career?
I knew that I had made the wrong career choice, but for a long time I thought I just had to live with it. Then one day it clicked: I was in control; and if I wasn't happy, only I could do something about it. It's never too late to follow your dreams. It's incredible to see the doors that open for you when you do what you love.
How did you get the word out?
I started my own personal styling site: melissagarciastyling.com. I went to Fashion Week and sat next to some of the right people and began to get celebrity clients. A friend of mine in public relations reached out and said I should be on TV. I thought she was nuts—but I am now a regular on the TODAY show and The Wendy Williams Show. I am also now an E! fashion columnist and an on-air fashion correspondent—and this is just the beginning.
You make it seem so easy.
It's not easy, but the hardest part is deciding to make the change. Some­times you just have to take the leap and build your wings on the way down. Once you've committed, you will be amazed at what happens when you believe in yourself, have faith, and go for it.
She Lost Her Job— and Found Her Destiny
Kym Keyes, a 26-year government employee, paralegal, and single mom, spent most of her career working for various California state agencies. Then she was diagnosed with breast cancer and was forced to retire when her chemotherapy treatment resulted in severe nerve damage. Kym spent most of her chemotherapy sessions alone, and she noticed that many other patients were also alone during their hours-long treatment. "It was a very depressing, lonely, and scary sit­uation," she says.
That is how she came up with the idea for Khemo Buddy's—a nonprof­it organization that comforts cancer patients with Buddy Bags stuffed with warm blankets, bottled water, ginger ale, crackers, pretzels, cross­word puzzles, scarves, beanies, and fresh fruit. Kym is confident that she has found her destiny. "Khemo Bud­dy's is my life," she says. "We are all given a thing to do. I feel that Khemo Buddy's is the reason I was allowed to have cancer in the first place."
What is Medicare Advantage
Medical Advantage or MA plan is a health plan provided by a private organization that partners with Medicare to offer healthcare services with their Medicare Parts A and B privileges.
What made you decide to launch a nonprofit organization?
During the chemo treatments I spent alone, I remember thinking, I should ask someone to come with me, but I didn't want anyone to know how afraid I was or how weak I felt during treatment. You sit for several hours; and if you are alone, there is no one to get you anything to eat or drink. One young lady came in with her two small children a few times, and they sat quietly as their mother took her treatment. I started bring­ing a little more in my lunch bag to share with them.
Your organization is still very new. What is the status now?
We have been up and running since January 2015. We've been sending out personalized Buddy Bags via on­line requests. Eleven hospitals have signed on with us. I know we will be nationwide by this time next year.
What has been the biggest hurdle?
It's been a difficult, slow start when it comes to fundraising. We depend on donations and have not met our goals. We are currently looking for corporate sponsorships.
What has been the biggest surprise?
I'm amazed at the support, not only from close family and friends but also from hospitals, strangers, and social and print media. More than 130 people attended our first fundrais­er, with vendor booths and some amazing survivors. More than 200 people have applied to be volun­teers. We'll start interviewing them once we get money for office space.
"We are all given a thing to do. I feel that Khemo Buddy's is the reason I was allowed to have cancer in the first place."
—Kym Keyes
Steps to Reinvention: Expert Advice
"Who Do You Want To Be?"
That is the question Ramani Durvasula, PhD, a Los Angeles–based licensed clinical psycholo­gist, asks clients who find themselves at a ca­reer crossroad. Answering the question is not as simple as it seems. Women often "censor their aspirations, hopes, and goals," says Dr. Durvasula. They may be afraid their dream is too impractical and unrealistic or that others may mock them.
"Denial of the goal becomes easier," she says. "So many people get caught in the Yes, but…that they cannot engage in the Yes, and….
"Pulling a goal out of someone is like pulling teeth; but once it is out, we can start pushing the ball down the field," she adds.
So—who do you want to be? Answer these questions to find out.
What Matters To You—Now?
Start by figuring out what is important to you.
"Be truthful with yourself—[is it] power, helping others, security, leading people?" asks Lynn Berger, a licensed mental health counselor and career counselor in New York. Your values may change over time. "Recog­nize your changing priorities. Identify what is presently most significant to you," Berger says**.**
What Would Your Ideal Life Look Like?
"Create a nonnegotiable list of what you want in your life," suggests Lynn Welch, who runs a private counseling practice in New York. "Don't leave out any details: home, car, spouse/significant other, kids, job, hobbies, health, fitness/body, community," Welch ad­vises. "Build your goals and plans around this list—and do not settle for less."
Do You Really Want Change?
Welch works with her clients to figure out why they often believe the life they want to have, and the person they want to be, is un­achievable. Fear holds many women back.
"Even though their situation is miserable, it is familiar. Women often say, 'I'd like to do that' or 'I wish I could,' but if someone has a choice to create the life she's always dreamed of or status quo, most will pick status quo," Welch says.
Just realize: If you stay mired in misery, you are choosing to do so, Welch notes. "We always have a choice."
What Will People Say? (Do You Care?)
"Being ready for change means not giving a crap what people think," Welch says. "When you release your feelings about what people say or think of you, then you're free. You are at no one's beck and call but your own."
Can You Stick With Your Goal For The Long Haul?
Meaningful change is not easy, and it isn't in­stantaneous, so don't expect immediate grati­fication.
"Reinvention is a process—not an event," Welch warns. "People think they can read an article, institute a couple of changes, and— boom—their lives will be better." But making changes means taking "baby steps, one foot, one day at a time," she says. "You don't go to bed in a cocoon and wake up a butterfly."