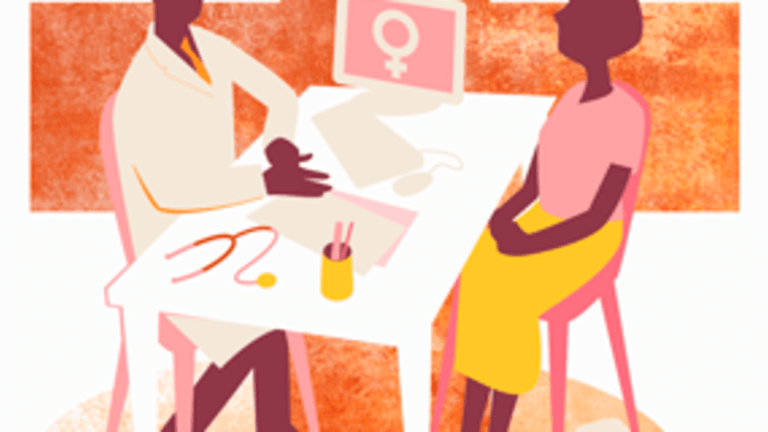 The Well-Woman Visit
An annual appointment with your primary care physician can be an important preventive health strategy.
Feeling well? Great! It's time to go to the doctor.  Confused? Here's the deal: even if you're feeling well and have no medical concerns, it can still be worth your while to check in annu­ally with your primary care provider to discuss family history, prevention, and screening time lines to keep your health on track.
While research shows that annual visits do not reduce your risk of death or hospitalization,1 and some may result in unnecessary follow-up or false-positive test results, Mary Ann Bauman, MD, medical director for Women's Health Community Relations at INTEGRIS Health in Oklahoma City, says the appointment can still provide considerable benefit.
"I'm very much in favor of an annual physical," Dr. Bauman says. "It's a chance for your doctor to get a thorough picture of your overall health and to take you through all the healthy lifestyle factors that can make a big difference in the prevention of heart disease, as well as cancer, diabetes, and other conditions."
Even with these benefits, many women do not see a pri­mary care physician every year. One reason the annual appointment doesn't make the calendar is the mispercep­tion that a well-woman visit is focused only on gyneco­logic health. While women may have historically made annual appointments to schedule a Pap test, when guide­lines for cervical cancer screening were updated in 2012 to recommend a Pap test every three years rather than annually,2 many assumed that that meant they didn't need any type of regular visit with their doctor.
"Women may think, Well, I don't need a Pap smear, so I don't need an annual exam," Dr. Bauman says, "but that couldn't be further from the truth." This is because a well-woman visit actually covers a thorough exam of all the body's organ systems and includes a comprehensive conversation about family history, lifestyle behaviors, and emotional well-being.
Dr. Bauman says that when she sees patients for an annual exam, she starts with taking vital signs (blood pressure, pulse, and temperature), notes their weight, and asks detailed questions about how they're feeling phys­ically, as well as about stress and sleep patterns. As she continues to examine the body—listening to the lungs and the heart; examining the abdomen and the breasts; performing a pelvic exam if indicated, with a Pap test if appropriate; and checking legs and feet for swelling—she will engage the patient in dialogue about each area of the body to discuss any concerns or questions.
One essential thread throughout a well-woman visit is heart health. According to the American Heart Association, heart disease is the number one killer of women, and the annual exam can provide valuable information about symptom awareness and lifestyle factors that can be part of a preventive strategy. Dr. Bauman, an American Heart Associ­ation Go Red For Women spokesperson, says that specific topics she will cover related to heart health include overweight or obesity, which can increase risk of heart disease and stroke; exercise tolerance, which, when decreased, can suggest a cardiac issue; any changes to the level of fatigue; sweating accom­panied by nausea or chest pain; blood pressure; and swelling in the legs or feet.
While some heart health issues and other disease and condition issues covered during an annual visit will require medication or further testing, many can be addressed with lifestyle recommendations. Dr. Bauman says that exercise is a topic she prioritizes, as are smoking and alcohol consumption. She is also sure to impart the value of healthy sleep habits and stress reduction, both of which contribute to over­all well-being. "I'm a big believer in the mind-body connection," she says. "If you're not emotionally well, you won't feel good physically."
Do You Have the Perfect Nose?
The British Association of Aesthetic Plastic Surgeons (BAAPS) regularly releases an annual audit, and the figures from 2018 showed that some 28,000 procedures took place in 2018.
Before You Go
Taking time to gather information before your visit can result in a more productive conversation with your physician.
One of the key elements of an annual con­versation with your physician is a discussion of your family health history, so gathering that information in advance of your appoint­ment can be time well spent. Sharing infor­mation about diseases and conditions pres­ent in your family—especially heart disease, cancer, and diabetes—can provide import­ant insight for your physician.
Dr. Bauman says that she generally takes a detailed family history upon first meeting a patient and then updates that information at each subsequent visit to note any new diag­noses or changes in the family. This informa­tion can prompt discussions about general preventive care, customized cancer screen­ing schedules, and sometimes the value of genetic testing.
In addition to gathering family history, Dr. Bauman recommends that patients come prepared with a few additional types of in­formation: clear descriptions of any symp­toms they may be experiencing (precisely where, when, onset, and treatment to date); a specific quantity of alcohol they consume (if any); current sleep patterns; blood pres­sure readings, for those diagnosed with hy­pertension; and recent blood sugar levels, for those with diabetes. Arriving with this in­formation in hand can save time during the exam and result in a more detailed picture of your health to guide lifestyle decisions and resolve any current issues.
References
1.Krogsbøll LT, Jørgensen KJ, Grønhøj LC, Gøtzsche PC. Gen­eral health checks in adults for reducing morbidity and mortality from disease: Cochrane systematic review and meta-analysis. BMJ. 2012;345:e7191. doi: .
2.Moyer VA, US Preventive Services Task Force. Screening for cervical cancer: US Preventive Services Task Force recommendation statement. Annals of Internal Medicine. 2012;156(12):880-91. doi: 10.7326/0003-4819-156-12-201206190-00424.