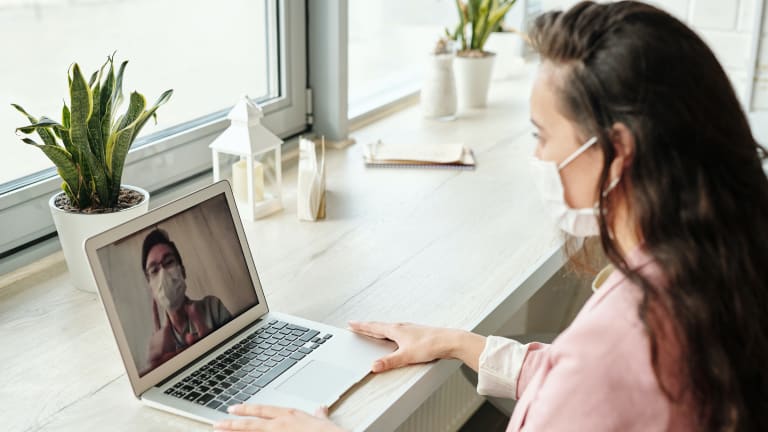 Telemedicine - Be Skin Aware !
Telemedicine is a great advance but exercise caution when using "teledermatology"- know who's providing your care.
by Dr. Carrie Kovarik M.D. University of Pennsylvania 4/2020
Thanks to the recent proliferation of web­sites and apps offer­ing remote dermato­logic consultations, patients may think they can receive high-quality care without ever leaving home. While "telemedicine" is rapidly changing and evolving due to the COVID-19 pandemicn all of the teledermatology services don't offer the same standard of care, so patients should exercise caution when seeking such services. Fortunately, there are steps patients can take to evaluate dermatology websites and apps, allowing them to receive the best possible care while enjoying the benefits of a remote consultation.
Going Remote
Because dermatology is such a visual specialty, dermatologists were among the first specialists to utilize remote consultations, also known as telemedicine. Dermatologists have been evaluating disease images and discussing conditions over the phone for decades, and the use of teledermatology has increased as technology has developed to accom­modate it. Today patients can use computers and mobile devices to access dermatologic care when it might not otherwise be available, whether because of insufficient insurance coverage, problems get­ting to the doctor's office, or a lack of available dermatologists in rural areas or inner cities.
Although some dermatology services cannot be performed ade­quately via remote consultation, questions about an easily pho­tographable problem like a rash or suspicious spot are appropriate for teledermatology. Remote consulta­tions may also be used for triage, allowing a doctor to provide an initial evaluation of a problem and determine how soon the patient needs to come into the office.
Potential Problems
The growth of remote consultation services has included the develop­ment of direct-to-consumer web­sites and apps that patients can access themselves with their com­puters, tablets, and smartphones. While these services may be conve­nient, it's important to exercise cau­tion when using them.
A lot of patients are aware of these products and have probably seen them advertised, but there are no regulations in place to ensure the quality of teledermatology services, so it's important to do your due dil­igence before seeking a remote con­sultation online or via a mobile app.
What is Medicare Advantage
Medical Advantage or MA plan is a health plan provided by a private organization that partners with Medicare to offer healthcare services with their Medicare Parts A and B privileges.
Not all teledermatology services offer consultations with a licensed, board-certified dermatologist, and many don't let patients reconnect with their initial provider for fol­low-up questions. Additionally, some services don't allow patients to sub­mit photos, which makes an accurate diagnosis difficult.
About 20 percent of patients who receive remote consultations require an in-person follow-up visit, but not all services have a system in place to arrange such visits. Plus, receiving a consultation from a provider who has no access to your medical records or history can lead to duplicated or fragmented care.
What You Can Do
Seek remote consultations from the health system you currently use for other medical care. This will allow you to work with an existing health­care team, alleviating many of the possible issues encountered with di­rect-to-consumer services. If this is not possible, however, consider the following tips for evaluating remote consultation services.
Know your provider. You should receive a consultation only from a board-certified dermatologist who is licensed in your state. Ask for the provider's credentials; if a remote consultation service will not provide those credentials, don't use that service.
Be choosy. Use only teledermatology services that allow you to select the dermatologist of your choice for your consultation.
Be sure to share. A high-quality teledermatology service should give you the opportunity to provide your medical history and obtain a record of the consultation to share with your primary care provider or dermatologist.
Have a backup plan. Before engaging in a remote consultation, make sure the service has a plan in place to arrange for an in-person visit with a dermatologist in your area if your problem can't be resolved remotely. Make sure that such a visit would take place in a physician's office, rather than an emergency room.
When in doubt, go to the doctor. Don't rely exclusively on remote consultations for dermatologic care. If you have a serious condition or one that can't be evaluated remotely, make an appointment to visit a doctor in person.
Remote consultations are a great option for patients, especially those without easy access to in-person dermatologic care, but it's important to understand that a wide variety of teledermatology services are avail­able, and some of them are better than others. Before engaging in a remote consultation, evaluate the teledermatology service to ensure that you will be receiving high-qual­ity care.
Dr. Carrie Kovarik, MD, FAAD is an Associate Professor, Dermatology, Dermatopathology, and Infectious Diseases University of Pennsylvania, Philadelphia
Headquartered in Schaumburg, Illinois, the American Academy of Dermatology founded in 1938, is the largest, most influential, and most representative of all dermatologic associations. With a membership of more than 18,000 phy­sicians worldwide, the AAD is commit­ted to advancing the diagnosis and med­ical, surgical, and cosmetic treatment of the skin, hair, and nails; advocating high standards in clinical practice, edu­cation, and research in dermatology; and supporting and enhancing patient care for a lifetime of healthier skin, hair, and nails. For more information contact the AAD at 1-888-462-DERM.