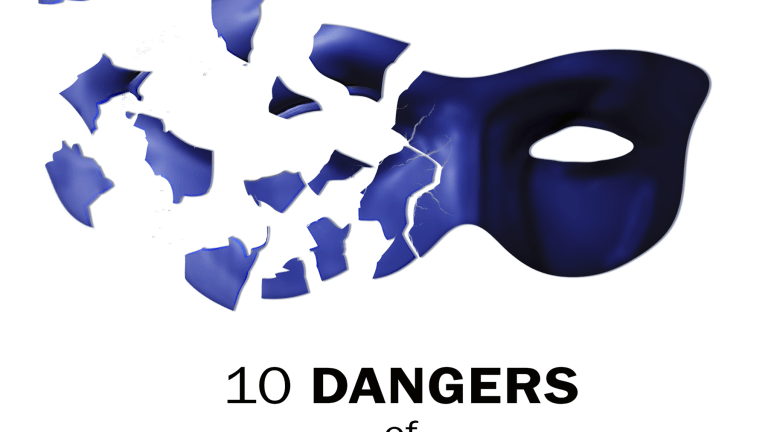 Rheumatoid Arthritis Unmasked: 10 Dangers of Rheumatoid Disease
Kelly O'Neill Young "RA Warrior" takes readers on a journey through the history of Rheumatoid Arthritis
by Kelly O'Neill Young
Research and patients showed me the bigger picture
Managing a large patient community for several years convinced me that there is much more to RA than arthritis. Symptoms beyond joints are very common. And it is not unusual to hear about close relatives who died by RA-related causes. A common thread connects the many stories as well as large surveys and polls in our community: RA is not a type of arthritis. Rather, arthritis is only one symptom of what many investigators have called "rheumatoid disease" (RD).
Over the past decade, hundreds of thousands of interactions with people with RA convinced me that RA is actually RD. However, I did not rely on those stories to write Rheumatoid Arthritis Unmasked. Hundreds of academic articles from medical journals and historical publications contributed to my understanding, many of them referenced in the book's six hundred footnotes.
The picture I saw was undeniable. People I heard from were living with the complex disease that is documented in medical literature. Arthritis is a painful and significant symptom of that disease. However, arthritis is not necessarily the first nor most life-impacting symptom. Neither is joint inflammation (arthritis) the reason for the persistent mortality gap in RD.
What do we mean byextra-articular disease?
Extra-articular rheumatoid disease is the part of the disease that is beyond joint inflammation or "arthritis." Scientists have studied many of the problems that patients frequently experience. However, this research has not yet influenced most medical textbooks or treatment guidelines. Even doctors and nurses may not recognize these disease aspects because they expect only arthritis (joint inflammation). One goal of this book is to better inform them of the scope of this disease. As we connect the dots for the very first time, patients can seek more comprehensive care for their RD. And as these facts become more widely known, we should all anticipate progress, especially in reduced mortality, similar to what has been seen in recent decades with diabetes, lupus, and cancer.
Revelation of a systemic disease with many extra-articular features
As early as 1948, researchers advocated using the term RD as preferable to RA because they had observed many widespread manifestations in various tissues and organs of their patients. Their research led them to proclaim that the term "rheumatoid arthritis" is misleading. RD continued to be used by some researchers until 1976, when an Australian rheumatology team conducted an actual trial of early RD to learn what extra-articular features occur around disease onset.
Even without the technologically advanced tools we have today, this study disproved certain misconceptions including the common belief that extra-articular manifestations occur as features of later stage disease. My experience with patients and several research studies cited in this book show that this common notion is wrong. More recently in 2015, investigators confirmed that RD mortality is actually greatest within the first five to seven years after diagnosis, with lung problems accounting for 10 to 20 percent of those death.
Extra-articular disease is not rare
Despite what is commonly taught in medical schools, and what patients are commonly told, extra-articular manifestations of the disease have actually been shown to be typical. The 1976 report found: "a high early incidence of extra-articular features in rheumatoid disease with 94 out of 102 patients showing manifestations in the 4.5 years from onset. This was so even though there was no bias towards severity in the sample, which included patients who had possible and probable disease as well as those with definite and classical disease. Only 8% showed no systemic manifestations and 41% had four or more."
This is one of many studies that convinced me to write the book. Almost 50 years ago, these investigators found extra-articular features in 92% of early RD cases despite a lack of modern medical equipment including MRI, ultrasound and HRCT (high-resolution computerized tomography) technology. And that did not even include cardiovascular disease, which was not yet recognized as being related to RD.
The power of preconceptions
One value of reading these studies is that they demonstrate the power of preconceptions. Being conscious that one is treating or investigating a "disease" provokes more complex observations than are likely with a "type of arthritis." Researchers use more elaborate methods of investigation and ask different questions. Preconceptions of clinicians, in part, account for discrepancies between patient and clinician-based reports concerning the incidence of extra-articular manifestations of rheumatoid disease. This can also account for the higher correlation between patient reports of particular manifestations and autopsy studies.
Excerpt fromRA Unmasked
The following excerpt from Chapter 4 lists the ten best-known "dangers" of RD—ten domains that should be routinely examined in people with the disease.
10 DANGERS OF RHEUMATOID DISEASE
The next chapters will describe ten areas in which health is threatened as a result of RD. Some dangers have only come to light in recent years, but others have been long recognized. It has been over 200 years that cardiovascular disease has been investigated in connection with RD. In most cases, a gradual recognition has occurred within a particular specialty such as pulmonology, without becoming part of common knowledge about the disease. Therefore, extra-articular aspects of the disease are not commonly measured or considered as part of rheumatological evaluations for either diagnosis or disease activity.
Over many years researchers from various medical specialties have studied these aspects of systemic RD separately, but these problems have never been measured together to calculate a complete picture of the risk that is experienced by a single PRD for RD-related serious illness or death. People with RD who have medical concerns relating to these or other extra-articular problems must seek care from each respective specialty. Unfortunately, even some doctors within a specialty may remain unaware of current research or of how to address these problems in RD.
We will explore the following list of serious and widespread aspects of the disease that every person living with RD must be aware of. However the reader ought bear in mind that the examples in this book are not exhaustive; other manifestations of systemic rheumatoid disease certainly exist. I have not conducted any explicit clinical study to produce this list. Yet, this book breaks new ground in simply compiling this list from published medical literature.
Oral Involvement
Laryngeal Involvement
Cardiovascular Involvement
Skin: rashes, vitiligo, Raynaud's
Constitutional symptoms: including fever, fatigue, and muscle wasting (cachexia), infections
Rheumatoid vasculitis and blood vessel disease
Lung Involvement
Kidney involvement
Eye involvement
Other organs: including spleen, liver, lymph system, gut
KEY POINTS TO REMEMBER
Some symptoms and antibodies can precede diagnosis over 10 years.
Many studies indicate RD begins in the lungs, before joint symptoms are diagnosable.
RD is often called an "invisible" illness because symptoms are not obvious to casual observers.
Doctors must be more aware that systemic symptoms like fatigue may indicate serious problems.
Extra-articular disease has been proven to affect most PRD, but is still not widely recognized.
Acknowledging rheumatoid disease that exists beyond and before joint inflammation (arthritis) could bring Improved care for lower mortality Improved research for better treatments Improved diagnosis for increased remissions
Action step: If you or a loved one has very early RA, find a doctor who will start observation and treatment as soon as possible to attempt to prevent onset of full-blown disease.
Quote to remember: One way to help reduce mortality in PRD will be to make clinicians more aware that patient reports of systemic symptoms (such as fatigue) are potentially significant indicators.
A practical tool for change
Rheumatoid Arthritis Unmasked explores what investigators have discovered about each systemic problem related to RD. But it is more than a gripping account of the dangers of RD—it is a path for change. This book equips patients and doctors to improve outcomes in RD. Each chapter ends with lists of KEY POINTS and Action Steps to help you put what you learn to use in practical ways.