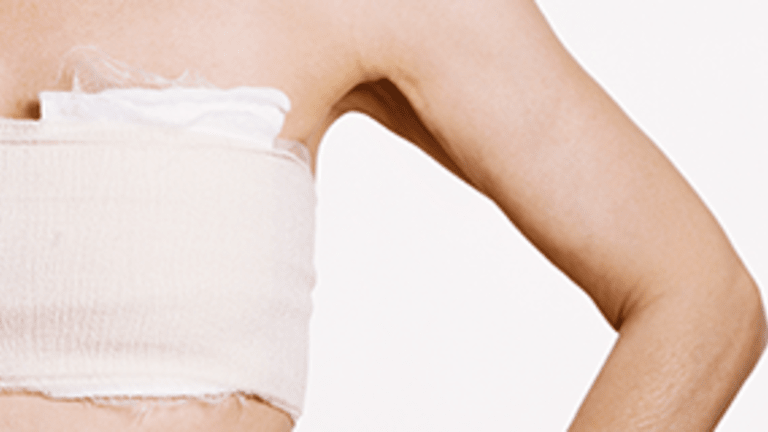 Reconstructing Hope – Breast cancer survivors share their reconstruction stories
Reconstructing Hope – Breast cancer survivors share their reconstruction stories.
by Women's Health Updated 10/2021
When Gina Maisano was diagnosed with triple-negative breast cancer she underwent a lumpectomy followed by chemotherapy and radiation. But when she received a second diagnosis—this time of estrogen receptor–positive breast cancer in her other breast—another lumpectomy was not an option due to the size and the scope of the tumors, so she underwent a bilateral mastectomy.
Gina knew she wanted to include reconstruction in her plan, and she investigated various types of reconstructive surgery to find the model that would suit her unique history and personal expectations. The reconstruction began with the placement of tissue expanders, which were later exchanged for silicone implants*.* "My previous radiation posed a bit of a challenge," she says, "but my reconstructive surgeon reassured me that he could overcome any of the radiation damage and provide me with a beautiful outcome."
During her initial surgery, Gina says, "the breast surgeons removed as much breast tissue as possible and tested my lymph nodes to search for any cancer cells that may have spread there." They found cancerous cells, necessitating the removal of the entire axillary lymph node sac. "The skin over the breast tissue was spared," she says, "and the tissue expanders were placed under the pectoral muscle to stretch that space for the future implants."
Though this procedure did provide a good result initially, Gina ultimately underwent a latissimus dorsi (LD) flap reconstruction procedure two years later because her skin was very thin and she and her medical team decided she would be better served in the long term with the LD flap approach. During the LD flap surgery, Gina says, "the latissimus dorsi muscle was removed from my back and placed on top of the implants, creating a softer look using my own tissue."
This second reconstruction effort, while producing a great result, was a more extensive procedure and entailed a longer recovery. "When I had the latissimus dorsi reconstruction, it was more involved because I had to deal with the removal of a large back muscle and I had incision sites on my back as well as my chest. Recovery was longer, but once I passed the three-week mark, I felt immensely stronger and on my way to recovery."
Having been through the recovery from extensive surgery, Gina advises other patients to do a few things to prepare: "If you live alone, make sure that things on high shelves, such as coffee mugs or cereal boxes, are brought down to the counter because you will have trouble raising your arms to reach for them." And she encourages wearing slip-on shoes, comfortable pull-on pants, and a button-down shirt to the hospital to make it easier to dress when it comes time to go home.
In addition, Gina recommends the following insider tips for managing recovery.
"You will have surgical drains, and the doctors will attach them with safety pins to your post-surgery bra or dressing, or they may even attach them to a bit of gauze made into a necklace around your neck. If you want real comfort, go to a home improvement store and buy a cloth nail/tool belt, tie it around your waist, and slip your drains into that. You can sew some pretty fabric onto it if you are so inclined, but it really is much easier to wear your drains in a belt than have them pinned to anything.
"Once you are home, get up and move as much as you can. Walk, move your arms as much as your doctor permits, and eat a well-balanced diet. You will find you will recover ever so much faster if you do.
"Go the distance: get the final touches of reconstructed areola and nipples. They are the icing on the cake and make you feel like you again."
It's clear that Gina can speak to the challenges of recovery, but she also has an important, positive message about the emotional impact of undergoing reconstruction. "When I woke up from surgery and was able to get up from bed, I walked to the bathroom to look at myself. I looked down and saw a cleavage, my own skin, and new breasts. I felt a sense of relief, of being clean and free of the cancer-harboring old breasts. It was a liberating feeling and I was grateful I could have such a positive, uplifting feeling after such a stressful ordeal of being diagnosed with breast cancer for a second time.
Ultimately, she says, every woman must make a personal decision about if and when reconstruction is the right choice. "Do whatever you feel is right for you. If you are not certain, do not fret. You can always get reconstruction at a later date."
For those ready to undergo reconstruction, Gina offers the following advice: "Choose your doctor carefully. Get a few opinions and ask to meet some patients. Once you see another patient who has been through it, your mind will be at ease and you will be excited to get started on your journey because once all the surgeries are behind you, you are left with a lovely new you."
Initially diagnosed with ductal carcinoma in situ in October 2003, Danielle Beverly knew at the outset that reconstruction would play a role in her overall treatment plan. Danielle was 29 years old at the time of her diagnosis and married for just two years to Detroit Lions football player Eric Beverly, and her choices regarding reconstruction were influenced by both her concerns over the cosmetic impact of treatment and her and Eric's desire to start a family.
Danielle first decided to undergo a bilateral mastectomy as a preventive measure that would allow her to forgo the recommended course of tamoxifen had she opted for a lumpectomy. "My husband and I had been married only two years, and we wanted to start a family," Danielle says of her decision to avoid the hormonal therapy, which is not recommended for women during pregnancy. This concern paired with her desire to maintain the shape and feel of natural breasts informed her early decision to have her breasts reconstructed: "At 29 I didn't want to wear a prosthesis; I wanted to feel as close to 100 percent whole as a woman as I could. And the bonus, in my mind, was that I could get a chest that fits my body—I'm 6 feet tall and had always had a small chest. I thought, We're going to make something good come out of this."
The journey that ensued, as Danielle underwent an initial bilateral mastectomy and reconstruction and then two subsequent diagnoses of breast cancer and several reconstruction procedures, included a move to a different city, several changes in her medical team, and the delivery of a healthy baby girl. Danielle, now 38, completed her most recent reconstruction procedure in May 2011.
Having learned critical lessons about the value of trusting her instincts and conducting thorough research, Danielle offers women considering reconstruction the following tips about navigating reconstruction and achieving the results that honor their own needs first.
Follow your heart. "I tell other women that you have to go with what your heart tells you. This is for you; in the end, if you're not happy in your own skin, it doesn't matter how much your husband or anyone else loves the result. You need to make your decisions based on your own needs."
Do your research. "Look into all the options and be aware that each option has different side effects and a different recovery timeline. Find a patient of your doctor's whom you can talk with and who can actually show you the results in person. If your doctor is showing you only pictures, there's a reason. You should be able to see, touch, and feel the results in a real person."
Be realistic. "Realize that you're not going to look like the celebrity who goes in for augmentation. I think some people expect they're going to get perfect boobs—that's not realistic. You have cancer; you're starting in a different place, and the side effects of your treatment (surgery and radiation, for example) may affect your ultimate outcome."
Bigger is not necessarily better. "Don't get caught up in the hype of 'bigger is better.' The first doctor I saw tried to convince me that I should be going for a D cup—but that wasn't right for me. Your doctor should respect your vision."
The best end result is your happiness. "In the end, what the public sees and what you see are different. You need to be happy with what you see and what you live with. You need to be happy."
References:
Gina M. Maisano, from Locust Valley, New York, Founder of No Surrender Breast Cancer Foundation and Author of Intimacy after Breast Cancer: Dealing With Your Body, Your Relationships and Sex (Square One, 2010; $16.95)
Danielle Beverlyof Buford, Georgia. President, Eric R. Beverly Family Foundation