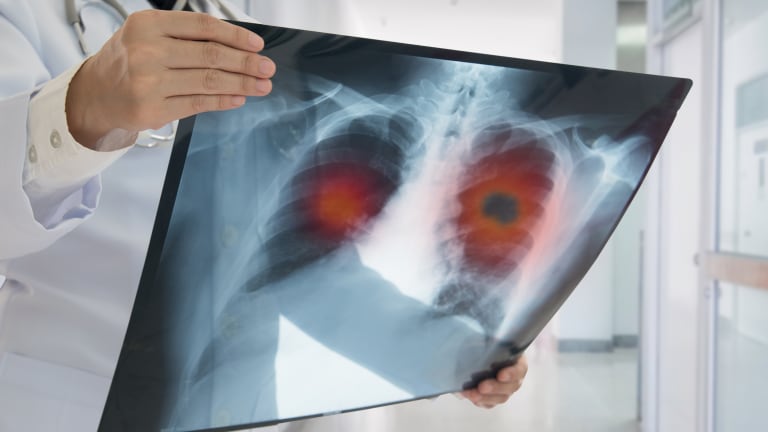 Radon Detection: An Essential Measure for Preventing Lung Cancer
Have you taken the essential measures to prevent Lung Cancer?
by MedMaven, Medically Reviewed by Dr. C.H. Weaver M.D. 12/2021
According to the World Health Organization (WHO), nearly 10 million people died from cancer in 2020, making it the leading cause of death in the world. Lung cancer, which claimed 1.8 million lives in 2020, is at the top of the WHO list of most common causes of cancer death7. While cigarette smoke ranks as the top cause of lung cancer, cited by the American Lung Association for causing 90 percent of lung cancer cases, the second leading cause is an invisible killer that is under appreciated and often unknown as a cause of the deadly disease.8
The deadly dangers of radon gas
Radium is an element that occurs naturally in the environment and can be found at trace levels in rocks, soil, water, plants, and animals. When radium breaks down, it forms radon, a radioactive gas that is colorless, odorless, and second only to cigarette smoke as a cause of lung cancer.
The US Environmental Protection Agency (EPA) estimates that 21,000 people die in the US each year from radon-related lung cancer9. In most cases, radon exposure occurs when the deadly gas makes its way into homes, offices, and schools through cracks in foundations or holes created for pipes or wiring. While radon disperses quickly in outdoor spaces, indoors the gas easily can become trapped, build up, and be breathed into the lungs. The US Environmental Protection Agency estimates that 1 out of every 15 homes in the US has elevated levels of radon10.
For those exposed to elevated levels of radon, there are no immediate symptoms. Once in the lungs, radon decays and emits radiation that damages cells and can have a negative impact on cell DNA2,5,6. While studies on radon-related lung cancer acknowledge that a wide variety of factors play a role in the development of the disease, including genetics and the presence of other cancer-causing agents, the consensus is that radon presents enough of a cancer risk that steps should be taken to test for its presence and, when it is detected, reduce its presence.
The lack of knowledge on radon dangers
While US and global health organizations have published a wide range of information on the dangers of radon gas, studies have found that a small segment of the population knows what radon is and fewer know the potential it has to cause cancer in those who are exposed to it. The same studies also found that misinformation on radon abounds, such as a belief widely held by those questioned that exposure to radon causes headaches4.
Those involved in the field of radon research have suggested that real estate professionals could play a role in educating the public regarding the dangers of radon since radon testing is a practice commonly recommended when homes are purchased or rented.10
Family physicians have also been cited as a potential resource for educating the public about the dangers of radon3. A study involving 350 family physicians in North Dakota found that more than two-thirds of the physicians that responded to questions posed during the study do not regularly inform their patients of the health risks posed by radon gas.1
Testing for radon gas
Human senses cannot detect radon, but there are a wide variety of tests that can. Radon tests provide results in picocuries per liter (pCI/L). The EPA recommends that homes in which readings are higher than 4 pCi/L have work done to reduce radon levels. Homes in which results are between 2 pCi/L and 4 pCi/L should consider action to reduce levels. Readings below 2 pCi/L are considered acceptable.
Passive radon tests, which commonly employ charcoal to absorb air in an interior space over a short period of time, must be sent to a lab for analysis to determine radon levels. Active tests rely on electronic sensors that detect the alpha particles emitted by radon. While many tests of both varieties can be purchased and administered by homeowners, recent studies have called into question the accuracy of short-term tests.
What is Medicare Advantage
Medical Advantage or MA plan is a health plan provided by a private organization that partners with Medicare to offer healthcare services with their Medicare Parts A and B privileges.
A study led by the University of Calgary in 2019 revealed that short-term tests produced imprecise results up to 99 percent of the time. The study compared the findings of short term tests, which were exposed for a period of five days, to long term tests, which gathered information over a 90-day period. It determined that fluctuations in radon gas levels, which can be dramatic from day to day, make short term tests an unreliable means of providing accurate radon readings.2
The University of Calgary study was led by Dr. Aaron Goodarzi, PhD, who was an associate professor in the departments of Biochemistry and Molecular biology and Oncology and member of the Arnie Charbonneau Cancer Institute at the Cumming School of Medicine. Dr. Goodarzi warned that short-term radon tests "can give a false sense of alarm, or worse, a false sense of security as they cannot precisely predict long-term exposure."
Employing intelligent, ongoing radon detection
If long-term tests confirm the presence of unacceptable levels of radon, there are steps that can be taken to reduce levels. According to the US Department of Housing and Urban Development, those steps include sealing cracks in floors and walls and employing systems designed to expel radon by venting it to the outdoors11.
After steps have been taken to reduce levels, ongoing reliable readings are essential to ensure that efforts continue to be effective. Intelligent radon detectors like the EcoQube by Ecosense provide ongoing readings and alert users when radon levels are unacceptable. Users can utilize intelligent radon detectors to access data from anywhere via a smartphone app and track trends in radon levels that are detected as tests are run over time.
As the public's awareness of radon contamination increases, so do myths surrounding radon and its impact. The EPA urges the public to be aware that:
All major health organizations agree that radon causes lung cancer.
Once detected, problems leading to high levels of radon can be fixed.
Radon can be a problem in any home, regardless of where the home is located.
Reducing radon levels will always reduce your risk of cancer, regardless of how extended your exposure has been.


Ongoing, intelligent detection of radon provides the best measure of protection against a disease for which there is no cure. There is no reason reliable detection devices should not be widely employed, especially in view of how affordable and available they are.
References:
Schmitz D, Klug M, Schwartz G. Radon Knowledge and Practices Among Family Physicians in a High Radon State. The Journal of the American Board of Family Medicine. May-Jun 2021;34(3):602-607. doi: 10.3122/jabfm.2021.03.200553
Stanley, F.K.T., Irvine, J.L., Jacques, W.R. et al. Radon exposure is rising steadily within the modern North American residential environment, and is increasingly uniform across seasons. Sci Rep 9, 18472 (2019). https://doi.org/10.1038/s41598-019-54891-8
Garcia-Rodriguez J. Radon gas–the hidden killer. Canadian Family Physician. 2018 Jul; 64(7): 496–501.
Vogeltanz-Holm N, Schwartz G. Radon and lung cancer: What does the public really know? Journal of Environmental Radioactivity, vol. 192, December 2018, pp. 26-31
Sethi T, El-Ghamry M, Kloecker G. Radon and Lung Cancer. Clinical Advances in Hematology and Oncology [online publication], March 2012
National Research Council Committee on Health Risks of Exposure to Radon (BEIR VI), Health Effects of Exposure to Radon, National Academy Press, 1999
Cancer. World Health Organization. https://www.who.int/news-room/fact-sheets/detail/cancer Accessed November 2021
Lung Cancer Causes and Risk Factors. American Lung Association. https://www.lung.org/lung-health-diseases/lung-disease-lookup/lung-cancer/basics/what-causes-lung-cancer Accessed November 2021.
What is radon gas? Is it dangerous? United States Environmental Protection Agency. https://www.epa.gov/radiation/what-radon-gas-it-dangerous#:~:text=Breathing%20radon%20over%20time%20increases,causes%20more%20lung%20cancer%20deaths Accessed November 2021
A Citizen's Guide to Radon. United States Environmental Protection Agency. https://www.epa.gov/sites/default/files/2016-12/documents/2016_a_citizens_guide_to_radon.pdf Accessed November 2021
About Radon. United States Department of Housing and Urban Development. https://www.hud.gov/program_offices/healthy_homes/healthyhomes/radon Accessed November 2021
An Update on Cancer Deaths in the United States. Centers for Disease Control and Prevention. https://www.cdc.gov/cancer/dcpc/research/update-on-cancer-deaths/index.htm Accessed November 2021