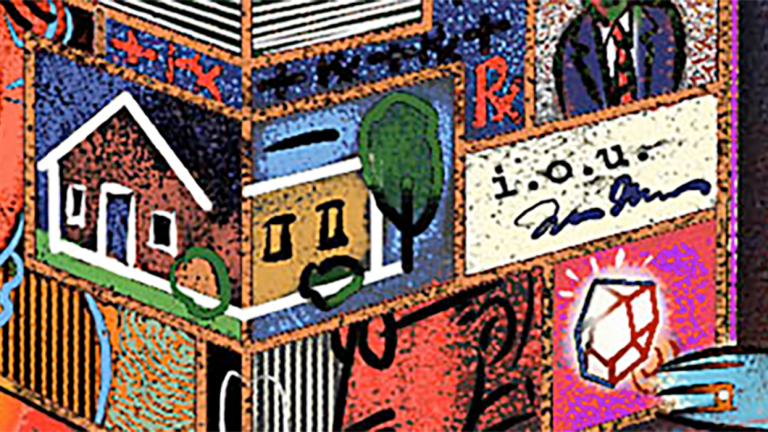 Plan. Learn. Act.
Coping with illness requires more than medicine. Be prepared to navigate the legal and financial aspects of a diagnosis.
By Mia James
If you are diagnosed with an illness, recovery is your first priority. Unfortunately, though, there are plenty of concerns in addition to your health than can complicate the treatment process. Financial and legal issues are an unavoidable aspect of illness and medical care. Planning ahead can help you manage expenses and protect your rights, allowing you to devote more time and energy to your recovery and well-being.
The following guidelines describe some of the important financial and legal aspects that you might encounter while coping with a health issue. Each patient's needs and circumstances are different, so know that a financial or legal expert can help you find additional resources to meet your needs.
Paying for Care
When you confront a health challenge and seek medical care, you will need to cover the costs of that care. You can choose to manage those costs in different ways, according to your medical needs, insurance status, and financial circumstances.
Out of Pocket
The term out of pocket means the actual amount of money you spend, in this case for medical care. Out-of-pocket costs can refer to the amount you pay before your insurer begins to pay (before your deductible is met) or co-pay amounts, such as for office visits or prescription medications.
If you don't have health insurance, you may pay all medical expenses out of pocket. If you have insurance, you might choose to pay out of pocket for care from an out-of-network provider (a healthcare professional who is not contracted with your insurance company) if you believe that that provider offers superior or more appropriate care than is available in the network. When you choose an out-of-network provider, expect to pay out of pocket, although insurers will sometimes cover some costs of out-of-network care.
Health Insurance
Private Health Plans Health insurance can help cover some medical costs. Private insurance is available through both group and individual plans. Group insurance is offered through an employer and may also cover dependents of the employee. If you're not covered through your job and can afford to pay monthly premiums, you can obtain healthcare coverage with an individual plan. Whether you're covered through a group or an individual plan, it's important that you maintain up-to-date records of your coverage. If you pay your own premiums, be sure to make payments on time.
Government-Funded Healthcare Coverage Medicare (www.medicare.gov) is funded through Social Security and is available to people who are 65 or older and those who have been permanently disabled and are getting disability benefits from Social Security. Individuals with permanent kidney failure who are treated with dialysis or have received a transplant may also qualify. It's sometimes possible for young people with cancer to get Medicare benefits, provided that they have collected Social Security benefits for two years under the Supplemental Security Income (SSI) program; a social worker or representative with the Social Security Administration (www.ssa.gov) can help you learn more.
Medicaid (http://www.cms.gov/home/medicaid.asp) is another government-funded program that's available to people whose income and assets are below a certain level. Low-income families with children, those receiving SSI, babies born to women who qualify for Medicaid, and pregnant women with an income below the family poverty level are among those who may be eligible for Medicaid. As well, in some states children younger than age six from low-income families may qualify.
Veterans Administration health benefits are available to individuals who have been on active military duty. Eligibility is determined based on how long you served, the terms of your discharge, your income, and other factors. You can learn more by contacting the Department of Veterans Affairs (www.va.gov).
When You Have Trouble Paying
Even if you have health insurance, there will be healthcare expenses that your policy doesn't cover. Failing to pay bills or paying them late can cause stress and anxiety and damage your credit rating, and you could be charged late fees.
"Medical debt crisis falls pretty high on the list of concerns," says Erin Moaratty, chief of external communications at Patient Advocate Foundation (PAF). Moaratty explains that due to factors including limited or no insurance coverage, high out-of-pocket costs, and decreased income as a result of illness, patients may not be able to keep up with escalating medical costs.
You may be able to avoid these complications by working with your doctor's office or hospital. For example, you may be able to arrange a payment delay or an extended payment plan. A social worker can also help you find resources that offer short-term financial help.
Researching Your Options
In addition, you may want to look into the following organizations and options that exist to help patients and families cover the costs of care.
The National Cancer Institute (NCI) provides a database of both general and cancer-specific resources and enables you to also search for a particular service (such as financial counseling and assistance with cost of medication and practical needs). You can search for the information you need at https://cissecure.nci.nih.gov/factsheet/FactSheetSearch8_3.aspx. Some of the links to general resources that the NCI offers include Catholic Charities USA (www.catholiccharitiesusa.org), Benefits.gov (www.govbenefits.gov), and United Way Worldwide (www.liveunited.org).
Using Your Life Insurance
If you are undergoing treatment for cancer or another serious illness and you have a life insurance policy, you may be able to use it to help cover medical and other expenses. Ways in which a life insurance policy can be used for this purpose include viaticals, lines of credit from finance companies, and living benefits.
Viaticals involve the sale of a life insurance policy for cash to a viatical company (a third party in addition to the insured individual and the insurer that specializes in such transactions). Viatical sales are usually made by individuals with terminal illnesses and life expectancies of less than six months. The cash gained through such a transaction can help patients pay medical and other expenses or can be used for personal wishes, such as a special vacation or other "bucket list" item. If you're considering a viatical, know that there are some disadvantages; for example, your heirs won't receive insurance money, and sales are usually not reversible.
Individuals with limited life expectancies also have the option of securing a line of credit from a finance company. The life insurance's death benefits are transferred to a finance company, which then loans the individual money based on the expected death benefit.
Living benefits involve payment of a percentage of life insurance benefits to the policyholder before he or she dies. The purpose of living benefits is to make extra funds available to help cover medical and other expenses before death.
Life insurance policies vary, and individual companies as well as the amount of your policy will affect the terms of how you may use your policy to help cover expenses. The company that holds your policy can explain your specific options.
What is Medicare Advantage
Medical Advantage or MA plan is a health plan provided by a private organization that partners with Medicare to offer healthcare services with their Medicare Parts A and B privileges.
Need Assistance?
There may be a lot of paperwork associated with health insurance claims and other financial issues, and the language of such documents may be unfamiliar. Ask for assistance at your place of treatment or doctor's office, as there may be an expert available to help. Case managers, financial assistance planners, and counselors can help you work with your insurance provider or other financial service to make sure you're receiving optimal coverage. You can also find help through a social worker or your insurance provider's customer service department. If you're on a government insurance plan (Medicare of Medicaid), contact those agencies for assistance.
No matter what type of support you need, it's important—if possible—to act before financial issues arise. "It is best to be proactive and seek assistance early on to avoid collections, damaging your credit, or missing out on opportunities," says PAF's Moaratty.
PAF (www.patientadvocate.org) is another resource that gives patients assistance with such issues as insurance access, medical debt, and job retention. PAF provides patients with professional case managers who will work with the patients' insurers, employers, and creditors to resolve financial and employment issues. Moaratty says that there are many ways in which PAF can help patients resolve financial issues. For example, a case manager will "contact a provider or hospital regarding charity care, payment plan, or reduction on a bill, or locate state or federal programs that can create a safety net for a patient with little or no insurance coverage," she says. In addition, PAF may help you apply for a free drug program or find less expensive generic equivalents to brand-name medications (with physician approval).
Know and Protect Your Rights
Cancer patients and those facing other serious illnesses have certain legal rights and protections, and there are legal steps that patients can take to ensure that their wishes are carried out during treatment and toward the end of life.
The Family Medical Leave Act (FMLA) is a federal law that allows people with serious medical concerns to take unpaid time off from work (up to 12 weeks) and retain their jobs. Family members caring for an ill loved one may also qualify to take time off under FMLA. Learn more at the US Department of Labor website (www.dol.gov/whd/fmla/index.htm).
The Americans with Disabilities Act (ADA) of 1990 prohibits discrimination based on disability in a number of areas, including employment. Under this law a person who is qualified for certain employment cannot be denied that job due to a disability. Individual circumstances vary. Learn more at the ADA website (www.ada.gov).
The Affordable Care Act was signed into law in March 2010. The law aims to reform health insurance to provide improved coverage, increased healthcare options, and better care. Learn more at www.healthcare.gov/law/introduction/index.html.
Legal Considerations
It can be difficult to discuss or even think about end-of-life care, but by making certain decisions ahead of time, you can ensure that you'll receive the type of care you want at the end of life. Your family will have the peace of mind of knowing your wishes. As you plan ahead to handle medical issues, consider investigating the following legal documents.
Advance Directive
An advance directive is a legal document describing your wishes for end-of-life care. According to Kathy Brandt, MS, a senior vice president at the National Hospice and Palliative Care Organization (NHPCO), "Advance directives are designed to communicate your wishes and preferences for care at the end of life when you are not able to communicate them yourself because of a temporary or permanent illness or condition." Brandt explains that these documents or agreements are similar to insurance in that "you hope you never need it, however just having one can bring peace of mind." An advance directive can be written or oral, depending on state law.
An advance directive can be used to name a healthcare proxy who, says Brandt, will "speak on your behalf in regard to medical decisions" if you are unable to do so. Though you can state which medical procedures you do and do not want in an advance directive, your proxy can act as guide in the decision-making process. Be sure that your proxy understands what you want.
Laws concerning advance directives differ from state to state, so ensure that your advance directive will be valid and honored by first investigating the laws of the state in which you live. "Each state has specific laws governing the language that must be included in the living will and healthcare power of attorney, which is called different things in different states, so we recommend that people obtain a form that is valid in their state," says Brandt. You can find state-specific advance directives at Caring Connections (www.caringinfo.org), and the NHPCO will mail forms at no charge (www.nhpco.org or [800] 658-8898).
You may need a lawyer to help you understand state laws and may also need legal assistance to create an advance directive, though the latter is not required. Have your advance directive witnessed, whether it's made in writing or orally, by a least two people, one of whom is not a spouse or blood relative.
Though some form of advance directive is recognized in all US states, there are circumstances in which healthcare providers may choose—for medical reasons—to not follow an advance directive. Examples include decisions that are against a physician's conscience, against the policy of an institution, or not accepted under healthcare standards. If your providers won't honor your wishes, you may consider transferring to another facility.
Brandt recommends that all adults create an advance directive regardless of health status. "Every adult would benefit from completing an advance directive while they are healthy—before a crisis," she says. "Once someone is diagnosed with a serious illness, their world is turned upside down and it's harder to contemplate these issues." Planning also allows patients to focus on their well-being.
Living Will A living will is a type of advance directive. With a living will, you can explain the types of medical treatments you want and don't want at the end of life. A living will can be a written document and should also be discussed with family.
DNR Order If you do not wish to be resuscitated at the moment of death so that you may die naturally, you can specify this with a "do not resuscitate" (DNR) order. Discuss with your doctor whether a DNR is appropriate for you; it is generally used when the patient isn't likely to survive if the heart is restarted.
POLST form You may also create a Physician Orders for Life-Sustaining Treatment (POLST), a form that specifies which types of life-sustaining treatment you do and do not want. Both patient and physician sign this form. A POLST is printed on brightly colored paper and stays with you at all times.
Conclusion
There's clearly a lot to learn about the financial and legal aspects of an illness, and in the event of a diagnosis it's critical that these issues are handled appropriately. The good news is that you have plenty of options to help you resolve these issues as well as access to organizations with experts to guide you. Though individual circumstances vary, there are some general guidelines for all financial and legal matters: plan ahead, learn about your options now, and seek help when needed.
Sources
American Cancer Society, www.cancer.org
National Cancer Institute, www.cancer.gov
Patient Advocate Foundation, www.patientadvocate.org
Keep Records of Your Costs
As you begin the diagnosis and treatment process, be prepared to keep complete records of all related financial matters. This includes medical bills, insurance claims, all communication with insurers, and all expenses related to healthcare (such as travel to and from medical appointments, lodging and meals, and long-distance phone calls related to healthcare).