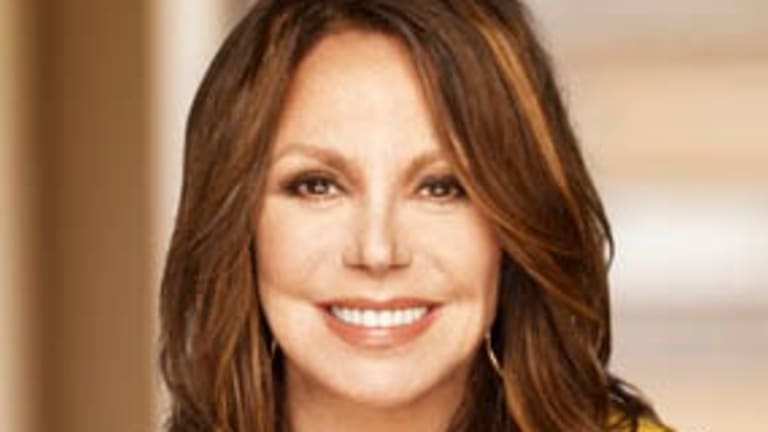 One of the Tribe
Marlo Thomas discusses her fathers legacy and the impact of Saint Judes Cancer Center for Children
Marlo Thomas' groundbreaking career reflects her deeply felt sense of community and her desire to create positive change.
Marlo Thomas has a favorite motto: Never face the facts. When we live our lives according to the limits set forth by facts and statistics, she says, we discount a whole range of in between and maybe and possibly—and hope. And, in fact, a review of her groundbreaking career as an award-winning actress, producer, author, and social activist reflects her passion for seeing beyond the limits of the status quo—and encouraging other women to do the same.
Home Is Where the Heart Is
Marlo does not hesitate when asked about the origins of her desire to look beyond the limits and make a positive difference: it was born at home. The child of comedian Danny Thomas, Marlo was raised in Los Angeles in a home where some of the greatest comics of the age—including Milton Berle, George Burns, and Bob Hope—were regular guests and where her father's generous spirit set an early example. "My father used to say, 'there are two kinds of people in the world: those who stop at a traffic accident and those who just drive by.' My dad was the kind who would stop and help," Marlo says.
The impact of Danny Thomas's generosity was profound, from small services rendered to those in need to the lasting legacy of St. Jude Children's Research Hospital—the only pediatric cancer research center where treatment is free to families who cannot pay—which he founded in 1962. Fueling her father's actions, Marlo says, was his deeply ingrained connection to his community, an expansive idea that embraced family, neighborhood, country, and, ultimately, humanity. "I think he saw the whole country as the neighborhood," she says.
For Marlo, brother Tony, and sister Terre, the impact of their father's outreach propelled each of them to strive to make a difference. "We all have a sense of what can we do, how can we help," Marlo says.
Personal Passion, Public Good
As Marlo has made her own way in the world—first earning a degree in education at the University of Southern California and then launching a successful career as an actress (she has been honored with four Emmy Awards, a Peabody, a Golden Globe, and a Grammy and has been inducted into the Broadcasting Hall of Fame)—her work has reflected both her father's influence and her own innate desire to effect positive change.
In 1966 Marlo served as executive producer (through her production company, Daisy Productions) and starred in the groundbreaking ABC sitcom That Girl, in which she portrayed Anne Marie, a single actress living on her own in New York City. Though today's TV lineup is filled with shows featuring young, single women living on their own, at the time Marlo's character and the show's storyline, which she conceived, represented a seminal change in the way women were portrayed on television and provided a new model for young women interested in breaking through cultural stereotypes, which prioritized marriage and family.
And while That Girl became a cultural phenomenon, it also came from a very personal place: as a young woman determined to live life on her own terms—she wanted a career and believed she'd never marry (she would marry Phil Donahue in 1980)—Marlo was not ready to "face the facts" of the limited options available to women at the time. In pushing boundaries and telling a new kind of story, she inspired a generation of women to do the same.
Politicized by her experience with That Girl, during which she heard from women across the country inspired by her character, Marlo would continue to embrace social causes that resonated with her desire to make a difference. In 1972 she released Free to Be…You and Me, an album and accompanying book of songs, skits, and music for children that promote gender neutrality and individuality. She was initially inspired to create an alternative to popular books and media for her niece, and the project was a hit, spawning a television special and a stage show. All proceeds from the Free to Be…You and Me projects benefited the Ms. Foundation for Women, which Marlo co-founded with Gloria Steinem, Patricia Carbine, and Letty Cottin Pogrebin in 1973.
Though Marlo is aware of the far-reaching cultural impact of the project, she returns, again, to the fact that it was generated from a very personal place. "I didn't wake up in the morning and have some agent say to me, 'Why don't you do a thing called Free to Be…You and Me?' It came out of my own experience: my sister had a baby, and I didn't like what she was reading to her. I wanted her to read bedtime stories that wouldn't put her mind to sleep—so I made something up."
A Legacy of Love
Marlo's personal passion is firmly at the heart of her commitment to St. Jude Children's Research Hospital. Since her father's death in 1991, Marlo has served as the hospital's national outreach director, leading the annual $700 million fundraising efforts and promoting the hospital throughout the year. Initially inspired by her father's connection with the cause, Marlo never expected that she would become so dedicated to the hospital's mission. "We knew about St. Jude as we were growing up, but my father made it quite clear that it would not be our burden to carry—which I think was actually psychologically brilliant because he didn't tell us we had to do it. We came to it ourselves."
When she visited the hospital after her father's death, planning to offer her occasional services, she was forever changed. She caught "St. Jude fever"—the term that hospital staff members use to describe the experience of observing the difference the hospital makes in people's lives—and she never looked back. "It's really irresistible," Marlo says. "I've been at this 20 years now, and people always say to me, 'How do you keep your passion going?' And I say, 'it's the patients and their parents."
Children with cancer and other catastrophic diseases travel to St. Jude from all over the country to receive treatment and to benefit from the hospital's research, often after they have been denied treatment at other facilities or have been told there is no hope for their diagnosis. If a family is unable to pay, the child receives the treat ment free of charge. Resources are devoted to addressing the needs of the whole patient and the whole family, including counseling for parents and siblings. Most importantly, Marlo says, the child is at the center at all times. "We treat the child as the patient—we speak directly to the child. The child knows exactly what's happening with his care; he's not the victim of a disease—he's the owner of his disease and the owner of his treatment. And we don't ever give up. We never, ever give up for any child ever. Every child is our child, and no child is turned away."
The benefit of the hospital's unique approach, Marlo says, is profound. "You go to St. Jude and you meet kids who were going to die in New York or Illinois or Los Angeles or Texas, and all of a sudden they're not going to die. And the bone marrow transplant that their parents couldn't afford is now a possibility—and it's free. We're going to save their lives for free. The fact that my father made that promise that no child would ever be turned away if a family couldn't pay is a gigantic promise—and an expensive promise—but, boy, is it worth it. It really is the difference."
Creating Community, Making Change
It was while Marlo was on the road raising money for St. Jude that she was inspired to launch another project that was again about creating positive change—this time for women over 40. During question-and-answer sessions that would follow her presentations about St. Jude, she found that women would ask her advice about more-general topics—about money, empty nesting, parenting, and relationships. "The women I was meeting wondered why there wasn't a place online for women over 40 to talk about things like this," Marlo says, "and I thought, I could do that—I could make a conversation happen."
The result of Marlo's efforts to provide a place for those conversations is MarloThomas.com, an online community offering women over 40 an opportunity to discuss topics of value at this stage in their lives. The site includes information, tips, interviews with well-known experts like Dr. Oz and Suze Orman, and other resources that promote discussions and enable visitors to identify with other women who are facing similar issues. "It has been great," Marlo says of the now-year-old venture. "The exciting thing for me is that there is a community of women out there who think they're alone, but they're not—they're really average; everyone has the same problems, whether it's about raising kids, getting a divorce, love and relationships, or taking care of elderly parents—everyone is going through the same things. We all need a community of women to talk about it all and learn from."
One of the Tribe
In so many ways, the work that has defined Marlo Thomas's public life has been about showing us the strength to be found in community and the positive change we can create for ourselves and our world when we reach out. "You are not alone," she has said, repeatedly, as she has shown us another, more progressive path: "there are other young girls who share your dreams; there are other kids who feel what you're feeling; there is a community that will take care of you if you're sick; there are other women who are worried about the same issues that you face every day."
At the heart of each project, Marlo's personal commitment to each issue shines forth, and she is proud to be living a life that reflects her values. "I am most proud of following my own voice," she says. "As I was writing my autobiography [Growing up Laughing; see sidebar], I realized that everything I've done in my life is connected, and nothing is out of character—from That Girl, to Free to Be…You and Me, to playing women in trouble on television and in movies, to my work with St. Jude, to my website—a lot of what I've done is about my desire to connect with and help women and children."
This desire to help, instilled at an early age by her father's example, continues to drive her now. "I see myself as one of the tribe," she says. "We all have to do what we can to help each other."
St. Jude Children's Research Hospital at a Glance
St. Jude Children's Research Hospital opened on February 4, 1962, and was founded by the late entertainer Danny Thomas. Its mission is to find cures for children with cancer and other catastrophic diseases through research and treatment. St. Jude has treated children from all 50 states and from around the world.
On average 5,700 active patients visit the hospital each year, most of whom are treated on an outpatient basis.
St. Jude has 78 inpatient beds and treats upward of 230 patients each day.
St. Jude is the first and only pediatric cancer center to be designated a Comprehensive Cancer Center by the National Cancer Institute.
St. Jude is the first institution established for the sole purpose of conducting basic and clinical research and treatment into catastrophic childhood diseases, mainly cancer.
Research findings at St. Jude are shared freely with doctors and scientists all over the world.
The medical and scientific staff published more than 680 articles in academic journals in 2010, more than any other pediatric cancer research center in the United States. St. Jude's researchers are published and cited more often in high-impact publications than those of any other private pediatric oncology institution in the country.
St. Jude is the only pediatric cancer research center where families never pay for treatment not covered by insurance. No child is ever denied treatment because of the family's inability to pay.
In 2009 Parents named St. Jude the number one pediatric cancer care hospital in the country, based on the magazine's survey of more than 75 children's hospitals nationwide.
St. Jude has developed protocols that have helped push overall survival rates for childhood cancers from less than 20 percent when the hospital opened in 1962 to 80 per cent today.
Growing Up Laughing
Marlo Thomas has written six books to date, including Free to Be…You and Me, Free to Be a Family, The Right Words at the Right Time (volumes 1 and 2), and Thanks and Giving: All Year Long. Her most recent, Growing Up Laughing: My Story and the Story of Funny, is her memoir, filled with stories about her life and thoughts about the role humor plays in all our lives. "There's nothing better than laughing," Marlo says of the book's theme. "Growing Up Laughing is the story of my life, but it's also full of comedians' experiences—it's very uplifting and fun." And fun, at the end of the day, Marlo says, is something we all need more of. "If I could say anything that I think we all need, it's more laughter. And I was lucky to grow up in a house that was full of laughter."