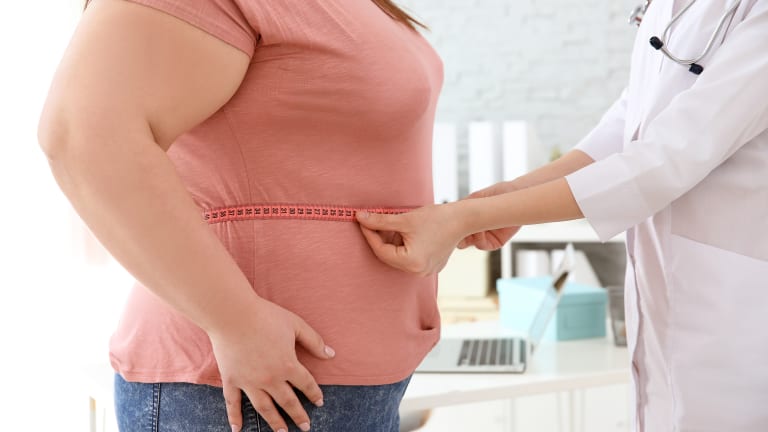 Obesity
Becoming informed about the complexity of obesity and current treatment recommendations can be an empowering step for women to take toward getting the support and care needed to reduce the risk for and manage this disease. FDA Approves Ozempic.
by Diana Price, Medically Reviewed by Dr. C.H. Weaver M.D. 12
According to the Centers for Disease Control and Prevention, more than two in three women in the U.S. have overweight or obesity.1 In 2013, the American Medical Association (AMA) designated obesity as a disease, a significant step toward shifting perceptions and clinical care around what is now broadly acknowledged as a complex, chronic condition.
At the time, speaking on behalf of the AMA, Patrice A. Harris, MD, MA, noted that, "Recognizing obesity as a disease will help change the way the medical community tackles this complex issue that affects approximately one in three Americans."2
In the years since the AMA designation, strides have been made toward educating the public about the disease, but Ursula Inge Ferguson, DO, FACOI, FOMA, a spokesperson for the Obesity Medicine Association, says that a strong need remains to advocate for a more thorough understanding of the disease and to improve treatment. "Lack of insurance coverage and lack of trained medical professionals to treat this disease remain a barrier to care," she says, adding, "outside of Obesity Medicine, I still find it difficult to change perceptions about obesity even among healthcare professionals."
Understanding the complexity of obesity as a disease and becoming informed about current treatment recommendations can be an empowering step for women to take toward getting the support and care needed to reduce the risk for and manage this disease. 
Stay Current on Women's Health Topics with the AWomansHealth Newsletter
What is Obesity?
In treatment guidelines developed by the Obesity Medicine Association, obesity is defined as a "chronic, relapsing, multi-factorial, neurobehavioral disease, wherein an increase in body fat promotes adipose tissue dysfunction and abnormal fat mass physical forces, resulting in adverse metabolic, biomechanical, and psychosocial health consequences."3
A diagnosis of obesity is generally made through an evaluation of your medical history, physical exams, and tests to rule out other medical conditions.4
One tool that's often used is the body mass index (BMI). BMI is a ratio of weight to height. It's not a completely reliable measurement because it correlates rather than directly measures body fat; this means that muscular, lean athletes may actually have a BMI that inaccurately indicates that they are overweight. BMI is categorized as follows:
Some additional ways to estimate body fat include skin fold thickness and waist-to-hip circumference ratios and techniques such as ultrasound, computed tomography, and magnetic resonance imaging (MRI).
Another important consideration in body weight is waist measurement. Though waist size may not be used to determine obesity and other weight categories, it is a significant indicator of risk for medical conditions. Excess fat in the abdomen (or around the waist) may increase obesity-related health risks more than fat carried anywhere else on the body. For women, a waist measurement of more than 35 inches may indicate increased risk; for men, the measurement for higher risk is more than 40 inches.
Causes of Obesity and Related Risk
Factors that contribute to excess weight may be related to genes, metabolism, hormonal changes, environment, culture, and socioeconomic status. As well, certain diseases and medications may cause weight gain. Examples of these diseases include polycystic ovarian syndrome and Cushing's disease; drugs that may contribute to weight gain include steroids and some medications for diabetes and mood disorders.
Obesity can raise risk for several serious medical conditions, which are listed below, as well as for complications related to COVID-19 infection. Though this is a frightening list, remember that, by losing weight, maintaining a healthy diet, and staying active, you may be able to reduce your risk of these conditions and enjoy improved overall health.
Coronary heart disease and stroke
Gallbladder disease
Current Statistics United States
According to the Centers for Disease Control and Prevention (CDC), 42.4 percent of U.S. adults are obese.5 Among women, the prevalence of obesity was 39.7 percent among those aged 20–39, 43.3 percent among those aged 40–59, and 43.3 percent among those aged 60 and over.6
The CDC also reports that, by racial and ethnic groups, non-Hispanic Black Americans have the highest rates of obesity (49.6 percent). Hispanics also have high prevalence (45.7 percent), while rates are lowest among non-Hispanic Asian adults (17.4 percent). Prevalence among non-Hispanic white adults is 42.2 percent.7
Geographic statistics reflect the widespread prevalence of obesity in the U.S.: more than 20 percent of adults in all states and territories have obesity, with the highest rates in the Midwest (33.9 percent) and the South (33.3 percent).8
Global: The latest global obesity projections from the World Health Organization (WHO) state that 1.9 billion adults were overweight and at least 650 million adults were obese.9 The WHO also explains that although overweight and obesity were once considered problems only in high-income countries, rates in low- and middle-income countries are rising dramatically. The cause? The WHO points to a global shift towards higher consumption of foods that are high in calories, fat, and sugars but low in vitamins, minerals, and other micronutrients. As well, levels of physical activity are decreasing around the world with the growth of sedentary forms of work, changing modes of transportation, and an increasing number of people living in urban settings.
Obesity Treatment
If you have been diagnosed with obesity, your treatment plan will ideally be directed by a multi-pronged approach that addresses the complexity of the disease. "A comprehensive approach early on is recommended," Dr. Ferguson says. Patients can benefit, she notes, when treatment planning is led by a professional certified in Obesity Medicine trained to address nutrition, exercise, psychology, medication, and surgery.
"Treating obesity is not simply telling people to eat less and exercise more. It's not simply a referral to a dietitian, referral to a bariatric surgeon, or prescribing a pill," she says. "A program that individualizes and addresses nutrition, exercise, psychology, and medications based upon current science is recommended."
Depending on your unique diagnosis and recommended treatment, your care team might include a dietitian, exercise specialist, psychologist, and a surgeon. "This approach allows for diversification and support," Dr. Ferguson says, and adds that hitting hard from multiple angles from the beginning can provide an advantage. "Studies have shown that early success is a predictor of long-term success in treating obesity. Lifestyle modification and medications should be prescribed early on."
Within this comprehensive plan, lifestyle modifications (healthy eating and exercise), medications, behavioral therapy, and surgery could all play a role.
Healthy Eating and Weight Loss
If you're overweight or obese, losing weight can have a major positive impact on your current health and reduce your risk of obesity-related medical conditions. A weight loss of as little as five percent may be effective.
The basic formula for weight loss and weight maintenance is to eat a healthy, balanced diet and to stay physically active. Weight gain results when more calories are eaten than the body uses, so the simple formula for weight loss is reducing calories and increasing physical activity. However, it's important to keep in mind that genetics, gender, hormones, and environment (pollution) may factor into this equation.
Traditional guidelines for a healthy diet include:
• Limiting fat intake
• Replacing saturated fats with unsaturated fats
• Increasing consumption of fruits and vegetables (at least five servings per day, according to many health experts)
• Eating more legumes, whole grains, and nuts
• Limiting sugar intake
Dr. Ferguson says that, in some cases, "a medically supervised nutritional ketosis diet (lower in carbohydrates and higher in fats) is beneficial, since ketones and fats are natural appetite suppressors."
Of course, healthy eating and sticking with a specific diet may be easier said than done; if you're overweight or obese and trying to lose weight, you may benefit from the help of your healthcare team, experts such as dieticians and fitness trainers, and support groups.
Dr. Ferguson notes that this support can be vital for those with obesity who find themselves in a repeated, unproductive cycle of dieting efforts. "Human physiology protects against starvation, and dieting is a controlled starvation," she says. "With insufficient calorie intake, the metabolism slows in compensation, lean body mass may be lost permanently, and hunger hormones kick in." When the body reacts in this way and weight loss does not result from repeated efforts, frustration and self-blame loom large. "The next new diet cycle creates hope, until it fails," Dr. Ferguson says. In this situation, she notes, working with an Obesity Medicine specialist and a comprehensive care team can be productive in helping set realistic expectations and adjusting treatment as necessary.
Exercise
"Exercise is the best thing you can do for your overall health," Dr. Ferguson says. Physical activity can help you lose weight and maintain a healthy weight once you've reached it. As well, an active lifestyle can improve your overall well-being and reduce your risk of serious health complications like type 2 diabetes, heart disease, stroke, and high blood pressure. For overall health, weight-loss, and weight maintenance, the widely recommended amount of exercise is 30 minutes per day of moderate-intensity activity on most days of the week. However, Dr. Ferguson notes, "for weight loss, 60 minutes or more of intense exercise may be required."
While it's a good idea to check in with your healthcare provider before starting or changing an exercise program, Dr. Ferguson says that "very few people require cardiac stress tests before exercise," and you can begin moving with a comfortable pace and progress as you feel able. "If you feel pain or shortness of breath and don't recover from those sensations right away, see your doctor," she notes.
Tips for getting and staying active include:
• Setting realistic goals
• Seeking support from a family member or friend
• Keeping track of your progress (such as in a journal)
Choose activities that you enjoy, and you'll be more likely to do them. Examples include walking, dancing, weight-training, gardening, bicycling, and yoga. As well, consider ways that you can add activity to your daily life, such as parking your car farther from your destination so you have to walk more or standing or walking when you're talking on the phone.
Medications
There are prescription medications for weight-loss, but it's important to note that these are only FDA approved for people who are at increased medical risk because of their weight. These medications are only approved for individuals with a BMI of 30 and above and those with a BMI of 27 and above with an obesity-related condition like high blood pressure, type 2 diabetes, or dyslipidemia (abnormal amounts of fat in the blood).
Medications can aid in appetite control, improvement of eating behavior, and slow progression of weight gain and regain, with the goal of improving health, quality of life, and body weight.10 However, medication is not intended to take the place of diet, exercise, and behavior modifications, but rather function as one piece of a comprehensive treatment plan.
Types of weight-loss medications include appetite suppressants and lipase inhibitors. Appetite suppressants affect brain chemicals and gut hormones to decrease appetite and increase the feeling of being full; examples include phentermine, phentermine/topiramate (Qsymia®), liraglutide (Saxenda®), and naltrextone/bupropion (Contrave®). Lipase inhibitors reduce the body's ability to absorb dietary fat by blocking the enzyme lipase, which breaks down dietary fat. Orlistat is a lipase inhibitor and is available both by prescription and over the counter (lower dose Alli®).
Side effects of weight-loss medications tend to be mild, but serious complications have also been reported. Side effects vary by type of drug and may include: intestinal issues like cramping, gas, diarrhea, and leakage of oily stool; increased blood pressure and heart rate; headache, dry mouth, nausea, constipation, and insomnia. Talk with your doctor about the risks and benefits of the particular weight-loss medication(s) you are considering taking. Tell your doctor about other health conditions—like high blood pressure, heart disease, irregular heartbeat, or history of stroke—as these may affect which medications you can safely take.
Dr. Ferguson notes that despite proven efficacy, anti-obesity medications are often under prescribed. The reason for this, she says, is largely the cost of these medications over the long-term. "FDA-approved medications may cost over $200 per month, which may be prohibitive for long-term use," she says. Despite the barrier this creates, these drugs can provide significant benefit. "Treatment of obesity goes beyond short-term weight loss; It involves long-term, comprehensive care," Dr. Ferguson says. "Losing weight is the initial stage; maintaining weight loss is the greater battle."
FDA Approves Ozempic (Semaglutide) for weight loss
The FDA approved once-weekly Ozempic injection for chronic weight management in adults with obesity or with overweight and at least one weight-related condition. Ozempic is a GLP-1 receptor agonist that was first approved as a treatment for type 2 diabetes in 2017 and help to control your blood sugar. People taking Ozempic for diabetes were observed to lose weight and this occurs because Ozempic slows down how fast your stomach empties food (called gastric emptying), causes your pancreas to release insulin, and blocks a hormone that causes your liver to release sugar. Together this helps you feel less hungry, causing you to eat less food and lose more weight.
Results from the STEP 1 clinical study published in The February 2021 New England Journal of Medicine demonstrated that Ozempic can result in substantial weight loss compared with placebo. In the study more than half of participants lost 15% of their body weight. Individuals treated with Ozempic lost an average of 15.3 kg compared with 2.6 kg for those treated with a placebo. Follow-up data from the STEP 4 study demonstrated adults with obesity who continued Ozempic beyond 20 weeks experienced continued weight loss or weight maintenance compared with adults who were switched to placebo.
The most common side effects are nausea, diarrhea, vomiting, constipation, abdominal pain, headache, fatigue, dyspepsia, dizziness, abdominal distension, eructation, hypoglycemia in people with type 2 diabetes, flatulence, gastroenteritis and gastroesophageal reflux disease. The prescribing information for Ozempic contains a boxed warning to inform health care professionals and patients about the potential risk for thyroid C-cell tumors. Ozempic should not be used in patients with a personal or family history of medullary thyroid carcinoma or in patients with multiple endocrine neoplasia syndrome type 2. Ozempic also contains warnings for pancreatitis, gallbladder problems, hypoglycemia, acute kidney injury, diabetic retinopathy, increased heart rate and suicidal behavior or thinking. If Ozempic is used with insulin or a substance that causes insulin secretion, patients should speak with their provider about potentially lowering the dose of insulin or the insulin-inducing drug to reduce risk for hypoglycemia. FDA stated providers should monitor patients with kidney disease, diabetic retinopathy and depression or suicidal behaviors or thoughts.
Surgery
For people who are severely obese and haven't been able to lose weight through diet and lifestyle changes, bariatric surgery is an option. Individuals who suffer from serious obesity-related health problems may also consider surgery.
The American Society for Metabolic and Bariatric Surgery (ASMBS) provides the following qualifications for bariatric surgery:11
• BMI ≥ 40, or more than 100 pounds overweight.
• BMI ≥ 35 and at least one or more obesity-related co-morbidities such as type 2 diabetes (T2DM), hypertension, sleep apnea and other respiratory disorders, non-alcoholic fatty liver disease, osteoarthritis, lipid abnormalities, gastrointestinal disorders, or heart disease.
• Inability to achieve a healthy weight loss sustained for a period of time with prior weight loss efforts.
The National Institutes of Health, the American College of Surgeons, and ASMBS recommend that "surgery be performed by a board-certified surgeon with specialized experience/training in bariatric and metabolic surgery, and at a center that has a multidisciplinary team of experts for follow-up care."
There are several different approaches to bariatric surgery, all of which promote weight loss through procedures to limit food intake and/or limit absorption of food. Food intake is limited by surgically reducing the size of the stomach and thus the amount of food it can hold; absorption is limited by rerouting food away from a portion of the digestive tract and directly to the small intestine.
The field of bariatric surgery is advancing all the time, Dr. Ferguson says. "Surgical treatments are evolving as rapidly as the ASMBS is producing bariatric surgeons. Currently sleeve gastrectomy is the favored surgery, while Roux-en-Y gastric bypass is the gold standard."
Adjustable gastric banding, she notes, is no longer recommended.
Dr. Ferguson advises any patient thinking of undergoing weight loss surgery to carefully consider the decision. "Patients must be prepared for the permanent consequences of surgery. You can stop taking a medication and make changes to a dietary plan, but while surgeries can be revised, they cannot be reversed." And she says, as with other treatments for obesity, surgery should be viewed as one element of a long-term treatment plan rather than a quick fix. "Surgery alone does not 'cure' obesity. Surgery works in conjunction with the other treatment modalities of nutrition, exercise, psychology, and medication." In order for bariatric surgery to be successful, patients must maintain healthy eating habits and be physically active.
And, as with all surgical procedures, patients should be aware of potential side effects and complications of bariatric surgeries. Potential early complications include bleeding, infection, leaks from sites where intestines are sown together to reroute food, and blood clots in the legs (which can progress to the lungs and heart). Additional complications like malnutrition and strictures (narrowing of the sites where the intestine is joined) can occur later.
Behavioral Therapy
Intensive behavioral therapy can help patients modify eating and exercise habits to lose weight and maintain weight loss.12 Through group or individual counseling, patients can identify unhealthy patterns and learn new tools to navigate daily challenges and set long-term goals. Behavioral therapy can also incorporate screening for depression, anxiety, and other mental health disorders, to help patients access holistic care that encompasses mental as well as physical health.
Dr. Ferguson says that behavioral therapy can provide valuable insight. "Most patients will say, 'I know what to eat,' but they cannot consistently follow that expectation." Behavioral therapy can help uncover underlying barriers to behavior change and chart a productive course toward long-term change. Individual or group counseling can provide social support, decision making tools, and address challenges, Dr. Ferguson says, as well as addiction and mental health screening. Perhaps most important, counseling can help patients understand that "failure to lose weight is not a personality flaw or show of weakness," Dr. Ferguson adds.
Novel Approaches to Treatment: Precision Medicine and Obesity
As obesity prevalence continues to rise in the U.S. and globally, new strategies for treating the disease are emerging.
Among recent advances, phenotype-guided obesity interventions are showing promise. Andres Acosta, MD, PhD, gastroenterologist and Director of the Precision Medicine for Obesity program at Mayo Clinic, has led research to identify classifications, or sub-categories, of obesity to help guide treatments. These sub-categories classify patients based on unique physiologic and behavioral characteristics to target the most-effective treatments.13
For example, as described in the Mayo Clinic release highlighting the research, "patients with a larger stomach might be good surgical candidates, and patients with behavioral issues may benefit from counseling or anti-anxiety medications." Of the potential for this research to provide benefit for patients, Dr. Acosta says, "By using this personalized approach, we can find not only the most effective treatment, but save the patients time and money with less effective treatments."14
A Holistic View for Long-term Success
If you or a loved one is diagnosed with obesity, keep in mind that taking a long-term, multi-faceted approach to treatment will provide the best opportunity for lasting change and improved quality of life. Dr. Ferguson advises, "Look for a treatment plan that offers individualized care, not just a one-treatment-fits-all approach." And, she encourages, "Understand that a person is not defined by her weight, and that overall health—mental and physical—not weight loss itself is the long-term goal."
Stay Current on Women's Health Topics with the AWomansHealth Newsletter
Sources
The Weight-control Information Network Web site. Available at https://www.niddk.nih.gov/health-information/weight-management. Accessed June 2020.
The Centers for Disease Control and Prevention website. Available at www.cdc.gov. Accessed June 2020.
The World Health Organization website. Available at www.who.int. Accessed June 2020.
References:
Centers for Disease Control and Prevention (CDC) National Center for Health Statistics (NCHS). (2018). Health, United States, 2017: With Chartbook on Long-term Trends in Health, Table 58. Hyattsville, MD.
Pollack A. AMA Recognizes Obesity as a Disease. NYTimescom. 2013 Available at https://www.nytimes.com/2013/06/19/business/ama-recognizes-obesity-as-a-disease.html. Accessed May 1, 2021.
Why Is Obesity a Disease? Obesity Medicine Association website. Available at: https://obesitymedicine.org/why-is-obesity-a-disease/. Accessed May 7, 2021.
Overweight and Obesity. National Institutes of Health website. Available at: https://www.nhlbi.nih.gov/health-topics/overweight-and-obesity. Accessed May 7, 2021.
Overweight and Obesity. National Institutes of Health website. Available at: https://www.nhlbi.nih.gov/health-topics/overweight-and-obesity. Accessed May 7, 2021.
Prevalence of Obesity and Severe Obesity Among Adults: United States, 2017–2018. Centers for Disease Control and Prevention website. Available at: https://www.cdc.gov/nchs/products/databriefs/db360.htm. Accessed May 7, 2021.
Prevalence of Obesity and Severe Obesity Among Adults: United States, 2017–2018. Centers for Disease Control and Prevention website. Available at: https://www.cdc.gov/nchs/products/databriefs/db360.htm. Accessed May 7, 2021.
Adult Obesity and Prevalence Maps. Centers for Disease Control and Prevention website. Available at: https://www.cdc.gov/obesity/data/prevalence-maps.html#:~:text=35%25%20or%20more%20adults%20had,and%20the%20West%20(27.4%25). Accessed May 7, 2021.
Obesity and Overweight. World Health Organization website. Available at: https://www.who.int/news-room/fact-sheets/detail/obesity-and-overweight. Accessed May 7, 2021.
Top Weight Loss Medications. Obesity Medicine Association website. Available at: https://obesitymedicine.org/weight-loss-medications/. Accessed May 7, 2021.
Who is a Candidate for Bariatric Surgery? American Society for Metabolic and Bariatric Surgery website. Available at: https://asmbs.org/patients/who-is-a-candidate-for-bariatric-surgery. Accessed May 7, 2021.
US Preventive Services Task Force. Behavioral Weight Loss Interventions to Prevent Obesity-Related Morbidity and Mortality in Adults: US Preventive Services Task Force Recommendation Statement. JAMA. 2018;320(11):1163–1171. doi:10.1001/jama.2018.13022
Kilen, B. Expert Alert – Precision Medicine and Obesity. Mayo Clinic website. Available at: https://newsnetwork.mayoclinic.org/discussion/precision-medicine-and-obesity/. Accessed May 7, 2021.
Kilen, B. Expert Alert – Precision Medicine and Obesity. Mayo Clinic website. Available at: https://newsnetwork.mayoclinic.org/discussion/precision-medicine-and-obesity/. Accessed May 7, 2021.