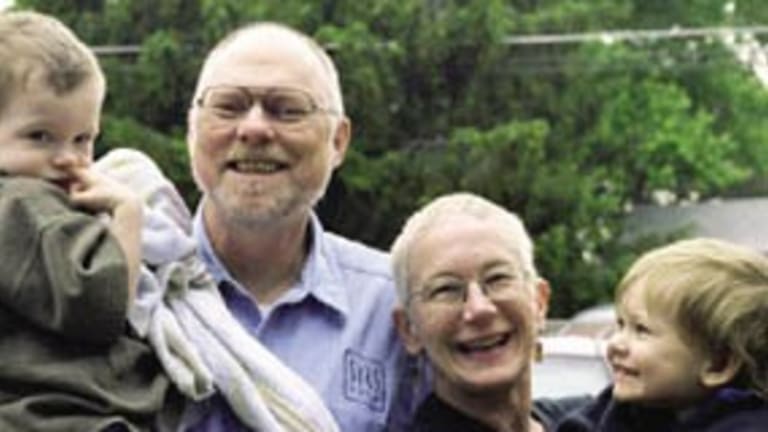 Meet Our Friends! Cancer Survivors Jan Water and Chris Lynch
Meet Our Friends! Summer 2013
Most survivors will tell you that a cancer diagnosis can impose a sense of isolation. No matter the level of support from family, friends, and faith, the words You have cancer have the power to build a wall between you and the wider world. For many, learning about the experiences of other survivors—via social media, online forums, or print publications—can be a powerful tool in disassembling this barrier and breaking down the fear and the anxiety that can result from feeling alone on the journey.
Women magazine is glad to be a part of this network of support and inspiration. Through our quarterly print publication, our online magazine (awomanshealth.com), and our Facebook and Twitter communities, we are grateful to have the opportunity to engage with our readers and participate in the conversation.
Now, as part of our ongoing series profiling members of our community of readers, friends, and followers, we'd like to introduce you to survivors who have offered to share their stories in the hope that their experiences will offer inspiration and perspective to other women diagnosed with cancer. We're grateful for their courage and inspired by their desire to make a difference.
Jan Waters, 70
Columbus, Ohio
When Columbus, Ohio, resident Jan Waters was delivered a cancer diagnosis in 1997 at age 54, her doctor told her, "There's good news, and there's bad news: the bad news is that you have non-Hodgkin's lymphoma; the good news is that you could live a long time with the disease." For Jan, an early-childhood director who was looking forward to retirement and her new role as a grandmother (her first grandson had been born shortly before she received her diagnosis), it was hard to see the upside. "I thought, What's the good news?" Jan says. "I was focused on the fact that there was no cure for my diagnosis, and I got desperate."
Told that the disease was very slow growing and that treatment was not yet recommended, Jan entered a tough watch-and-wait period. Determined to be proactive and survive to know her grandchildren, Jan sought out complementary therapies and joined an online non-Hodgkin's lymphoma community to learn more about the disease. Despite her efforts to empower herself, it was difficult to live with the diagnosis while not actively treating the disease. "The waiting was the worst," she says.
In 1999 the waiting period ended when tests revealed that the disease had progressed and that she would need chemotherapy. "Once I had chemo, I really knew I had cancer," Jan says. But now with two grandchildren in her life (a second grandson had been born), her resolve to fight had only increased. As she launched into chemo, she continued to educate herself about the disease and also joined a support group through a local cancer support organization. "That was the best thing for me," she says, "because everyone knew what I was talking about: they knew what chemo was, and they knew how to talk to doctors. I learned so much in that group."
Supported by her friends, family, and co-workers, Jan pushed through chemotherapy—continuing to work throughout, which, she says, provided welcome distraction—and achieved remission. In 2001, however, she learned that the disease had again progressed, and she entered a clinical trial, which was ineffective, before finding success with another chemotherapy regimen that put her back into remission. The respite was short-lived, however; in 2004 she was told the cancer was back once again and that she would need further treatment.
What is Medicare Advantage
Medical Advantage or MA plan is a health plan provided by a private organization that partners with Medicare to offer healthcare services with their Medicare Parts A and B privileges.
Having been an active member of an online non-Hodgkin's group for years at this point, Jan had come to know and respect several of the group's members who were facing similar diagnoses. She paid attention when they would mention various novel treatments, and she did her own research to learn more. Her active participation in the group and her own investigation into topics the group discussed led to her discovery of a different kind of treatment, called radioimmunotherapy, which combines yttrium-90 (a radioactive substance) with a monoclonal antibody. Though her own doctor never brought up the possibility of this treatment, Jan was intrigued and conducted additional research before seeking out an expert in the field. Told that she would be a good candidate, she returned to her own oncologist with the information and was ultimately treated at home in Columbus with Zevalin® (ibritumomab tiuxetan).
The treatment proved effective, and Jan has now been in remission for almost 10 years. An active grandmother to now eight grandchildren, she travels as much as she can and takes every opportunity to share her story and offer hope to other patients. She encourages others diagnosed with cancer to take an active role in their treatment and to reach out for support and information. "I really think you have to be your own advocate," she says. "Question your doctor all the time, and get a second opinion. If you're told there's no cure, get more adventurous—somewhere in the country there will be a hospital that specializes in your type of cancer and other treatment options."
Chris Lynch, 50
Lambertville, New Jersey
Chris Lynch was 48 years old and in otherwise great health when she was diagnosed with invasive ductal carcinoma in her left breast. Active and fit, Chris worked out regularly and was busy professionally as a salesperson for an international medical device company.
After the diagnosis she researched treatment options and decided that, because sentinel lymph node mapping detected one positive node, she would undergo chemotherapy followed by a double mastectomy and immediate reconstruction. She was prescribed hormonal therapy following chemotherapy, which she will likely continue for five to 10 years to help prevent recurrence.
For Chris, who was supported from the beginning and throughout treatment by her life partner and her family, one of the biggest challenges came from managing work and treatment. Her employer, based in another state, refused to honor the Family and Medical Leave Act, citing a loophole that exempts employees who live outside a 75-mile radius of the corporate offices. "My employer was shockingly cold and uncaring," she says, remembering the response to the diagnosis. As a result, Chris continued to work throughout treatment, benefitting from the kindness of a local co-worker who helped cover for her when she was too ill.
Despite the challenges she encountered, Chris says that the period of her treatment provided a rare opportunity to spend time thinking about her priorities. "It was actually one of the more calm and peaceful times in my life," she says. "I had a lot of time to rest, to think, and to reflect on my life and my future." One thing that became clear to Chris through this introspective time was that she did not want to continue with her current career. "I knew I wanted to get out of medical device sales for certain," she says.
With the realization that she wanted to follow a different path upon recovery, she also decided that her new course would be directed by her desire to help others. "It came to me very clearly one day when I was speaking with my wonderfully kind in-home nurse," Chris says. "I decided I too wanted to give back to others. After discussing my thoughts with my partner, I decided to quit work and go to graduate school to become a counselor."
Now cancer-free and feeling well, Chris is pursuing her commitment to help others: she is currently a graduate student working toward a degree in counseling. As she forges ahead with her life after cancer, she often reflects on the lessons she learned along the way. "I learned to be patient with myself and have truly learned to recognize the good in people," she says. "I feel that BC [before cancer] I was sleepwalking through my life. Now I am much more present."