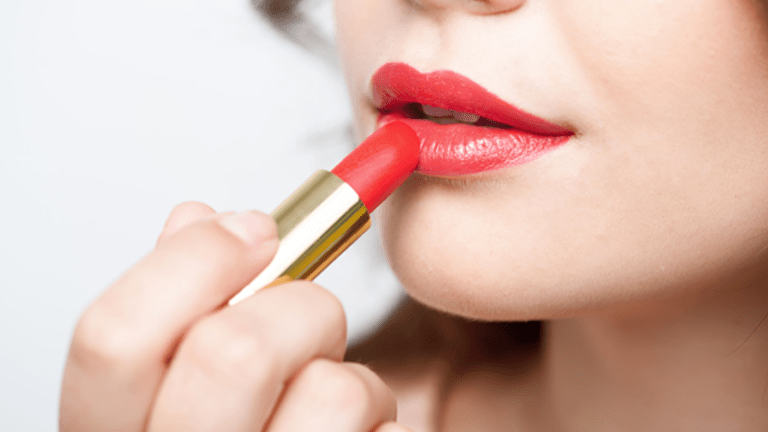 Look Good…Feel Better and the Lipstick Theory
My name is Geralyn Lucas and, yes, I wore lipstick to my mastectomy.
by Laurie Wertich
My name is Geralyn Lucas and, yes, I wore lipstick to my mastectomy and when they woke me up six hours later in the recovery room, the nurse was screaming at me to breathe as hard as I could. I couldn't get enough oxygen. She was about to hook me up to a respirator when she stopped in her tracks, dropped the mask, and said, "Girl, what kind of lipstick are you wearing? That lipstick lasted all those hours? What? Did you use lip liner? Foundation?" Suddenly, there was a small crowd of nurses around me, all wanting to know the brand.
It was a small victory: my lipstick had lasted.
I can't say the brand I used, but I can tell you that the lipstick—by allowing me to feel somewhat glamorous while I was in a surgical smock and hairnet—somehow saved my life as much as the surgery that day in the operating room. The lipstick showed the doctors and the nurses how out of place I felt as I had my breast removed the day after my twenty-eighth birthday in that cold and anonymous operating room. The lipstick gave me hope I would wear it again—but on my own terms next time.
The funny thing is I never used to wear lipstick. I was too scared. I was a gloss girl. Lipstick was so bold; it demanded that the world pay attention. I wasn't that confident—yet.
But that first swipe of lipstick reassured me that when they were taking away part of what made me a woman, I could and would reclaim my beauty someday.
Lipstick to me is a state of mind. In fact, the first chapter of my book, Why I Wore Lipstick to My Mastectomy [New York: St. Martin's Griffin; $13.95] is called "The Lipstick Manifesto." It explains why I think wearing lipstick is really a statement of power and hope. Imagine how excited I was when I had the good fortune to meet Louanne Roark, executive director of the Personal Care Products Council Foundation and "Look Good…Feel Better." It was Louanne who told me about the "lipstick theory" (described below) and who encouraged me to feel more sophisticated about my lipstick. A tube of lipstick really does hold transformative powers.
What is Medicare Advantage
Medical Advantage or MA plan is a health plan provided by a private organization that partners with Medicare to offer healthcare services with their Medicare Parts A and B privileges.
One of the world's pioneering cancer surgeons, the late William Cahan, MD, chief of surgery for many years at Memorial Sloan-Kettering Cancer Center, originally coined the term lipstick theory. According to Dr. Cahan, he was able to tell if a patient was improving while being treated for cancer if she was wearing her lipstick: "When a woman who is battling cancer starts to put on lipstick, she is on the road to recovery," he says. It is when the lipstick is on that she has adopted a "survivor" frame of mind.
When I had the privilege to attend two Look Good…Feel Better (LGFB) workshops, I saw the magic of the theory myself. Patients entered weary, tired, and looking sick, but the transformation that followed was a miracle. Yes, lipstick—and eyelashes and wigs—were applied, but all the women in that room sparkled from within when they left. I saw them look at themselves in their mirrors and smile. There was hope.
For any of you who are going through cancer treatment and haven't been to a Look Good…Feel Better workshop, I strongly encourage you to go—it will change your perspective on life. Anyone who says that beauty is only skin deep has never been to Look Good…Feel Better—because the beauty in there is on the inside, and the LGFB angels who volunteer are just drawing it out.
I want to thank all the volunteers for their dedication, caring, and commitment to helping women cancer patients through this amazing program. They have taught me the meaning of beauty. And I offer congratulations to the Personal Care Products Council member companies for their great work to support cancer patients through the Look Good…Feel Better program.
When I put on my lipstick that day years ago, it was an act of faith that I would have the opportunity to wear lipstick again. For all of you going through cancer treatment, I encourage you to dare to embrace both your inner and outer beauty and to take charge of your recovery!
Lipstick Application Tips I Learned at Look Good…Feel Better
Apply foundation to clean, dry lips before applying lip products.
Outline your lips with a lip liner in a color that complements your lipstick. Start with a freshly sharpened pencil for good hygiene.
Lip liner will help define your lips and will prevent your lipstick from smudging and feathering. Define the natural bow of your upper lip, moving toward the corners while using soft strokes to create the lip line.
Use a creamy, moisturizing lipstick to avoid dry lips.
Top with a light application of gloss over the lipstick for shine and extra moisture.