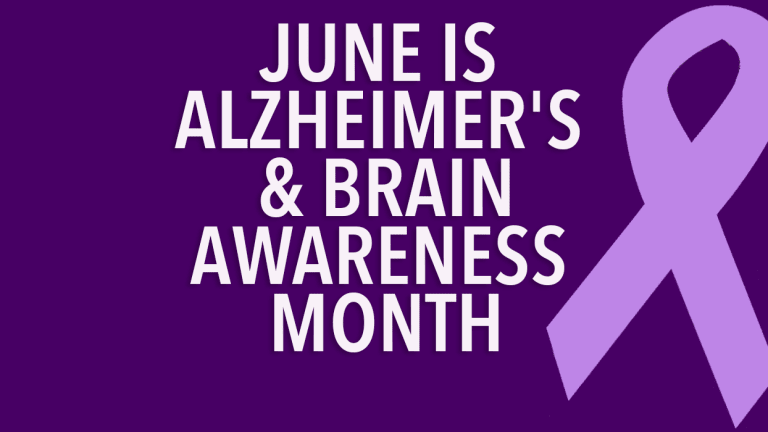 June is Alzheimer's & Brain Awareness Month
Inform yourself about Alzheimer's and Dementia- FDA Approves Aduhelm
June is Alzheimer's & Brain Awareness Month, a time to show support for the millions of people worldwide struggling with Alzheimer's or another form of dementia. It's also a time to recognize caregivers for the unwavering support they provide to those suffering with Alzheimer's and other forms of dementia and to inform yourself about Alzheimer's and Dementia.
The U.S. Food and Drug Administration approved Aduhelm (aducanumab) for the treatment of Alzheimer's this month. 
"Alzheimer's disease is a devastating illness that can have a profound impact on the lives of people diagnosed with the disease as well as their loved ones," said Patrizia Cavazzoni, M.D., director of the FDA's Center for Drug Evaluation and Research. "Currently available therapies only treat symptoms of the disease; this treatment option is the first therapy to target and affect the underlying disease process of Alzheimer's. As we have learned from the fight against cancer, the accelerated approval pathway can bring therapies to patients faster while spurring more research and innovation."
Aduhelm is the first new treatment approved for Alzheimer's since 2003 and is the first therapy that targets the fundamental pathophysiology of the disease.
Researchers evaluated Aduhelm in three separate studies representing a total of 3,482 patients. The studies consisted of double-blind, randomized, placebo-controlled dose-ranging studies in patients with Alzheimer's disease. Patients receiving the treatment had significant dose-and time-dependent reduction of amyloid beta plaque, while patients in the control arm of the studies had no reduction of amyloid beta plaque.
Under the accelerated approval provisions, which provide patients suffering from the disease earlier access to the treatment, the FDA is requiring the company, Biogen, to conduct a new randomized, controlled clinical trial to verify the drug's clinical benefit. If the trial fails to verify clinical benefit, the FDA may initiate proceedings to withdraw approval of the drug.
Do you know the signs of Alzheimer's and Dementia? 
As the population ages these health conditions are increasingly around us yet few people recognize the signs and symptoms. As politicians seeking to govern are increasingly approaching 80 years of age, are they qualified? Do they have signs of dementia? Is President Joe Biden "gaff prone" or does he have significant signs of dementia like Ronal Reagan did? The following articles provide an overview of Alzheimer's, Dementia. How to recognize the condition and what is being done to advance a treatment.
Do You Know The 10 Warning Signs of Alzheimer's?
1. Memory changes that disrupt daily life. One of the most common signs of Alzheimer's, especially in the early stages, is forgetting recently learned information. Other signs include forgetting important dates or events, asking for the same information over and over, and relying on memory aides (such as notes or electronic devices) or family members for things the patient used to handle on his or her own. What's typical? Sometimes forgetting names or appointments but remembering them later.
What is Medicare Advantage
Medical Advantage or MA plan is a health plan provided by a private organization that partners with Medicare to offer healthcare services with their Medicare Parts A and B privileges.
2. Challenges in planning or solving problems. Some people may experience changes in their ability to develop and follow a plan or work with numbers. They may have trouble following a familiar recipe or keeping track of monthly bills. They may have difficulty concentrating and take much longer to do things than they did before. What's typical? Making occasional errors when balancing a checkbook.
3. Difficulty completing familiar tasks at home, at work, or at leisure. People with Alzheimer's often find it hard to complete daily tasks. Sometimes people may have trouble driving to a familiar location, managing a budget at work, or remembering the rules of a favorite game. What's typical? Occasionally needing help to use the settings on a microwave or to record a television show.
4. Confusion with time or place. People with Alzheimer's can lose track of dates, seasons, and the passage of time. They may have trouble understanding something if it is not happening immediately. Sometimes they may forget where they are or how they got there. What's typical? Getting confused about the day of the week but figuring it out later.
5. Trouble understanding visual images and spatial relationships. For some people, having vision problems is a sign of Alzheimer's. They may have difficulty reading, judging distance, and determining color or contrast. In terms of perception, they may pass a mirror and think someone else is in the room. They may not recognize their own reflection. What's typical? Vision changes related to cataracts.
6. New problems with words in speaking or writing. People with Alzheimer's may have trouble following or joining a conversation. They may stop in the middle of a conversation and have no idea how to continue or they may repeat themselves. They may struggle with vocabulary, have problems finding the right word, or call things by the wrong name (such as calling a watch a "hand-clock").What's typical? Sometimes having trouble finding the right word.
7. Misplacing things and losing the ability to retrace steps. A person with Alzheimer's disease may put things in unusual places. They may lose things and be unable to go back over their steps to find them again. Sometimes they may accuse others of stealing. This may occur more frequently over time. What's typical? Misplacing things from time to time, such as a pair of glasses or the remote control.
8. Decreased or poor judgment. People with Alzheimer's may experience changes in judgment or decision-making. For example, they may use poor judgment when dealing with money, such as giving large amounts to telemarketers. They may pay less attention to grooming or keeping themselves clean. What's typical? Making a bad decision once in a while.
9. Withdrawal from work or social activities. A person with Alzheimer's may start to remove themselves from hobbies, social activities, work projects, or sports. They may have trouble keeping up with a favorite sports team or remembering how to complete a favorite hobby. They may also avoid being social because of the changes they have experienced. What's typical? Sometimes feeling weary of work, family, and social obligations.
10. Changes in mood and personality. The moods and personalities of people with Alzheimer's can change. They can become confused, suspicious, depressed, fearful, or anxious. They may be easily upset at home, at work, with friends, or in places where they are out of their comfort zone. What's typical? Developing very specific ways of doing things and becoming irritable when a routine is disrupted.