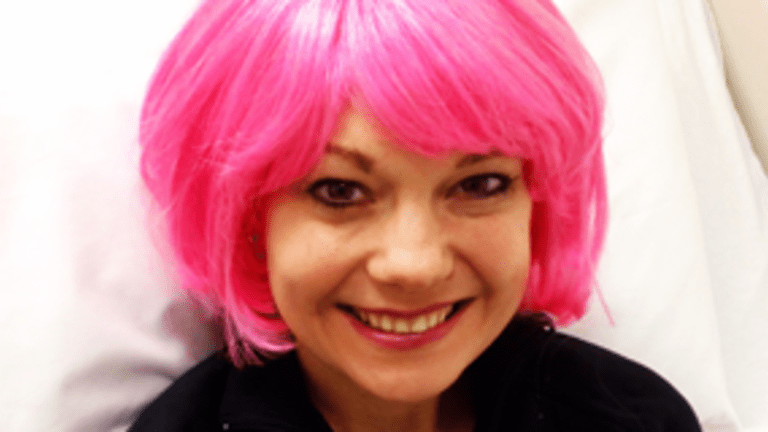 How One Look Good Feel Better Participant Didn't Let Her Disease Define Her
Jessica Melore is a Look Good Feel Better program graduate, award-winning speaker, writer, and patient advocate.
A beautiful, vibrant young woman in her mid-thirties, one would never suspect upon meeting her that she has endured numerous health crises in her young life, including three bouts of cancer, a heart attack and a limb amputation.Through it all, Jessica has persevered, learning to face adversity head-on and thrive, despite obstacles and challenges.Here, we share Jessica's extraordinary story, written in her own words:
When I was a 16-year-old high school senior, I was faced with the unusual decision about how public I would be about sharing my story. No, I hadn't released a break-out rock album – I'd just barely lived through a massive heart attack, and my heart was running on an experimental pump. My left leg was amputated above the knee and I needed a heart transplant to survive long term. My family was fielding calls from reporters, and some people suggested I keep a low profile for the sake of my privacy, and presumably any insecurity about my condition.
But I saw no reason to hide. I had survived, and I needed to show people that I was still the same person. After coming so close to losing my life, I didn't want to miss out on anything.
In time, I discovered that being open about my story could actually help people. I could show them that young women can have heart disease and need to be taken seriously, that thousands of others like me need a transplant because not enough people registered to be organ donors, and that I could still dance on top of a desk in my school musical on a prosthetic leg.
I felt differently the first time I had cancer (non-Hodgkin's lymphoma). I was a sophomore at Princeton, and although the campus newspaper had interviewed me about my leg amputation and heart transplant the year before, I told very few classmates about the cancer. At the time, cancer seemed more like an unpredictable threat. I didn't want to raise any alarms or sympathy. When I was finally in the "safe zone" of remission, I started talking about it in my speeches and became a vocal advocate in the cancer community.
And yet, when I got cancer a second time, in my mid-20s, I still didn't feel comfortable enough to speak openly about it while I was going through it. It felt so strange to give motivational speeches about surviving cancer the first time – without mentioning the chemo treatment I'd scheduled the next day. Discussing it felt like casting a dark cloud of uncertainty over what was supposed to be an inspiring story.
Times are different now. No one likes to hear the word "cancer," but I notice people talk about it more freely. I've seen many beautiful bald heads on social media and in public. So at age 33, when I found out I had endometrial cancer, I decided I would show others the journey. I had one caveat: people were allowed to cheer me on, but no one was allowed to say, "I'm sorry."
To show that losing your hair doesn't have to be scary, I shared videos of myself on social media shaving my head and celebrated the end of every chemo session.
On the same day I lost my hair, I was also fitted for a wig, and attended my first Look Good Feel Better session. As someone who had been doing the same makeup routine since college, it was great to learn some new tips from an expert makeup artist. The thought of losing my eyebrows and eyelashes wasn't as daunting when he taught us ways to "imitate" them. I met women in all different stages of treatment, and it was a great bonding experience. We were all glowing when we left that day, and it wasn't just the bronzer.
A few weeks later, I was invited to walk in a fashion show during Lord & Taylor's Charity Day benefitting Look Good Feel Better at the flagship store in New York City. Even though I wasn't afraid to share photos rocking my bald head on social media the day before, walking down that runway in a beautiful navy sequined dress, my wig, and my professional makeup made me feel like a million bucks. I recently relived that feeling at the 2017 DreamBall, this time celebrating as a survivor with the Look Good Feel Better family.
Everyone handles cancer differently. There were days I went without my wig, and other days I liked the anonymity of wearing one. Some of us bare our bald heads with makeup, some without. Some of us change up our wigs and head covers to keep people guessing – I was known to wear hot pink wigs and Santa hats to chemo treatment on occasion. What is most important is what makes you feel good about yourself.
Look Good Feel Better gives women that option. It made me feel like my old self again. It reminded me that treatment wasn't forever and that cancer would never define me. _
For nearly three decades, Look Good Feel Better® has been dedicated to helping people with cancer cope with the appearance side effects of their treatment. Since 1989, the program has empowered nearly 1 million women in the United States to reclaim the sense of control, confidence and self-esteem that are so central to wellbeing. Look Good Feel Better offers complimentary group, individual and online beauty sessions that include lessons on skin and nail care, cosmetics, wigs and turbans, accessories and styling to help people with cancer face their diagnosis with greater confidence.For more information, visit lookgoodfeelbetter.org.
The Look Good Feel Better program in the United States is made possible through a collaboration of the Look Good Feel Better Foundation, the American Cancer Society, and the Professional Beauty Association.