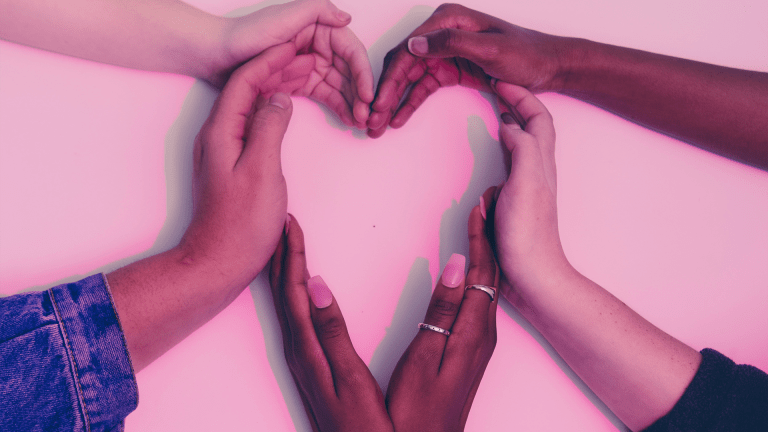 Heart Health and COVID-19 What All Women Should Know
Getting to the Heart of the Matter: What Women Need to Know About Heart Health and COVID-19
by Diana Price Medically reviewed by Dr. C.H. Weaver M.D. 2/2021
There's no question that the dominant health story in the U.S.—and worldwide—today is the COVID-19 Pandemic. And, even with encouraging news related to vaccination efforts, it's not a story that is likely to be relegated to the archives any time soon.
That said, there's a health issue that women, specifically, should keep top of mind—now and always: heart health. "Despite the devastating impact of COVID-19, heart disease is still the number one killer of women in the U.S.," says Stacey Rosen, MD, Senior Vice President for the Katz Institute for Women's Health (KIWH) and American Heart Association volunteer.
Dr. Rosen notes that despite the ongoing threat that cardiovascular disease poses to women, there remain critical gaps in awareness—especially among younger and diverse women. "Younger generations of women—Gen Z and Millennials—are less likely to be aware of their greatest health threat, including knowing the warning signs of heart attacks and strokes," she says.
Given the continued need for heightened awareness among women of all ages and the new issues we're confronting related to the current pandemic, it's especially important for women to remain aware of risk factors, signs and symptoms, and preventive measures to reduce risk of cardiovascular disease and to understand the connection between heart health and COVID-19.
Understanding the Connection
COVID-19 is a virus that largely affects the respiratory system, or lungs, but research is revealing that there are significant intersections with heart health. People with existing heart conditions or risk factors (diabetes, obesity, high blood pressure) may be at risk for more significant symptoms and resulting complications of the virus. (1)
Dr. Rosen notes that, in addition, "older adults with heart disease appear to be at higher risk of getting COVID-19 and people of any age with serious underlying medical conditions—such as diabetes, cancer or kidney failure—may face a higher risk of complications if they do get infected. Stroke survivors may also face a higher risk of complications."
Among women, specifically, Dr. Rosen says, increased risk and potential for more serious complications of COVID-19 exist among certain populations. "The virus profoundly impacts people with heart disease and disproportionately impacts the Black community," she says. In fact, a study published in Health Affairs in May 2020 found that African Americans with COVID-19 are nearly three times as likely to require hospitalization than white people with the disease.(2)
The American Heart Association, citing information compiled by the U.S. Office of Minority Health, notes that "four out of five Black women are considered overweight or have obesity – the highest rate of any group in the country and are 60% more likely to have high blood pressure than their white counterparts."(3,4) It's essential to note, Dr. Rosen says, that this higher risk speaks to the economic and health disparities that disproportionally affect Black women.
In addition to the information emerging around risk factors for COVID-19 related to heart health, research is ongoing about potential long-term impact to the heart of COVID-19 infection. Dr. Rosen notes that while the scope of long-term side effects remains unclear, a November 2020 CDC update to long-term symptoms of the virus included heart palpitations and inflammation of the heart muscle. (5)
What You Can Do Today to Take Care of Your Heart and Reduce Your Risk of COVID-19
Against the backdrop of the COVID-19 pandemic and what we know about the intersection of the virus with cardiovascular health, women can take proactive steps to take care of their overall health.
An important step that women can take today is to get vaccinated against COVID-19. In the AHA's scientific leadership statement encouraging vaccination, the authors note that, "People with cardiovascular risk factors, heart disease, and heart attack and stroke survivors should get vaccinated as soon as possible because they are at much greater risk from the virus than they are from the vaccine." (6)
In addition to vaccination, Dr. Rosen advises women to "address your risk factors during the pandemic by remaining adherent to taking all medications regularly, having regular check-ups with your doctor, and noting any changes in symptoms like chest pain or any concerns for stroke. These changes require a call to 911 as hospitals are still the safest place to be during these medical emergencies."
One key element of managing risk factors in this unique time, when uncertainty and stress are elevated as a result of the pandemic, is to take steps in your daily life to reduce stress and integrate or maintain habits of healthy living that play an important role in heart health and overall wellbeing:
Remember to breathe: If you're feeling stressed, pause and take a few slow, deep breaths until you feel your body unclench a bit.
Stay active: Go for a walk, even if it's just around your home.
Take care of yourself: Make sure you're getting sleep, eating healthy, and drinking water.
Find support: There are many online support groups that can be a great resource, like #GoRedGetFit, a Facebook group started by Go Red for Women, where women can find support and encouragement as they make healthy choices.
Get vaccinated:COVID-10 Vaccine update.
Now and Always: Recognize the Signs and Symptoms
As we learn about and manage the impact of COVID-19 on heart health, it's essential to keep in mind the signs and symptoms of heart attack and stroke.
Signs of a Heart Attack or Stroke
More women die of cardiovascular disease than from the next four causes of death combined, including all forms of cancer. But 80 percent of cardiac events in women could be prevented if women made the right choices for their hearts involving diet, exercise, and abstinence from smoking. Make it your mission to learn all you can about heart attacks and stroke—don't become a statistic.
Heart Attack - A heart attack occurs when the blood flow to a part of the heart is blocked, usually by a blood clot. If this clot cuts off the blood flow completely, the part of the heart muscle supplied by that artery begins to die.
Signs of a Heart Attack
1.Uncomfortable pressure, squeezing, fullness, or pain in the center of your chest. It lasts more than a few minutes, or goes away and comes back.
2.Pain or discomfort in one or both arms, the back, neck, jaw, or stomach.
3.Shortness of breath with or without chest discomfort.
4.Other signs such as breaking out in a cold sweat, nausea, or lightheadedness.
5.As with men, women's most common heart attack symptom is chest pain or discomfort. But women are somewhat more likely than men to experience some of the other common symptoms, particularly shortness of breath, nausea/vomiting, and back or jaw pain. If you have any of these signs, don't wait more than five minutes before calling for help. Call 9-1-1. Get to a hospital right away.
Stroke - Stroke is the number four cause of death in America. It's also a major cause of severe, long-term disability. Stroke and transient ischemic attack (TIA) happen when a blood vessel feeding the brain gets clogged or bursts.
Signs of Stroke and TIAs
1.Sudden numbness or weakness of the face, arm or leg, especially on one side of the body.
2.Sudden confusion, trouble speaking or understanding.
3.Sudden trouble seeing in one or both eyes.
4.Sudden trouble walking, dizziness, loss of balance or coordination.
5.Sudden severe headache with no known cause.
Also, check the time so you'll know when the first symptoms appeared. It's very important to
take immediate action. Research funded by the American Heart Association has shown that if given within three hours of the start of symptoms, a clot-busting drug can reduce long-term disability for the most common type of stroke.
The signs of a TIA are like a stroke, but usually last only a few minutes. If you have any of these signs, don't wait more than five minutes before calling for help.
Call 9-1-1 to get help fast if you have any of these signs, but remember that not all of these warning signs occur in every stroke.
Find Support and Resources at Go Red for Women
For 17 years, the American Heart Association's signature women's initiative, Go Red for Women, has provided a platform for women to come together and raise awareness around cardiovascular disease. Research, treatment and prevention methods for women living with cardiovascular disease and those at-risk, are evolving to meet the unique needs of women and the Association's signature women's initiative, Go Red for Women, is changing with it. There is an urgent need for public health organizations, government, health care professionals and community organizations to join forces and provide solutions to improve awareness, especially among young women and Black and Hispanic women.
References:
Bansal M. Cardiovascular disease and COVID-19. Diabetes Metab Syndr. 2020 May-Jun;14(3):247-250. doi: 10.1016/j.dsx.2020.03.013. Epub 2020 Mar 25. PMID: 32247212; PMCID: PMC7102662.
Azar KMJ, Shen Z, Romanelli RJ, et al. Disparities in outcomes among COVID-19 patients in a large health care system in California.Health Affairs. Available at: Accessed January 28, 2021.​
Researchers explore how COVID-19 affects heart health in Black women. American Heart Association website. Available here. Accessed January 28, 2021.
Obesity and African Americans. U.S. Department of Health and Human Services Office of Minority Health website. Available here. Accessed January 28, 2021.
Long-term Effects of COVID-19. Centers for Disease Control and Prevention website. Available here. Accessed January 28, 2021.
Heart disease and stroke medical experts urge public to get COVID-19 . American Heart Association website. Available here. Accessed January 28, 2021.
​