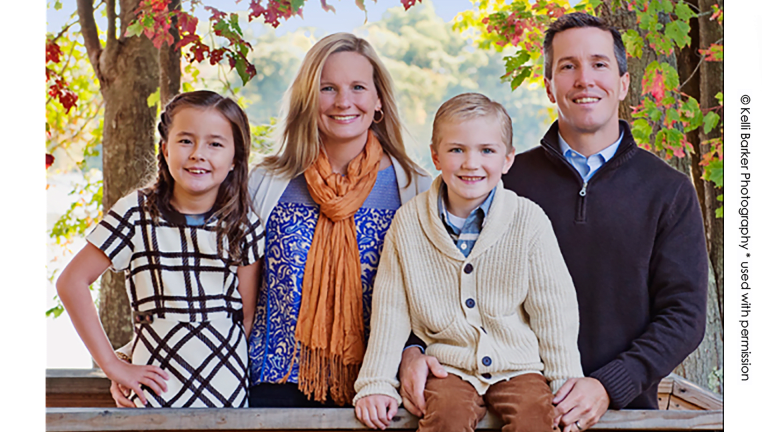 Head and Heart: Sharing Her Story for The Greater Good
A stroke survivor shares her story to empower other women with information and support.
By the American Heart Association
A week before her college graduation, a severe headache and numbness in her left arm sent Lisa Deck to the hospital. She never dreamed she could be having a stroke.
At first neither did the doctors. They told the 21-year-old that it was a migraine. They gave her the name of a neurologist to see if her symptoms didn't improve in a few days.
As days passed, things got worse. Lights seemed too bright and sounds seemed too loud. Her left side went numb. Her head ached.
She took herself to the hospital— the one where the neurologist worked. While in the waiting area of the Emergency Department, she noticed the American Stroke Association's poster for Stroke Awareness Month. It listed the stroke warning signs—and Lisa realized that she was experiencing all of them.
"I thought, Wow, that's crazy; that can't be what's happening to me," Lisa says. "I thought stroke was something that happened to old men and killed you when it happened."
A series of tests showed that Lisa had indeed experienced an ischemic (blockage-caused) stroke, but doctors couldn't determine a cause. She underwent occupational therapy to regain lost function in her left hand. Every few weeks she visited the doctor for more testing.
Knowing she'd survived a stroke emboldened Lisa to live life to the fullest that summer. She spent quality time with family and friends, traveled, attended concerts, visited the beach, and took thrill rides on roller coasters.
"I did everything I could," she says. "I wanted to live for the moment."
After taking the summer off, Lisa began her first job in the fall of 1997. She worked as a consultant, putting her degree in business to use. She'd completed her six weeks of training and was on her first assignment with a client when she began having stroke symptoms again. She called her neurologist, who told her to go to the hospital immediately.
Lisa was hospitalized and had two weeks of intensive testing and medication trials before being diagnosed. She had a rare brain disease called central nervous system vasculitis. It causes inflammation in the walls of the blood vessels in the brain, leading to stroke.
Treatment took four years and combined intense chemotherapy, steroids, and blood thinners. It was rough, and so were the side effects: depression, high blood pressure, hair loss, decreased bone density, and a 70-pound weight gain. For the first two and a half years, Lisa kept working, struggling to maintain the career she'd strived for.
"It made me feel as normal as I could as a 20-something," she says. "I was determined. It was my first real job, and I wanted to give it my all."
Lisa survived a third stroke in 2000 as doctors were tapering her medication. After that event she remained in remission until March 2015, when her left side went numb once again.
Now married and living in North Attleboro, Massachusetts, with her young family, Lisa faced a new challenge: "Recognizing stroke symptoms, I took action and went to the hospital." She was diagnosed with a fourth stroke and, after further testing, with a new life-threatening brain disease called Moyamoya disease. Treatment for this rare condition required brain surgery.
Lisa traveled across the country to Stanford University, where she underwent two surgeries a week apart. The recovery was slow, Lisa says, and it was incredibly hard to leave her husband and children; but now, more than a year later, she feels well: "I will never be without Moyamoya and will require continual monitoring, but I hope and plan to live a full life."
One of her goals is to teach her children, now eight and 10, about healthy living and the value of advocacy and volunteerism.
Now 40, Lisa shares her time and experiences as a volunteer for the American Heart Association (AHA) and the American Stroke Association. She has been an active volunteer in the AHA's advocacy program, sharing her story with lawmakers and advocating for heart health issues. She also organized a survivor luncheon in conjunction with the AHA's National Lobby Day to provide an opportunity for survivors to connect, and she speaks regularly at AHA events.
Recently, together with two other survivors, Lisa founded a nonprofit organization called Sister@Heart. "We are creating a universal sisterhood to provide hope and support, raise awareness, and fund research to improve the lives of heart and stroke patients and their families," she says.
Given her experience, Lisa urges people to learn to recognize the signs of a stroke, no matter what their age: "I've found that many people are unaware of the symptoms of stroke and the urgency in taking action quickly. The faster you get help, the better your outcome will be."
She also encourages survivors to live life to the fullest. "Don't let a major health catastrophe ruin your life," she says. "My challenges have helped me appreciate the small moments in life and focus on what I have and how precious life is."
Risks Revised
New guidelines outline stroke risks and provide treatment options unique to women.
Do You Have the Perfect Nose?
The British Association of Aesthetic Plastic Surgeons (BAAPS) regularly releases an annual audit, and the figures from 2018 showed that some 28,000 procedures took place in 2018.
For the first time, guidelines have been developed for preventing stroke in women.
"If you are a woman, you share many of the same risk factors for stroke with men, but your risk is also influenced by hormones, reproductive health, pregnancy, childbirth, and other sex-related factors," says Cheryl Bushnell, MD, MHS, author of the new scientific statement published in the American Heart Association journal Stroke.1
The guidelines outline stroke risks unique to women and provide scientifically based recommendations on how best to treat them:
Women with a history of high blood pressure before pregnancy should be considered for low-dose aspirin and/or calcium supplement therapy to lower preeclampsia risks.
Women who have preeclampsia have twice the risk of strokeand a fourfold risk of high blood pressure later in life. Therefore preeclampsia should be recognized as a risk factor well after pregnancy, and other risk factors such as smoking, high cholesterol, and obesity in these women should be treated early.
Pregnant women with moderately high blood pressure (150–159 mm Hg/100–109 mmHg*) may be considered for blood pressure medication, whereas expectant mothers with severe high blood pressure (160/110 mm Hg or above) should be treated.
Women should be screened for high blood pressure before taking birth control pills because the combination raises stroke risks.
Women who have migraine headaches with aura should stop smoking to avoid higher stroke risks.
Women over age 75 should be screened for atrial fibrillation risks due to its link to higher stroke risk.
Preeclampsia and eclampsia are blood pressure disorders during pregnancy that cause major complications, including stroke during or after delivery, premature birth, and risk of stroke well after child bearing. Preeclampsia is characterized by high blood pressure and high protein levels in the urine; when seizure also occurs, it is called eclampsia.
High blood pressure, migraine with aura, atrial fibrillation, diabetes, depression, and emotional stress are stroke risk factors that tend to be stronger or more common in women than in men. More studies need to be done to develop a female-specific score to identify women at risk of stroke, said Bushnell.
*Blood pressure is measured in millimeters of mercury (mm Hg). Reprinted with permission from the American Heart Association. Learn more atGoRedforWomen.org.
F
​A
​S
​T
Face Drooping​
Arm Weakness​
Speech Difficulty​
Time to Call 911
Spot A Stroke
Signs You May Be Having a Stroke
If you're like many women, chances are you go to great lengths to not burden those around you. But the signs of stroke demand immediate attention, even if it seems like the worst possible timing:
Sudden numbness or weakness of the face, an arm, or a leg, especially on one side of the body
Sudden confusion or trouble speaking or understanding
Sudden trouble seeing or blurred vision in one or both eyes
Sudden trouble walking, dizziness, or loss of balance or coordination
Sudden severe headache with no known cause
You should never wait more than five minutes to call 9-1-1 if you experience even one of the signs above. Remember, you could be having a stroke even if you're not experiencing all the symptoms. And remember to check the time. The responding emergency medical technician and Emergency Department nurse will need to know when the first symptom occurred.
Stroke is not only the number five cause of death in the United States; it's also a leading cause of severe, long-term disability. That's why it's important to take action immediately. Research conducted by the American Stroke Association shows that patients who take a clot-busting drug, or thrombolytic, within three hours of their first stroke symptom can reduce long term disability from ischemic stroke—the most common type, accounting for about 87 percent of all cases.
When you know the signs of stroke, the life you save could be your own or someone else's. Learn to spot the signs of stroke, or spot a stroke FAST—face drooping, arm weakness, speech difficulty, time to call 9-1-1. Learn more at strokeassociation.org. Your life is in your hands.
Reference
Meschia JF, Bushnell C, Boden-Albala B. Guidelines for the primary prevention of stroke: A statement for healthcare professionals from the American Heart Association/American StrokeAssociation. Stroke. 2014;45:3754-832 doi: 10.1161/STR.0000000000000046.