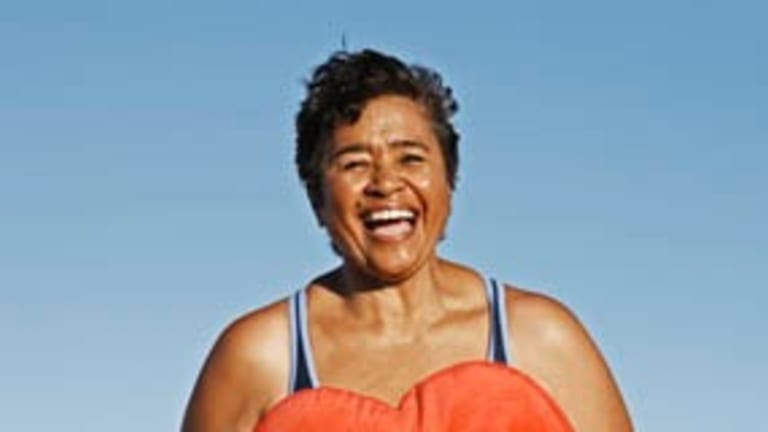 Have a Healthy Heart
Prevention is the best line of defense against heart disease.
By Laurie Wertich
Medically Reviewed by Dr. C.H. Weaver 08/04/21
Cathy Anderson-Meyers is a beacon of health. She is a triathlete, a professional snowshoe guide, and an instructor for the REI Outdoor School. She eats a healthy diet and has low cholesterol and blood pressure. For the past 17 years, she has served as the director of a women's sprint triathlon in her community, where she has gained a reputation as an athlete. And yet one day she stepped outside for her daily morning walk with her husband and was overcome by a sudden feeling of overwhelming nausea followed by chest pain and shortness of breath. Cathy was having a heart attack.
It is only in retrospect that Cathy can see the risk factors for heart disease that she had overlooked. Like most women, Cathy didn't perceive herself to be at risk of heart disease. But the truth is, heart disease is the number one killer of women over age 35.
It's such a startling statistic that it bears repeating: heart disease is the number one killer of women over age 35. So why aren't more women focused on preventing heart disease? It's complicated.
Heart History
Historically, heart disease has been perceived as a men's disease, but year after year more women than men die from heart attacks. Though this sounds dismal, there is hope. In 2002, when the National Heart, Lung, and Blood Institute started The Heart Truth campaign to raise awareness about women's heart disease, one in two women died from heart attack and stroke. Now, less than 10 years later, that statistic has changed to one in four women. According to Tracy Stevens, MD, cardiologist and medical director of the Saint Luke's Muriel I. Kauffman Women's Heart Center in Kansas City, Missouri, that positive change is purely the result of awareness—something she believes we need even more of.
"We've made strides," Dr. Stevens says, "but we still have a long way to go." One of her biggest concerns is that survival curves have changed in every age group except one—women ages 35 to 45. "These women just don't have heart disease on their radar yet," she says. Often women in this age group are busy focusing on their careers or raising their kids, and their health takes a backseat. What's more, many of them are overweight, on birth control, and smokers—a lethal combination.
Anatomy of Heart Disease
To understand the risk of heart disease, first it's important to understand its evolution. Put simply, heart disease results from plaque that builds up in the arteries; however, new research suggests that the key ingredient in the development of heart disease is inflammation. While it's important to keep plaque from forming in the body, it's equally important to keep it from rupturing. And what causes plaque to rupture? You guessed it: inflammation.
Inflammation is the body's natural defense against injury, when nutrients rush to the site to promote healing; but chronic inflammation results in buildup in the arteries and the blood vessels, which can reduce blood flow and result in clumps and blood clots.
Inflammation can damage artery walls, which leaves them more prone to plaque buildup, and it also makes pre-existing plaque more fragile and likely to rupture.
The most common causes of inflammation are smoking, diabetes, stress, poor nutrition, and a sedentary lifestyle. Other conditions—such as hormonal changes and immune system disorders like lupus, rheumatoid arthritis, or polycystic fibrosis—can also contribute to inflammation in the body. Furthermore, the long-term effects of some cancer treatments have been associated with inflammation and the subsequent development of heart disease. Even pregnancy can be a risk factor for heart disease because high blood pressure or gestational diabetes can result in inflammation that increases the risk of heart attack many years later.
Do Genetics Matter?
Cathy had a genetic link to heart disease: her father died of a stroke at age 60, and her brother suffered a heart attack at age 58. Because she ate a healthy diet, exercised, and did not have high blood pressure or cholesterol, Cathy discounted her genetic risk. And new research indicates that she was correct in her assumption that lifestyle factors play a larger role.
Two studies from Northwestern University have found that a healthy lifestyle trumps genetics when it comes to cardiovascular health. In fact, only a small proportion of heart health is passed from parent to child.1,2 Instead, lifestyle and healthy behaviors have the largest impact on heart health—and the earlier the better. Individuals who start making healthy choices early in life are more likely to maintain a low risk profile for heart disease.
Connecting the Dots
So, if a healthy lifestyle trumps genetics, why did Cathy—a poster child for healthy lifestyle—have a heart attack at age 62? Ultimately, it was likely inflammation. Although Cathy led an active, healthy lifestyle, she did have one critical source of inflammation: stress. At the time of her heart attack, she was coping with an extremely stressful situation on the home front. "I had a lot of irons in the fire and things on my shoulders," she recalls. "I didn't understand how much stress could inflame arteries."
Indeed most of us don't fully grasp the drastic consequences of stress. We live in a fast-paced society in which chronic stress has become the norm rather than the exception. Add to that a litany of other bad habits linked to inflammation, and we have a recipe for disaster.
So, how do we avoid the causes of inflammation that can have a negative impact our heart health? One choice at
a time.
Prevention Is Key
According to Dr. Stevens, "We can reduce 85 percent of stroke and heart attack by taking care of our health." She advises women to do two things: stay on top of risk factors and reduce inflammation.
She makes a few simple, commonsense recommendations:
Know your cholesterol and blood pressure levels.
Control your waistline (keep it under 35 inches to reduce risk)
Focus on anti-inflammatory habits such as exercise, healthy eating, sleep, and laughter.
If it sounds simple, that's because it is. But for many of us, simple is not necessarily easy. Making healthy lifestyle changes requires commitment and discipline—but the payoff is worth the effort.
Establishing Healthy Habits
Robin Mallery is a registered nurse and a health coach who spent 25 years managing a cardiac rehab facility before she started her private health coaching and consulting business, Heart Matters. "The science of behavior change is absolutely fascinating to me," she explains. "Instead of waiting for people to have a heart attack, I wanted to work with them to improve their health."
Robin does not offer quick fixes—instead she helps clients develop healthy habits that they can maintain for the long term. A master at behavior change, she helps clients take realistic, small, daily steps toward their goals. "It's not ever about giving things up," she cautions. "It's about bringing things in. What can you do tomorrow to take you one step closer to your goal?" For example, rather than talking to a client about eliminating diet soda, Robin is more likely to talk to her about incorporating more water into her daily routine.
Robin's approach includes three essential elements: eating well, moving on a regular basis, and quieting the mind. Sure, she could call it "diet, exercise, and meditation"—but in her experience language matters. In fact, brain scans show that the mere use of the word diet can induce stress. Instead, Robin chooses to focus on language and ideas that clients can embrace: "Let's go for a walk and listen to the birds sing" sounds so much more appealing than "Let's go to the gym and exercise."
Robin finds that this gentle approach works best because it allows room for clients to take ownership of their health and arrive at their own realizations. "No one is shaking a finger at them," she explains. "Instead their brain is slowly opening to new possibilities."
Finding Balance
For many of us, a busy schedule can feel like a huge barrier to a healthy lifestyle, but Robin insists that even the busiest people can integrate health into their lives. The key lies in setting yourself up for success. She teaches her clients to perform what she calls "90 minutes of Zen in the kitchen." This is a weekly commitment to prepare healthy food for the upcoming week. This may mean making a grain for the week and slicing up some veggies—all while sipping a glass of wine, listening to some music, and spending time with your partner so that it's fun.
Robin has a toolbox full of strategies like this to encourage behavior change, but she finds that quieting the mind is often the most important place to start—and it's also where she finds the most resistance. She says that quieting the mind helps us self-soothe and bring balance into the day.
Cathy echoes this sentiment. After the heart attack, she enlisted Robin's help to find a sense of balance. "In my mind and heart, I knew that I could physically heal," Cathy explains. "I was more concerned about my emotional stress level." Now she incorporates visualization and meditation into her healthy routine to supplement her other healthy habits.
Take Charge of Your Health
Dr. Stevens insists that women need to be proactive. "We're very reactive," she says. "America has lost track of whose responsibility it is to be proactive. We forget that it's our own responsibility to take preventive action."
Indeed the choices you make today will affect your health tomorrow. You owe it to yourself to choose wisely—know and understand your risk factors, make healthy lifestyle choices, and learn to recognize the symptoms of heart attack. Your heart health is in your hands.
References
1.Liu K, Daviglus M, Colangelo L, Loria C, Lloyd-Jones d. Maintaining low cardiovascular disease (CVD) risk profile from young adulthood to middle age by healthy lifestyle: the CARDIA Study. Circulation. 2010;122:A12250.
2.Allen NB, Hwang SJ, Cupples LA, et al. The heritability of ideal cardiovascular health: the Framingham Heart Study. Circulation. 2010;122:A17245.
Signs and Symptoms of a Heart Attack
Many women are not aware of their risk of heart attack and do not recognize the symptoms when they arise. Symptoms can include:
New overwhelming sense of fatigue (many women report feeling excessive fatigue in the weeks leading up to a heart attack)
Nausea
Shortness of breath
Indigestion
Sweating
Pain between the shoulder blades
Radiating pain down the arm(s) and/or numb, tingly arm(s)
Isolated throat or jaw
discomfort
A toothache with no apparent dental cause
Extreme chest pain (the "elephant on the chest")
Sometimes women experience the same symptoms as men (such as crushing chest pain); however, women often experience extreme fatigue or nausea that can be easily misdiagnosed and attributed to other things. Sadly, many women do not recognize the symptoms of heart attack and end up delaying treatment. If you think you might be having a heart attack, call 9-1-1 immediately.
Risk Factors for Heart Disease
Key risk factors for heart disease include:
Smoking
Stress
Overweight or obesity
Diabetes
Age (risk increases with age)
Physical inactivity
Hormone therapy
High cholesterol
High blood pressure
Immune system disorders
Family history of heart disease
Birth control pills—these can increase risk for women who are overweight, smoke, have diabetes, have high blood pressure, or have a family history of heart disease
Anatomy of a Heart Attack
In July 1996 at the age of 57, Carol Bodicky, a registered nurse from St. Louis, Missouri, had a massive heart attack. "I knew what was happening to me, but I was in total denial," she admits. Here's how it played out:
7:00 p.m.: Carol went to the opera with friends. "While I was there, I was extremely tired," she recalls. She was fatigued in a way she never had been before and she went home and went straight to bed.
1:30 a.m.: "I woke up with crushing chest pain like someone had dropped bricks on my chest," Carol explains. "I thought maybe the food I had at the restaurant that night had been too spicy, so I got up and had a glass of milk." Carol started sweating profusely, grew nauseous, and had pain that was radiating down her right arm. At this point, she says, she knew what was happening but remained in denial. Instead she took a shower and went to work.
6:00 a.m.: Carol arrived at work, where a co-worker took one look at her and said, "You look terrible. You're gray. What's wrong?" Finally, Carol admitted, "I think I'm having a heart attack." She went to the hospital, where she underwent catheterization and the placement of three stents—and where she remained for 12 days.
Carol was lucky to survive such a massive heart attack after delaying treatment for so many hours. "I was scared to death I was going to die. I thought if I don't think about it, it will go away—which is just totally stupid," she says. "I should have called 9-1-1 immediately."
A Gift Basket from the Heart . . . for the Heart
According to Dr. Stevens, the perfect heart-health gift basket would contain three key items:
1.Blood pressure cuff. High blood pressure is a silent killer that causes inflammation. Information is knowledge. Knowing your blood pressure can help you manage it.
2.Measuring tape. One of the best ways women can reduce the risk of heart disease is by keeping the waistline under 35 inches. Dr. Stevens says everyone should stand up, let it all hang out, and measure their waistline.
3.Dental floss. Inflammation and plaque in the mouth and gums can be associated with inflammation and plaque in the arteries. Oral hygiene is one key to preventing heart disease.
Proactive Guide to Heart Health
Want to prevent your risk of heart disease and maintain optimum health? Follow these simple guidelines:
Stay physically active.
Laugh.
Reduce stress.
Keep your waistline under 35 inches (measure just above belly button).
Get plenty of sleep.
Avoid processed foods (which lead to inflammation).
Choose foods without nutrition labels; aim for three to six colors on your plate.
Make oral hygiene a priority.
Spend time quieting your mind and breathing deeply.