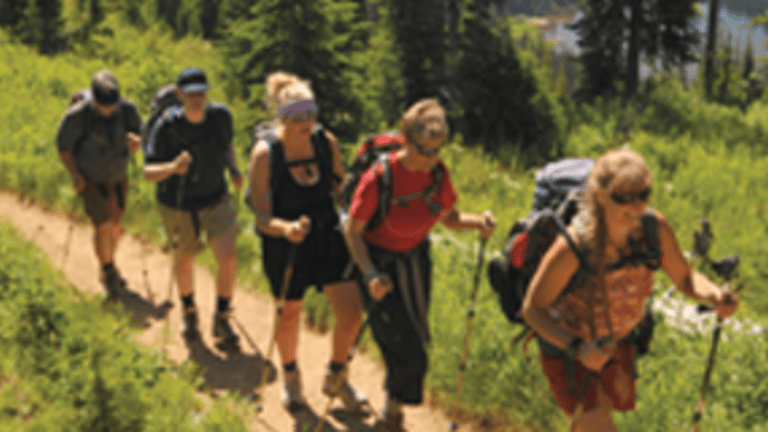 Getaway Guide
Take time to recharge this summer at a camp or retreat.
Do you have fond memories of singing around a campfire, waking in a tent or cabin to the cool quiet of summer woods, or the satisfaction of mastering a tricky sailing knot or craft challenge? Maybe you never made it to summer camp as a kid but still dream of stepping into that space apart—a natural setting, a creative haven, a community of friends. If so, you are not alone. Summer camps and retreats that cater to adults are booming, offering us the chance to step away from the daily grind and dedicate time to ourselves— our physical wellness, our emotional balance, and our creative passions.
Tish Bulger, president of the American Camp Association (ACA), says that a recent ACA survey revealed that "over 1 million adults between the ages of 24 to 65 participate in an organized camp experience annually, and there has been about a 25 percent increase in adult camp programming over the last few years."
And in case a wall-tent in the woods and traditional summer camp activities are not your idea of a relaxing retreat, rest assured that there is truly something for everyone who wants to get away and participate in a camp or retreat. "There is such a wide range of offerings, from very rustic to more luxurious," Tish says, "but what most have in common is the opportunity to try new things, learn new skills, meet new people, and create community."
The chance to build relationships with others who share your passions is an especially powerful component of these experiences. "Building connections is as important for adults as it is for kids," Tish says. "Developing community is essential, and at camp people can plug in to that according to their comfort level. If you're an introvert, you can certainly have time for yourself, but you also have the opportunity to connect."
For women, who often have difficultly dedicating time to our own needs and interests amid the responsibilities of family and career obligations, the opportunity that camps and retreats provide to devote time to our health—mental and physical—is invaluable. "Camp is a great opportunity for health and wellness," Tish says. "It enhances and enriches your life by providing a period of time to commit to yourself."
So, where will you go to fill your tank this summer? Check out the following descriptions to inspire your search—and know that these are just a few of the many wonderful offerings available.
Molte Yoga, Trail Running, and Hiking Retreats
Turi Hetherington created Molte Wellness & Adventure in 2012, inspired by her love for active life in Montana and a desire to bring to other women the benefits of outdoor adventure and centering physical activity. "I want to offer the opportunity to step away from the daily distraction and to-do lists and simply be," Turi says. "For me the best way to do this is through trail running, hiking, and yoga—along with good food and the company of others."
Turi's mission to inspire "living, learning, loving, and laughing every day" has resulted in small-group weekend and single-day retreats (generally including eight to 12 women) near Bozeman, Montana, where women benefit from individual coaching that allows them to take their physical fitness to another level and to focus on the mind-body connection in their active pursuits. Her hope is that women who participate will come away from the experience invigorated, feeling "a sense of joy, inspiration, and renewal from moving, breathing, and being in nature with others."
For more information visitmolteyogaretreats.com.
Design Your Own Luxury Camp Experience
The Lodge at Glendorn
Like the idea of summer camp but looking to create your own luxury getaway version of a camp experience? If so, rally a group of friends and consider designing your own summer retreat at The Lodge at Glendorn, in Bradford, Pennsylvania. Built as a multigenerational family retreat during the 1930s, Glendorn is a 1,500-acre estate that offers luxurious accommodations, fine dining, and world-class activities in the style of the great family camps.
Maybe you'll try trap and skeet shooting, upland bird hunting, or fly-fishing; hike or mountain-bike on the many surrounding trails; play tennis; take a yoga class; or relax by the pool. Whichever Glendorn activities you choose, they can be tailored to your individual or group needs, no matter what age or level of experience. You can take part in private cooking classes led by Executive Chef Joe Schafer, an experience complete with wine pairings to make a meal that is a perfect end to an adventurous day outdoors. Or—twist your arm—you may just be enticed into the on-site Forest Spa for a relaxing treatment.
However you plan your stay, designing your own summer camp getaway at Glendorn provides an incredible opportunity to get away, reconnect, and indulge.
For more information visit glendorn.com.
Camp Manitou Women's Wellness Camp
The Women's Wellness weekend at YMCA Camp Manitou in New Auburn, Wisconsin, offers wellness activities and inspiration for healthy living. Assistant Camp Director Briana Goldbeck says the experience is a chance for women to step out of the daily grind and "have a weekend for themselves to rejuvenate both mentally and physically."
Weekend programming is based around a "Great Escape" theme, which Briana says acknowledges the busy lives women lead and presents the opportunity for participants to "step away from the everyday responsibilities, while experiencing new activities and learning a bit about the importance of taking care of themselves."
Women attending the weekend can spend time on the waterfront, participate in craft activities, take a yoga or Zumba class, and listen to presentations from wellness experts covering topics like nutrition and personal motivation. Evenings are filled with group activities that might include wine-and-cheese tastings, karaoke, folk dancing, and a talent show. Briana says she loves to see women come together through these shared experiences to "create deep connections while purifying their minds and strengthening their bodies."
For more information visitycampmanitou.org.
Mountain Trek
If you are looking for fitness inspiration and motivation, a week at Mountain Trek can do the trick. Located on 35 acres near the tourism hub of Nelson, British Columbia, Mountain Trek is a mountain-based hiking, fitness, and weight-loss program based at a beautiful lodge surrounded by trails that wind through high alpine meadows, forests, and along a lakeshore. From May through October, guests can choose one-week Metabolism Reboot or Renewal options designed to kick-start fitness.
Kirkland Shave, program director, says that Mountain Trek's mission is "to help guests reclaim natural health, vitality, and functional fitness through the pillars of nutrition, fitness, sleep, stress management, and detoxification." With hiking, health lectures, nutritious food, and the inspiration offered by the pristine natural world around them, guests can make strides toward accomplishing weight-loss and fitness goals.
For women who may be challenged to make time for health and wellness in their busy lives, Kirkland says, the opportunity to commit to fitness and self-care at Mountain Trek is invaluable: "It can be hard for women to take the time and spend the money to put themselves first, but when they do they realize that everyone in their life benefits from their recharging their batteries and getting back on track."
For more information visitmountaintrek.com.
Camp Kupugani Mother Daughter Weekend Summer Camp
At Camp Kupugani, a multicultural residential camp in Leaf River, Illinois (near Chicago), mothers and daughters experience camp together during two weekend camp sessions offered each summer. Camp Director Kevin Gordon says that the weekends "foster deeper bonds between mothers and daughters by encouraging positive communication, trust, and self-expression." In addition, these retreats reinforce the camp's multicultural mission by "encouraging bonds of friendship and trust between girls of varied backgrounds and ethnicities."
Moms and daughters engage in traditional camp activities like singing songs, campfire time, and canoeing together and also have time to connect with other campers through Mom-Mom time and other community- building activities. Kevin says that the program activities "provide the tools to maximize relationships," deepening already-strong bonds and helping mothers and daughters who may have challenging relationships come together through the shared experience of camp. "It's really great to hear from moms and daughters who, over the course of the weekend, really come to appreciate one another in a deeper way, usually gaining a perspective that they didn't have before," Kevin says.
For more information visitcampkupugani.com.
Squam Art Workshops
Writer Elizabeth Duvivier founded Squam Art Workshops on Squam Lake in Holderness, New Hampshire, in 2008 to offer "a place of healing for another spirit that was finding life to be a little too much with the discouragement and self-criticism and not quite enough on the fun and creativity."
A variety of retreats are scheduled throughout the year, offering artists— from newbies to professionals and spanning interests that range from textile design and writing to woodworking and knitting—the opportunity to come together in a supportive community of creativity to take classes, work on their own projects, enjoy time on the lake, and be inspired.
Participants describe the multiday retreat experience at Squam as "magical," "beautiful," and "restorative," providing the space—creative, emotional, and physical—in a stunning natural setting to engage deeply in creative pursuits that fuel the spirit. The retreat is the ideal choice for those looking to set aside time for themselves and commit to creativity and human connection.
Elizabeth says that attempting to describe Squam retreats is a challenge because the experience is so unique, one that fuels personal creativity and inspires personal connections: "People make friendships and connections that last well beyond the weekend. And it's not just about the other people you meet, as, at core, the weekend is an opportunity to follow your own drummer and do what calls you most."
For more information visitsquamartworkshops.com.
Spanish-Language Immersion Camp
The Adult Spanish Language and Culture Immersion camp at Hunt Hill Audubon Sanctuary, a 500-acre wildlife preserve in Sarona, Wisconsin, is dedicated to sharing the people, culture, and language of Spanish- speaking cultures and to helping people build their confidence in their Spanish skills.
Katie Connolly, program director at Hunt Hill, says the camp offers a unique opportunity for participants to gain valuable language skills, enjoy fellowship with like-minded friends, and take time to "reconnect to nature and explore our natural world through hiking, canoeing, swimming, bird watching, and much more."
With a maximum registration of 30 campers, the intimate setting provides a familylike atmosphere for the weeklong camp, where participants benefit from daily language lessons, cultural programming, cooking classes, and other offerings. Whether a camper's goal is to gain basic skills for travel or connection with people in the community, pursue professional language development, or refresh existing language skills, Katie says the experience at Hunt Hill can meet those needs: "Our program is unique because it is very relaxed. You get what you put into it."
For more information visithunthill.org/experience-hunt-hill/spanish-immersion-camp.