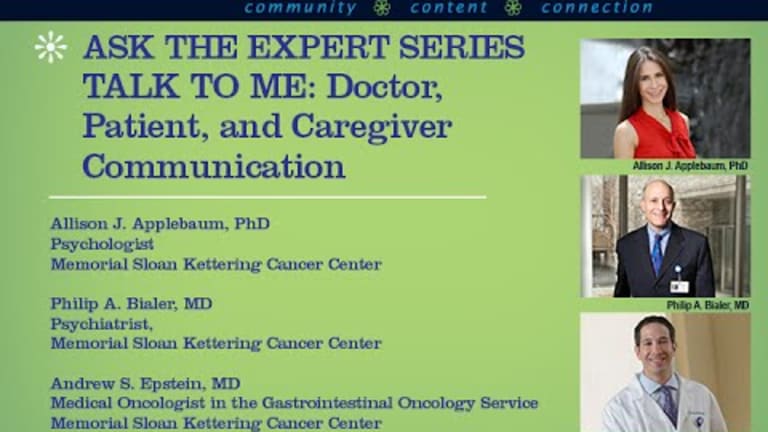 Doctor, Patient, and Caregiver Communication: Now Available!
Memorial Sloan Kettering Cancer Center (MSK) doctors discussed and answered questions about effective communication tech
There is a great deal to be gained by improving communication between patients, family caregivers, and healthcare professionals — especially physicians. Better care for patients, less stress for caregivers, more efficient use of doctors' time, and improved satisfaction for all concerned can be achieved when caregivers and patients communicate effectively with their care team.
Doctors at MSK are learning how to talk to patients, caregivers, and peers through their Communication Skills Research & Training (COMSKIL) program. In this webchat, MSK experts will discuss how patients and caregivers benefit from this training, as well as how you can use communication techniques, research, and information from the program when talking to your doctors and loved ones.
The lecture portion of this program was recorded as part of a live CancerSmart educational event at MSK. To learn more about CancerSmart, view past programs, and see a schedule of upcoming webcasted events, please visit www.mskcc.org/cancersmart.
Speakers:
What is Medicare Advantage
Medical Advantage or MA plan is a health plan provided by a private organization that partners with Medicare to offer healthcare services with their Medicare Parts A and B privileges.
Allison J. Applebaum, PhD, psychologist and Director of the Caregivers Clinic at the Counseling Center at MSK
Philip A. Bialer, MD, psychiatrist and member of the Communication Skills Research & Training (COMSKIL) laboratory at MSK
Andrew S. Epstein, MD, medical oncologist in the Gastrointestinal Oncology Service at MSK whose research has focused on doctor-patient communication
Thank you for your participation.
**The Ask the Expert Guest Series is not intended to be a substitute for healthcare professional medical advice, diagnosis, or treatment. Speak to your healthcare provider about any questions you may have regarding your health.*