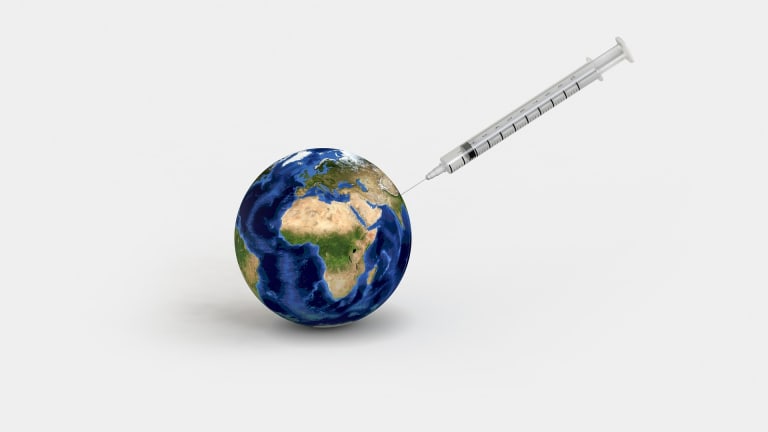 Could Global HPV Vaccine Programs Eradicate Cervical Cancer-HPV Related Diseases
Study suggests cervical cancer and HPV related disease could be eradicated due to impact of "herd immunity"
by Dr. C.H. Weaver M.D. 10/2020
The HPV (human papilloma virus) vaccine appears to be more effective than expected according to a study published in Lancet. Vaccination not only reduces rates of HPV infection and the presence of precancerous cells in the cervix in people who receive the vaccine, it also reduces the incidence of HPV related diseases in individuals who were not vaccinated.
HPV is the leading cause of cervical cancer. The virus can also cause other cancers, including cancers of the penis, head and neck, as well as conditions like genital warts. The HPV vaccine was introduced in 2006 and more than 115 countries and territories have implemented it in their vaccination programs.
The analysis published in Lancet evaluated published studies that measured changes in the number of new HPV infections, genital warts or pre-cancerous changes in the cervix in countries before and after they adopted routine HPV vaccination in girls. Overall a total of 65 studies including more than 60 million people living in 14 countries were represented in the analyses.
The researchers found that, in these countries...
There was a significant decrease in the prevalence of HPV 16, and 18 that cause 70 percent of cervical cancers.
There was a decrease in the prevalence of precancerous cells in the cervix as measured by a PAP smear.
In countries where at least half the target population was vaccinated there was a decrease in the prevalence of HPV-related diseases even among those who weren't vaccinated.
There was a decrease in genital warts diagnoses among unvaccinated boys and older women
The decrease in HPV related diseases is evidence of herd immunity and occurs because there are fewer individual with HPV overall.
The Centers for Disease Control currently recommends that all genders receive vaccination; everyone should receive the first of two vaccine doses by age 12. The World Health Organization (WHO) does recommend that girls 9 to 13 get vaccinated against HPV, it does not yet recommend that all genders receive the vaccination. The WHO recommendation is likely to expand to all genders given the increasing evidence of "herd immunity" reducing the incidence of HPV related diseases.
Additional Reading...
Swedish Study Confirms HPV Vaccine Lowers the Risk of Developing Cervical Cancer
The results of a study published in The New England Journal of Medicine demonstrated that the risk of developing cervical cancer was reduced by 88% in women who had been vaccinated before age 17, and by 53% in those between 17 and 30.
The study used a nationwide registry in Sweden and followed 1.7 million girls and women who were ages 10 to 30 between 2006 and 2017. Overall 527,871 had received at least one dose of the vaccine during the study. Cervical cancer was diagnosed in 19 vaccinated women and 538 unvaccinated women during the study period.
This is the first study to show that HPV vaccination protects against cervical cancer on the population level and that vaccination at young age is important for good protection. Women who were vaccinated as younger girls likely had better protection because they were immunized before they were exposed to HPV through sexual activity, the researchers said.(2)
HPV and Cancer: 10 Myths Busted
by Lois Ramondetta, MD Professor of Gynecologic Oncology and Reproductive Medicine The University of Texas MD Anderson Cancer
Human papilloma virus (HPV) is the most common sexually transmitted virus in the United States, and the Centers for Disease Control and Prevention reports that about 75 percent of adults who are sexually active will acquire HPV at some point in their lives. Most will never know they have the virus because the immune system usually clears it up before it is detected; however, HPV infection leads to 45,000 cancer cas­es in the United States each year.
Cervical cancer used to be one of the leading causes of cancer death in US women. Today, thanks to available screening and prevention tools, such as the Pap test, HPV DNA testing, and HPV vaccines, cervical cancer remains among the most preventable cancers, allowing women to dramatically reduce their risk of this disease.
The HPV vaccine, the only cancer prevention vaccine available, has been shown to prevent genital warts and precancerous cervical lesions, and it may protect against the vast majority of cervical cancers. It may also prevent other cancers, such as oropharyngeal, genital, and anal cancers. There are currently three HPV vaccines available, including Gardasil 9® (human papillomavirus vaccine, nonavalent), approved by the US Food and Drug Administra­tion (FDA) in December 2014. It protects against nine HPV strains, the most of any vaccine on the mar­ket, including those responsible for about 90 percent of cervical cancers.
Vaccination rates in the United States are woefully low, due to lack of insurance and accurate informa­tion, among other reasons. Only one in three girls and fewer than one in six boys receives all three recommended doses of the HPV vaccine. At the University of Texas MD Anderson Cancer Center, we advise that both girls and boys receive the vaccine, ideally around ages 11 or 12, before they are ex­posed to the virus.
Myth 1: Only Women Can Get HPV.
Fact: HPV is common among both men and women. About 80 percent of people will get an HPV infection at some point in their lives.
Myth 2: People with HPV Show Symptoms.
Fact: Most people with HPV don't know they are infected and never de­velop symptoms or health problems from it.
Myth 3:You Must Have Sexual Inter­course To Get HPV.
Fact: HPV is spread by intimate skin-to-skin contact. While most cases are sexually transmitted, people who have not had intercourse can become infected, as well.
Myth 4: There Are Treatments For HPV.
Fact: There are no treatments for the virus, but there are ways to treat HPV-related health problems, such as precancerous lesions and genital warts.
Myth 5: HPV Interferes With Pregnancy.
Fact: In the majority of cases, having HPV has no impact on a woman's ability to become pregnant. If you are pregnant and have HPV, you can get genital warts or develop abnormal cell changes on your cervix, just like anyone else with the virus.
Myth 6:The HPV Vaccine Protects You For Life.
Fact: Because the vaccine has been used for only the past 10 years, we know that it is effective for at least 10 years.
Myth 7:HPV Vaccines Are All The Same.
Fact: There are a few key differences in the three HPV vaccines approved by the FDA. The latest vaccine, Gardasil 9, protects against nine types of HPV, including five that other vaccines do not cover. It also prevents infection from the HPV subtypes that cause more than 85 to 90 percent of cervical cancers. All vaccines cover HPV 16, which is also responsible for 90 percent of anal cancers and 70 percent of orophar­yngial cancers.
Myth 8: The HPV Vaccine Increases Sexual Activity.
Fact: No research links the HPV vaccine to increases in sexual ac­tivity. In addition, multiple studies show that boys and girls who get the vaccine do not have sex earlier than those who have not received the vaccine. Also, they don't have more partners after they become sexually active.
Myth 9:The HPV Vaccine May Cause Dangerous Medical Problems.
Fact: The HPV vaccine has been tested extensively—more than 65 million doses have been given in the United States. It is a safe drug that does not contribute to any serious health issues. The most common mild reactions include pain or redness in the arm where the shot is given.
Myth 10: You Got The HPV Vaccine, So You Can Skip Your Pap Test.
Fact: Because no vaccine prevents all types of HPV that can cause cervical cancer, vaccinated women ages 21 to 29 should still receive Pap tests every three years. In addition to Pap tests, women ages 30 to 64 also should either have Pap tests every three years or, preferably, have a Pap test and be tested for HPV DNA every five years. Women ages 65 or older should discuss with their doctor their individual need for screening.
Lois M. Ramondetta, MD, joined the MD Anderson Cancer Center's Gynecologic Oncology Department after completing her fellowship in 2000. She holds a full-time profes­sor faculty position at MD Ander­son, and she is currently the chief of gynecologic oncology at Lyndon Baines Johnson General Hospital, Harris County Hospital District (HCHD). Dr. Ramondetta is a key member of the MD Anderson Outreach Program, which provides high-quality cancer care at regional medical centers and trains fellows, residents, and medical students in the field of gynecologic oncology. Aside from direct patient care and resident training, Dr. Ramondet­ta has chaired or co-chaired the HCHD Cancer Committee since 2004 and has served on the Memo­rial Hermann and University of Tex­as MD Anderson Clinical Bioethics Committee. She has completed three-year terms on the American College of Obstetrician and Gyne­cologist's Ethics Committee and the American Society of Clinical Oncologist's Ethics Committee. In 2010 she became board certified in palliative care.
References:
[https://www.thelancet.com/journals/lancet/article/PIIS0140-6736(19)30298-3/fulltext](https://www.thelancet.com/journals/lancet/article/PIIS0140-6736(19%2930298-3/fulltext)