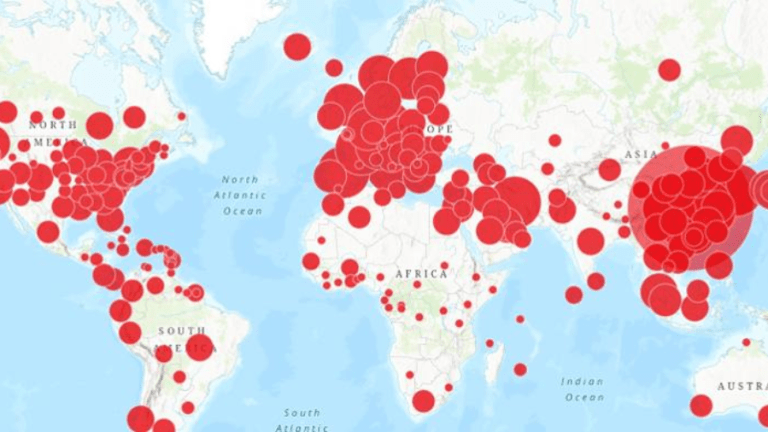 Coronavirus Outbreak – What You Need to Know
The SARS-CoV-2 resource center, data, vaccination, treatment, prevention and more...
by Dr. C.H. Weaver M.D. 2/2021
What is 2019 novel coronavirus?
The 2019 novel coronavirus (2019-nCoV) is a new virus that causes respiratory illness in people and can spread from person-to-person. This virus was first identified during an investigation into an outbreak in Wuhan, China and has rapidly spread throughout the world. The World Health Organization has declared a pandemic and the United States and Western European countries are being significantly impacted as the situation appears to be improving in Asia.
Status of 2019-nCoV in the U.S.?
Infection with 2019-nCoV in the United States was reported on January 21, 2020 and almost 500,000 people have now died from the disease in the United State. Citizens and policy makers continue to struggle with their response to the pandemic which seeks to balance the health risks of the pandemic with the combined health-economic risks of the response to the pandemic.
Quick Resources & Reading
How does 2019-nCoV spread?
The exact way the virus is spread is not fully known but doctors are gaining an understanding. With similar coronaviruses (MERS and SARS) person-to-person spread is thought to have happened mainly via respiratory droplets produced when an infected person coughs or sneezes, similar to how influenza and other viruses that cause respiratory illness spread.
The main manner of spread is probably when a person touches a surface or object that has virus on it and then touches his or her own mouth, nose, or possibly their eyes. This is why frequent hand washing is so important.
According to a recent study published in the New England Journal of Medicine, SARS-CoV-2, the virus that causes COVID-19, can live in the air and on surfaces between several hours and several days. The study found that the virus is viable for up to 72 hours on plastics, 48 hours on stainless steel, 24 hours on cardboard, and 4 hours on copper. It is also detectable in the air for three hours.Although the virus can last on plastic for 72 hours, what's more important is the amount of the virus that remains. It's typically less than 0.1% of the starting virus material. Infection is theoretically possible but unlikely at the levels remaining after a few days. (2)
What is the best to protect against COVID-19 on surfaces?
Cleaning surfaces with disinfectant or soap is very effective because once the oily surface coat of the virus is disabled, there is no way the virus can infect a host cell. It is especially important to clean surfaces brought into the home such as packages and food containers.
What are the symptoms of 2019-COVID?
Patients with 2019-nCoV have may have the following symptoms, most common are respiratory complications which are also the major cause of severe illness especially in "at risk" individuals. (1)
Anorexia and Fatigue
Dry Cough
Shortness of Breath
Diarrhea (30%)
What are severe complications from this virus?
Many patients have pneumonia in both lungs.
What to do if you get sick?
The CDC has outlined the correct approach to the illness and how impacted individuals should interact with the healthcare system here.
How can I help protect myself?
This virus is not spreading in the United States right now, but the best way to prevent infection is to avoid being exposed to this virus. There are simple everyday preventive actions to help prevent the spread of respiratory viruses. These include:
Avoid close contact with people who are sick.
Avoid touching your eyes, nose, and mouth with unwashed hands.
Wash your hands often with soap and water for at least 20 seconds. If soap and water are not available, use an alcohol based hand sanitizer.
Level 3, Avoid Non-essential Travel—Widespread Community Transmission
Key Points
CDC recommends that travelers avoid all nonessential travel.
There is an ongoing outbreak of respiratory illness caused by a novel (new) coronavirus that can be spread from person to person.
Older adults and people with chronic medical conditions may be at increased risk for severe disease.
What is the current situation?
CDC recommends that travelers avoid all nonessential travel. There is limited access to adequate medical care in affected areas and updates for specific countries are available here.
A novel coronavirus is causing an outbreak of respiratory illness (COVID-19) globally. Illness with this virus has ranged from mild to severe. Signs and symptoms of infection include fever, cough, and difficulty breathing. Sore throat also has been reported in some patients. Some patients also have reported diarrhea without other symptoms. This new coronavirus has caused severe disease and death in patients who developed pneumonia. Risk factors for severe illness are not yet clear, although older adults and those with chronic medical conditions may be at higher risk for severe illness.
On arrival to the United States, travelers will undergo health screening. Travelers with signs and symptoms of illness (fever, cough, or difficulty breathing) will have an additional health assessment. Travelers who have been in overseas during the past 14 days, including US citizens or residents and others who are allowed to enter the United States, will be required to enter through specific airports and participate in monitoring by health officials until 14 days after they left arrived. Some people may have their movement restricted or be asked to limit their contact with others until the 14-day period has ended.
More Information
Novel Coronavirus Information for Travelers
What can travelers do to protect themselves and others?
CDC recommends avoiding nonessential travel. If you must travel:
Avoid contact with sick people.
Avoid touching your eyes, nose, or mouth with unwashed hands.
Discuss travel to China with your healthcare provider. Older adults and travelers with chronic medical conditions may be at risk for more severe disease.
Clean your hands often by washing them with soap and water for at least 20 seconds or using an alcohol-based hand sanitizer that contains at least 60%-95% alcohol. Soap and water should be used if hands are visibly dirty. It is especially important to clean hands after going to the bathroom; before eating; and after coughing, sneezing or blowing your nose.
If you are sick, to keep from spreading respiratory illness to others, you should:
Stay home when you are sick.
Cover your cough or sneeze with a tissue, then throw the tissue in the trash.
Clean and disinfect frequently touched objects and surfaces.
What should I do if I recently traveled and got sick?
If you traveled within the past 14 days and feel sick with fever, cough, or difficulty breathing, you should get medical care. Call the office of your health care provider before you go and tell them about your travel and your symptoms. They will give you instructions on how to get care without exposing other people to your illness. While sick, avoid contact with people, don't go out and delay any travel to reduce the possibility of spreading illness to others.
The CDC recommends avoiding non-essential travel:
Is there a vaccine?
There is currently no vaccine to protect against 2019-nCoV and the development of a vaccine that would available is at least a year away. The best way to prevent infection is to avoid being exposed to this virus. Is there a treatment? There is no specific antiviral treatment for 2019-nCoV.
Recommendations for Management of Elective Surgical Procedures
Guided by the trajectory of cases in Italy and other countries, it is very likely that the U.S. health care infrastructure and resources, particularly as it relates to care of the most critically ill patients, are likely to be strained over the coming weeks. Social distancing, crowd avoidance, and other techniques do help to flatten the curve of the dissemination of Coronavirus Disease 2019 (COVID-19), but beyond that, it is appropriate to be forward thinking regarding those patients who will, nevertheless, become infected.
The American College of Surgeons (ACS) has additional comments on this issue. Following a careful review of the current situation, we recommend the following:
Each hospital, health system, and surgeon should thoughtfully review all scheduled elective procedures with a plan to minimize, postpone, or cancel electively scheduled operations, endoscopies, or other invasive procedures until we have passed the predicted inflection point in the exposure graph and can be confident that our health care infrastructure can support a potentially rapid and overwhelming uptick in critical patient care needs.
Immediately minimize use of essential items needed to care for patients, including but not limited to, ICU beds, personal protective equipment, terminal cleaning supplies, and ventilators. There are many asymptomatic patients who are, nevertheless, shedding virus and are unwittingly exposing other inpatients, outpatients, and health care providers to the risk of contracting COVID-19.
We are aware that surgeons who practice in hospitals in geographic COVID-19 hot zones are already getting an advisory from the Centers for Disease Control and Prevention (CDC) on how to prepare. If you practice in an area that's not a hot zone, we still recommend that you refer to the CDC website for guidance. Visit the section entitled "Interim Guidance for Healthcare Facilities: Preparing for Community Transmission of COVID-19 in the United States."
We recommend you read the entire document, but for your convenience, a portion of that information is excerpted below:
Inpatient Facilities
Reschedule elective surgeries as necessary.
Shift elective urgent inpatient diagnostic and surgical procedures to outpatient settings, when feasible.
Limit visitors to COVID-19 patients.
Plan for a surge of critically ill patients and identify additional space to care for these patients. Include options for: Using alternate and separate spaces in the ER, ICUs, and other patient care areas to manage known or suspected COVID-19 patients. Separating known or suspected COVID-19 patients from other patients ("cohorting"). Identifying dedicated staff to care for COVID-19 patients.
Time is of the essence. Please be vigilant and take a leadership role in your practice setting so that these recommendations begin to take hold immediately.
Quick Resources
References: