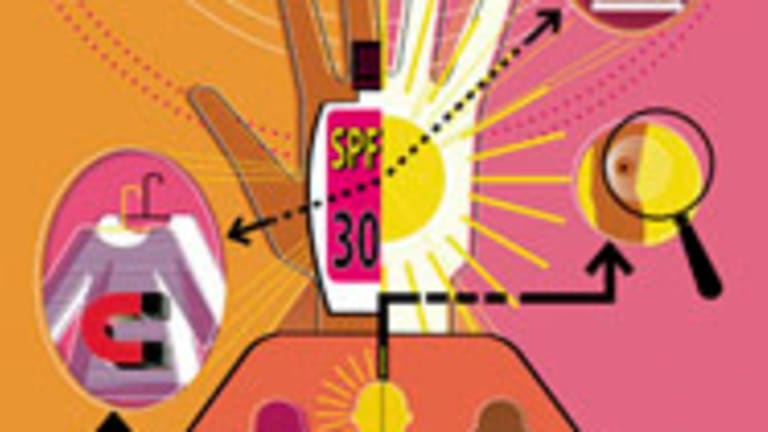 Advances in Melanoma Treatment and Research
After almost 20 years, new treatments emerge.
Melanoma is considered the deadliest form of skin cancer. Survival rates for melanoma fall dramatically once the disease has spread to other parts of the body; and because melanoma is able to spread more proficiently than other skin cancers, it's particularly dangerous. Given the lethal nature of the disease, effective forms of treatment are greatly needed.
Quite a Breakthrough
"It's been almost 20 years since we've had new drugs that proved [to be effective] in melanoma," says Lynn N. Schuchter, MD, an official with ASCO's Cancer Communications Committee and division chief of hematology/oncology at the Abramson Cancer Center of the University of Pennsylvania. The emergence of new therapies is particularly exciting news in the melanoma research community, where promising treatments have been limited. "We really haven't had a very effective therapy for this disease," Dr. Schuchter explains.
The development of two new treatments marks significant progress. "Really, what's so exciting is that it's sort of unprecedented to have two new approaches at the same time that are really beneficial for patients [with advanced melanoma]," says Dr. Schuchter. "This is quite a breakthrough."
These two significant advances involve drugs that fight melanoma in two distinct ways. One drug, vemurafenib, is a targeted therapy that's directed at a specific gene mutation associated with melanoma; the other, Yervoy, is an immunotherapy, a treatment to boost the immune system.
According to Paul B. Chapman, MD, of Memorial Sloan-Kettering Cancer Center in New York, the principal investigator on the recent trial of vemurafenib, there's been plenty of room for improvement in the treatment of advanced melanoma. "The standard had been chemotherapy," he says, "which can shrink melanoma in about 10 to 15 percent of patients but has never been shown to improve overall survival of patients in general."
On Target: Vemurafenib
"In about 50 percent of melanomas, there's a mutated or activated gene called BRAF," Dr. Schuchter explains. The BRAF gene is known to play a part in cell growth, and mutations in BRAF are common in several types of cancer. The specific BRAF mutation associated with melanoma is known as V600E. By targeting this mutation, vemurafenib is able to shut down the pathway and reduce the size of the melanoma, which can extend a patient's survival. "This," she says, "is really quite a dramatic response in patients with advanced melanoma, and it has improved overall survival."
Dr. Chapman's Phase III trial of vemurafenib compared the drug's performance with that of the chemotherapy drug DTIC (dacarbazine) among 675 patients with previously untreated, inoperable Stage IIIC or Stage IV melanoma. All patients had a V600E mutation in the BRAF gene. Patients who received vemurafenib experienced improved overall and progression-free survival compared with those treated with chemotherapy: overall survival was improved by 63 percent and progression-free survival by 74 percent.1
The immediate next step for vemurafenib, says Dr. Chapman, is approval by the US Food and Drug Administration (FDA). He explains that to ensure appropriate treatment, testing for the BRAF mutation must become standard among all patients diagnosed with metastatic melanoma. "This," he says, "is going to be an important sea change in the evaluation of melanoma—and it's long overdue." Furthermore, Dr. Chapman explains that continued clinical trials are "critical" and will need to investigate such issues as a lack of response among some patients, a tendency to develop resistance among some, and the effects of combining vemurafenib with other drugs.
Revving Up the Immune System: Yervoy
"Immunotherapy," says Dr. Schuchter, "is a therapy to rev up the immune system," which is how Yervoy fights advanced melanoma. Approved by the FDA in March 2011, Yervoy has extended survival in two studies among patients with advanced melanoma.
Yervoy targets a molecule known as CTLA4, which is found on the surface of T-cells and is thought to inhibit immune responses. By targeting this molecule, Yervoy may enhance the immune system's response to tumor cells.
"A large study was presented at ASCO [2011] that showed that ipilimumab [Yervoy] could prolong survival in patients with advanced melanoma," Dr. Schuchter says. In this study researchers evaluated the combination of Yervoy and the chemotherapy drug DTIC for the initial treatment of advanced melanoma. The Phase III clinical trial included 502 patients with Stage III or Stage IV melanoma that could not be surgically removed. Overall survival was better in the group that received Yervoy: three-year overall survival was 20.8 percent among patients treated with chemotherapy plus Yervoy compared with 12.2 percent among patients treated with chemotherapy alone.2
This current study provides additional evidence that Yervoy is active against advanced melanoma and can improve overall survival. A study presented at ASCO in 2010 also indicated that Yervoy could improve outcomes in advanced melanoma.3
What is Medicare Advantage
Medical Advantage or MA plan is a health plan provided by a private organization that partners with Medicare to offer healthcare services with their Medicare Parts A and B privileges.
What's Next for Melanoma Treatment?
Though these new therapies for advanced melanoma are encouraging, according to Dr. Schuchter there's much progress still to be made and exciting possibilities on the horizon. The recent advances with vemurafenib and Yervoy stand to launch yet more significant research. "There's a lot of momentum to build upon these results," she says. For example, future studies that combine immunotherapy with targeted therapy as well as evaluate new combinations of targeted therapy could further change the outlook for patients with melanoma. It will also be important to find ways to identify patients who are the best candidates for these therapies so that the greatest number will benefit. As well, continued investigation into gene mutations in melanoma could yield additional targeted therapies. "BRAF is just one of the genes that can be broken [mutated] in melanoma," Dr. Schuchter says, making the case for expanding the targeted-therapy arsenal.
Earlier, effective treatment for melanoma is also called for, says Dr. Schuchter, as these recent breakthroughs are specific to advanced disease but haven't been tested in early stages. "Studies will be looking at whether we can apply these therapies earlier and increase the percentage of patients who are cured of melanoma," she explains. One goal is to increase the chance of cure by treating the disease before it metastasizes.
Early treatment is made possible by early detection, which is another area in which Dr. Schuchter foresees progress. This includes, she says, methods to identify moles that have the potential to become melanoma before they are cancerous. This will require new diagnostic technology that can detect melanoma before skin changes become visible to the human eye.
With such significant progress in melanoma treatment in 2011, there's ample reason to look forward to more breakthroughs in coming years. "There's a lot of enthusiasm in the field," Dr. Schuchter says of the future of melanoma research.
References
1.Chapman PB, Hauschild A, Robert C, et al. Phase III randomized, open-label, multicenter trial (BRIM3) comparing BRAF inhibitor vemurafenib with dacarbazine (DTIC) in patients with V600E BRAF-mutated melanoma. Paper presented at: 47th Annual Meeting of the American Society of Clinical Oncology; June 3-7, 2011; Chicago, IL. Abstract LBA4.
2.Wolchok JD, Thomas L, Bondarenko IN, et al. Phase 3 randomized study of ipilimumab (IPI) plus dacarbazine (DTIC) vs. DTIC alone as first line treatment in patients with unresectable Stage III or IV melanoma. Paper presented at: 47th Annual Meeting of the American Society of Clinical Oncology; June 3-7, 2011; Chicago, IL. Abstract LBA5.
3.O'Day S, Hodi FS, McDermott DF, et al. A phase III, randomized, double-blind, multicenter study comparing monotherapy with ipilimumab or gp100 peptide vaccine and the combination in patients with previously treated, unresectable Stage III or IV melanoma. Paper presented at: 46th Annual Meeting of the American Society of Clinical Oncology; June 4-8, 2010; Chicago, IL. Abstract 4.
One Patient's Story
With her strawberry-blond hair and blue eyes, Grace Guckin of Pennsburg, Pennsylvania, knows that she fits one of the higher-risk profiles for skin cancer. But the real awareness of her risk hit the 20-year-old hard when she was diagnosed in 2010 with Stage IIIA melanoma. Even with her pale complexion, Grace, a student at Pennsylvania College of Technology, was stunned when what she thought was a wart on her foot turned out to be melanoma. "I was completely shocked," she says. "I had no idea at all."
But looking back on her previous tanning practices, Grace now sees that her behavior was risky. "I never wore sunscreen," she says. "Or if I did, I would never reapply." And seeking to brown her ivory skin, Grace admits to lots of time in the sun and a history of frequent sunburns.
Grace had surgery to remove the cancerous spot on her foot in the spring of 2010 as well as a sentinel lymph node biopsy to determine whether the melanoma had spread to her lymph nodes. The biopsy turned up positive for lymph node involvement, so she underwent another surgery to remove about 13 nodes from her left groin.
Treatment followed with interferon, an FDA-approved therapy for patients with Stage III, lymph node–positive melanoma. Interferon stimulates the immune system to help fight cancer but is also associated with some difficult side effects. "I did have a couple of setbacks during the year," Grace says. These included cellulitis (a skin infection), occasional severe back pain, and flulike symptoms.
Now, having experienced a cancer diagnosis and undergone a difficult year of treatment, Grace has transformed her attitude toward tanning and sun protection—or lack thereof. "Just don't do it!" she says, noting that not only cancer but the long-term cosmetic effects of sun damage are not worth the temporary bronzing. Grace now wears high-SPF (sun protection factor) sunscreens and lotions daily, which she makes sure she reapplies.
In addition to sun-safety advice, Grace has an encouraging message for others who face a melanoma diagnosis: "Talk to people who have gone through it." Grace adds that looking for stories of survival helped her stay optimistic, as did finding a solid support system. "You have to talk to the people around you who are always going to be there for you and love you and give you positive thoughts." Finally, Grace says, as treatment progresses, people with melanoma have plenty of promising treatment options. "There's so much more technology and different treatments out there right now."
Tanning Beds: Not a Safer Alternative
According to Dr. Schuchter, recent data show that there is a rising incidence of melanoma among young women, which may be related to tanning salons. Tanning beds, she says, "are not a safe way to get a tan." Because UV radiation is a known carcinogen, any type of exposure, natural or artificial, is dangerous.