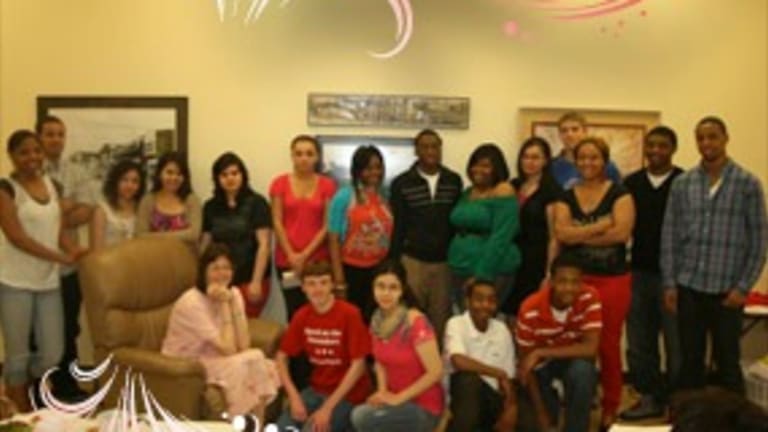 A Legacy of Love
Lisa Calderone-Stewart reflects on her journey of personal and professional joy in the face of advanced cancer.
By Lisa Calderone-Stewart
I had always been a swimmer, so I wondered why I suddenly felt faint in the locker room after every swim.
I told myself it was just stress. After all, in my work as director of Tomorrow's Present, the youth leadership ministry of the House of Peace, a community center in Milwaukee, I was under near-constant pressure to keep the program alive. Nonprofit organizations never have much money, and House of Peace couldn't actually afford to pay me. I had to raise the funds to cover my salary, health insurance, and the costs of the program. I brought the money in each year by presenting workshops, asking for private donations, and writing articles and grant proposals.
I could have found other employment, but this was my dream job. I had completed a three-year research study on what makes teenagers want to be leaders, and I loved working with the House of Peace Teen Leaders. If I had won the lottery, I would have done this job for free.
In January 2009 the recession was making things particularly difficult. So, yes, maybe it was just stress.
But then there were those dreams: I was with my mother as she received chemotherapy for her breast cancer. In the dream, as I looked over at her, I noticed that I was also hooked up and receiving chemo. In another dream my father, who died in 1983, warned me that I had only "two years left."
It wasn't long before two cancers—follicular lymphoma (Stage IV) and cholangiocarcinoma (bile duct cancer)—were discovered inside me. By then my mother was in the final few months of her life and living at Peggy House, an inpatient hospice facility in New Jersey. We never even told her about my illness.
I had four surgical procedures. I underwent the last one three days before my mother's funeral. I was told there was simply nothing else they could do for me. I would probably live only another six months—a year if I were really lucky.
Well, turns out I am really lucky—for many reasons. First of all I am still here, even though it has been 13 months. Second, although I had a long and painful recovery from my last surgery, it was followed by a marvelous few months with almost no pain at all. During that time I worked hard and I celebrated hardily.
Here's how I celebrated hardily: Friends and family traveled to see me, some from across the country. I started a ritual in which I gave meaningful gifts to those I loved—with one rule: I would not buy anything new. So for each person, I considered all my possessions, and I found an item that somehow symbolized our relationship or reminded me of that person in some significant way. I usually wrote a note explaining how and why the gift was significant and what that person has meant to me. What joy those gifts and notes brought to me! I was so thrilled to have the time to make those connections and say good-bye in such an important way. Every visit was a celebration. My life was one giant party from December to May. I was able to use that time to reaffirm my love and admiration for many people. It was such a delight.
What is Medicare Advantage
Medical Advantage or MA plan is a health plan provided by a private organization that partners with Medicare to offer healthcare services with their Medicare Parts A and B privileges.
Here's how I worked hard: friends and colleagues in Milwaukee helped me raise awareness about Tomorrow's Present. Two dedicated people—Peter Holbrook, the director of the Leadership Center, and Sean Lansing, the new director of Tomorrow's Present—met with me almost every week to review the programs, explore funding sources, and find ways to tell the story.
Since it began, Tomorrow's Present has provided leadership training and peacemaking skills to central-city youth. We train the House of Peace Teen Leaders to do workshops for middle school and high school students, we hold youth forums and retreats, and we gather together teens from among the Jewish, Muslim, Christian, Hindu, Quaker, and Unitarian communities for interfaith dialogue.
In a very short time, I was on the radio twice, was interviewed by three newspapers, and was featured on a TV news show. That publicity brought in more than $50,000 in donations! The Leadership Center of Cardinal Stritch University (the school where I earned my doctorate and did my research on youth leadership) has become the new home for Tomorrow's Present. They began a legacy fund to continue my work.
To assist Sean's transition into the position of director, I wrote lesson plans, handouts, and descriptions of programs; I gathered together supplies and put together binders, folders, and packets. I wanted him to have as smooth a transition as possible.
When my pain level increased and my energy level decreased, my family asked me to come home, where they could take care of me. For three months I stayed with my youngest brother, David, and his wife, Rosemary.
It's now a year since my mother died, and it's my turn to live at Peggy's House. Staff members who took care of my mother recognized me right away and understood the irony of my being there so soon after my mom passed away. My oldest brother, Joe, and his family live nearby; my middle brother, Steve, and his family are only a few hours away.
I am obviously very much alive; in fact, I still manage to swim a few laps each week. But I realize that we never know how many days we have left on the planet, and after a while all plans become tentative.
I have discovered that this process of dying has been one of the best parts of my living. I have been so blessed. I have had the time to say good-bye so very well, and that is a rare gift. I feel very close to my sons, my brothers, my sisters-in-law, my nieces, and my cousins. The gifts and the notes that have filled this past year led to sharing and laughter, which has made all the difference.
Most amazing of all is how my cancer and my dying have brought new life to Tomorrow's Present. Let's face it: everyone dies. But my dying has led to my dream coming true—my youth leadership research and the Tomorrow's Present training methods will now have a broader audience, a longer life, and a larger influence. When it comes to life—or death—who could ask for anything more? 
For more information about Lisa and Tomorrow's Present, visit www.tomorrowspresent.org.