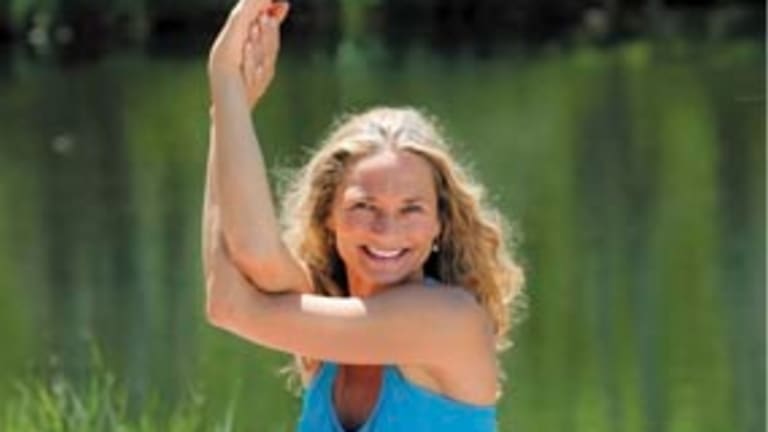 Yoga Is for Every Body
Yoga teacher Colleen Saidman Yee says that the transformative benefits of yoga are available to everyone.
by Women's Health Updated 10/2022
As far as fitness trends go, you might say yoga has staying power. Though scholars debate the precise origin of the physical postures, breathing exercises, and meditation that compose the practice of yoga (some say it could be as old as 5,000 years, whereas others claim that yoga as we know it today is a more recent phenomenon, evolving within the past 100 years), it is safe to say that people have been engaged in yoga in some form or another for many, many years.
Yoga is a Sanskrit word that means "to join" or "to unite," and yoga is often described as practice that unites mind, body, and spirit. People seek out yoga for a variety of health and wellness benefits, including physical strengthening and flexibility, stress relief, and spiritual practice.
Perhaps one of the greatest draws of yoga is that the benefits of the practice are available to everyone. Colleen Saidman Yee owns and directs the Yoga Shanti studio in Sag Harbor, New York, and conducts teacher trainings and retreats worldwide. Colleen says that while there are many misperceptions about yoga's being the province of those who are already flexible or fit, the reality is that the many different aspects of yoga—physical, mental, and spiritual—mean that the practice can offer something to everyone, no matter their physical abilities.
"Yoga is not about putting your leg around your head," Colleen says. "It is actually about becoming more comfortable in the body and mind that you have right now." Together with her husband, yoga teacher Rodney Yee, Colleen is working to share this idea and promote the accessibility of the practice. "Rodney and I and many of the yoga teachers today are working very hard to dispel the myths and keep yoga approachable for all—yes, I mean for all," she says. "Yoga is helping the returning vets dealing with PTSD [post-traumatic stress disorder]; yoga is infiltrating the education system; yoga is offered all over the country to senior citizens. My 86-year-old father takes yoga several times a week."
Benefits for Women
For women specifically, Colleen says, yoga can improve physical and emotional well-being. "The benefits are endless," she says. "The obvious ones are strength, flexibility, respiration, circulation, digestion, optimal weight, better sex, and improved sleep. But that is only the tip of the iceberg. Confidence, honesty, vulnerability, compassion, mindfulness, kindness, self-love and intimacy, improved relationships, communication, and a feeling of connection are a few others. And then there is the connection between yoga and less stress and less depression."
And while all of those benefits are appealing, the greater gift may actually lie in the journey of the practice itself, which for many results in an ongoing inner dialogue that can foster fulfillment and inner peace. This is because, as Colleen explains, practicing yoga means continually examining your physical and emotional self to understand what is contributing to your well-being and what barriers are prohibiting growth and flexibility: "The quicker you come up against your resistance, the better," she says, "because that is where the teaching lies—when we ask ourselves, Who am I when things are not easy, and How do I move through rather than away?"
Colleen, whose personal yoga practice includes daily pranayama (breathing exercises) and meditation followed by asana (physical poses), says that working toward the answers to these questions through regular yoga practice can help us find our way through life's challenges. "How do we navigate this wild and crazy life? That is where the real practice comes in," she says. "I'm actually writing a book about this right now: How do we stay open and kind? How do we keep from shutting down and becoming hard and rigid when life throws us the inevitable curve balls—like when you get the phone call that your mother has died, or your lover walks out the door, or your baby keeps you up all night."
Sharing the Practice
Colleen is passionate about sharing yoga with others because she has felt the transformative power of the practice in her own life. When a roommate first suggested she attend a yoga class more than 20 years ago, Colleen was skeptical. "I thought it would be a lot of new age stuff that I wasn't interested in. I thought it would be a wimpy stretch class and that I would still need a workout afterward," she says. But when that class came to an end, she knew she had been wrong.
"After my first class, I felt more alive and clearer than I had probably ever felt before," Colleen says. "My body was worked out, wrung out, and relaxed. I was humbled by what I couldn't do and excited by what I was able to do. But mainly I was perplexed by how I felt. I needed to investigate further. I felt like everything that I had ever practiced, studied, or experienced had led me to this point, and I was home. I knew that I had to dig deep."
Colleen dove into her practice and ultimately transitioned to teaching. "I really didn't think that I had the personality to be a teacher," she says, "but my teachers at the time—Sharon Gannon and David Life—saw something that I didn't and sort of tricked me into it." Since that time Colleen has been sharing her knowledge with students through various venues, including her own studio. "Teaching keeps me upping my game and continually studying. Teaching keeps me honest and humble. Teaching keeps me showing up. Teaching saves my life again and again," she says.
Recently, Colleen launched her first DVD releases—Yoga for Weight Loss and Calorie Killer Yoga (Gaiam, 2014)—and she is excited by the new teaching venue. "DVDs are a great way to have an intimate, everyday home practice," she says. "We spend a lot of time planning and executing our videos to give people the tools we have found so helpful." The DVDs provide particular benefit for those who may be interested in exploring yoga on their own. "They can be a launching pad to taking classes without intimidation," she says.
Ultimately, no matter how a student of yoga ends up on the mat, whether through a class, a DVD, or any other venue, Colleen says, there is one critical point to keep in mind: "Consistency is the key to obtaining the many and mind-blowing effects that yoga can bring you. There is nothing to lose but a lot to gain." 
Putting the "Care" Back in Healthcare: The Urban Zen Integrative Therapy Program
Colleen is not just throwing out a line when she says that "yoga is approachable for all." She is committed to bringing the benefits of yoga to people at all stages of life, no matter the challenges they are facing.
In 2009 Colleen and Rodney, together with fashion designer Donna Karan, founded the Urban Zen Integrative Therapy program to introduce yoga, along with other Eastern healing modalities (including reiki, essential-oil therapy, nutrition, and contemplative care) in healthcare settings. Working with doctors and other healthcare providers, Urban Zen therapists help address common symptoms of illness and side effects of treatment—including pain, insomnia, constipation, and exhaustion—to improve patients' well-being.
"We have distilled the practices of in-bed movements, restorative poses, breath awareness, aromatherapy, and learning to just be with a person to help the symptoms patients experience," Colleen says. Seeing the benefit to patients has been incredibly rewarding and moving: "The stories will bring you to tears."
Colleen Saidman Yee's DVDs are available at Amazon.com and Target stores nationwide.