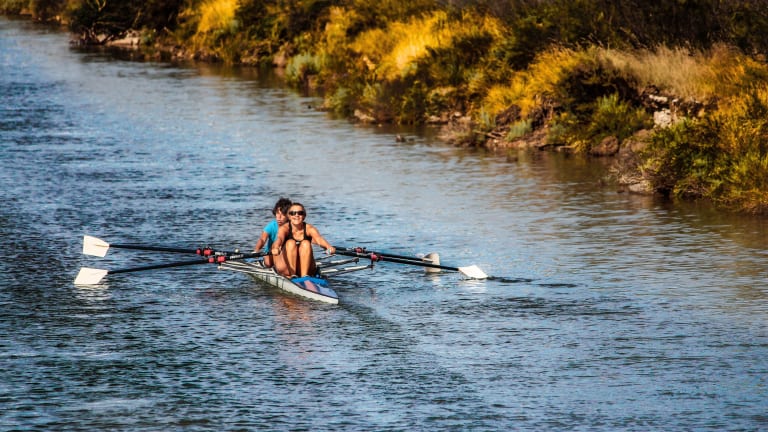 Walk, Run, Ride, or Row The Importance of Exercise Before & After Cancer
Exercise is part of a good cancer survivorship plan.
You probably already know that regular physical activity reduces your risk of heart disease. What you may not know is that exercise has important cancer-related benefits as well. Exercise may reduce your risk of developing certain common types of cancer. In addition, if you've already been diagnosed with cancer, exercise can help you feel better during and after treatment. Cancer survivors who are physically active report improved fitness, reduced fatigue, increased vigor, improved quality of life, and reduced depression and anxiety.1 So, whether you're interested in cancer prevention, have recently been diagnosed, are undergoing treatment, or are a longtime survivor, you'll want to be aware of the benefits of regular exercise.
Exercise and Cancer Prevention
Colon cancer and breast cancer are among the most commonly diagnosed cancers in the United States, and exercise appears to significantly reduce the risk of both. Physical activity has been linked with a 40 to 50 percent reduction in the risk of developing colon cancer and a 30 to 40 percent reduction in the risk developing breast cancer.2 Risk of other cancers may be reduced by exercise as well, but studies of other cancers have produced less consistent results.
Physical activity provides important health benefits regardless of a woman's weight. Nevertheless, the combination of physical activity and a healthy body weight produces the best outcomes. According to a study of roughly 120,000 female nurses, women who were both lean and physically active experienced fewer deaths from cancer or cardiovascular disease than other women.3
To reduce the risk of health problems such as heart disease and cancer, exercise guidelines recommend at least 30 minutes per day of moderate-intensity physical activity at least five days per week, or at least 20 minutes per day of vigorous physical activity at least three days per week.4 Moderate-intensity activity includes brisk walking and cycling on level terrain. Vigorous activity includes cycling or walking up hills and jogging
Exercise During Cancer Treatment
Finding the energy to exercise during cancer treatment may be challenging, but regular physical activity (at a level that is appropriate for you) can reduce the severity of common symptoms and help you feel better. This may make it easier for you to engage in activities that are important to you, such as interacting with family or continuing to work.
A significant benefit of exercise during cancer treatment is a reduction of fatigue—one of the most common and most bothersome symptoms experienced by patients during cancer treatment. Exercise can help manage fatigue even among patients undergoing very intensive treatment. A study among hospitalized patients receiving high-dose chemotherapy and stem cell transplantation, for example, reported that patients who used a cycling machine while lying in bed experienced no increase in fatigue over the course of hospitalization. In contrast, patients who did not engage in physical activity during hospitalization experienced a significant increase in fatigue.5
Studies of fatigue among non-hospitalized patients also suggest a benefit of exercise. A study of breast cancer patients undergoing chemotherapy or radiation therapy found that women who participated in a regular walking program reported less fatigue and less emotional distress.6
To stick with an exercise program during cancer treatment, it may help to vary your program as needed and to enlist the support of those around you. Multiple-myeloma patients enrolled in an exercise study reported that they sometimes had to take it easy or take some time off from exercise right after chemotherapy. But the patients also reported that they tried to avoid taking days off because exercise helped them maintain their stamina. The support and the encouragement of family, friends, and healthcare providers was an important source of motivation for these patients.7
Exercise After Cancer Treatment
After treatment is completed, exercise continues to play an important role in reducing fatigue and improving overall quality of life. In addition, exercise may help you address concerns related to body image, weight gain, and other health issues. It may also improve survival.
The relationship between physical activity and survival was addressed in a study of nearly 3,000 women with Stage I to Stage III breast cancer.8 Women who walked one or more hours per week had a lower risk of death than women who were less active. The greatest benefit was observed among women who did the equivalent of walking three to five hours per week; activity beyond this level did not appear to provide additional benefit.
Though survival may be your primary concern, quality of life is also important. If you are adapting to physical changes following cancer treatment, exercise may improve your body image and help you maintain or regain your sense of sexuality. A study of body esteem and mood among women treated for breast cancer found that those who were physically active were more likely than sedentary women to report that they felt sexually attractive. The active women also reported less depression, confusion, and fatigue.9
Exercise may also help combat the weight gain that is common after treatment for some cancers. A study that followed breast cancer survivors for up to three years after diagnosis found that 68 percent of the women gained weight and 74 percent gained body fat.10 Because obesity is associated with a higher probability of breast cancer recurrence and shorter survival, exercise may have a beneficial effect on these and other cancer outcomes if it helps survivors achieve or maintain a healthy body weight.
In addition, you may be living with other chronic conditions such as heart disease, diabetes, or osteoporosis, or you may be at risk of developing these conditions as you age. Physical activity reduces the risk of these conditions in the general population. Cancer survivors are likely to benefit as well, although few studies have assessed with link between exercise and other chronic conditions in cancer survivors.
Getting Started
Talk with your doctor before starting an exercise program. To choose the program that's right for you, you and your doctor will consider your age; previous exercise experience; cancer type, stage, and type of treatment; and your other medical conditions.
Exercise programs may include a combination of cardiorespiratory (aerobic) exercise, resistance training, and flexibility work. Aerobic exercise helps your heart and lungs work more efficiently and includes such activities as walking, cycling, and swimming. Although most studies of exercise and cancer have focused on aerobic activity, there is some evidence that resistance training also provides benefits.
Resistance training, which includes weight training, builds muscle strength and helps maintain bone strength. Resistance training may be particularly beneficial for cancer survivors at an increased risk of osteoporosis, such as women who are menopausal during or after treatment and men who receive hormone therapy for prostate cancer. Flexibility exercises, such as stretching and yoga, are also beneficial because they increase range of motion and can reduce the risk of injuries.
As you plan your exercise program, keep in mind that different approaches work for different people. Some people are best able to adhere to an exercise program when working out in a group or with a personal trainer. Others enjoy the solitude of working out alone. Some people are able to sustain a regular exercise program during treatment whereas others are not. Do what's right for you.
What the Future Holds
There are still many unanswered questions about exercise and cancer. Among cancer survivors, studies have focused primarily on women with breast cancer. Evaluating the effects of exercise in women with other types of cancer must also be a priority.
In addition, it will be important to explore the role of exercise over the complete course of the cancer experience. Exercise prior to cancer treatment, for example, may help the body withstand treatment. And for women living with advanced cancer, exercise may play a role in alleviating symptoms and improving quality of life. Few studies, however, have addressed these questions.
Finally, there remains uncertainty about the optimal type, intensity, and frequency of exercise in cancer survivors. While we await additional information, the available evidence suggests that even a modest level of physical activity will help you live the life you want to lead.
A diagnosis of cancer—either in yourself or in someone close to you—
provides motivation to reassess priorities and make new life choices. Take it one step at a time, but talk to your doctor—and then take that step.
References:
Holtzman J, Schmitz K, Babes G, et al. Effectiveness of behavioral interventions to modify physical activity behaviors in general populations and cancer patients and survivors. Evidence Report/Technology Assessment No. 102 (prepared by the Minnesota Evidence-based Practice Center, under Contract No. 290-02-0009.) AHRQ Publication No. 04-E027-2. Rockville, MD. Agency for Healthcare Research and Quality. June 2004.
Scientific Program Committee. Physical activity across the cancer continuum: report of a workshop. Review of existing knowledge and innovative designs for future research. Cancer. 2002;95:1134-1143.
Hu FB, Willett WC, Li T, Stampfer MJ, Colditz GA, Manson JE. Adiposity as compared with physical activity in predicting mortality among women. New England Journal of Medicine. 2004;351:2694-2703.
Physical Activity for Everyone: Recommendations. Centers for Disease Control and Prevention Web site. Available at: Accessed September 1, 2006.
Dimeo FC, Stieglitz, Novelli-Fischer U, Fetscher S, Keul J. Effects of physical activity on the fatigue and psychologic status of cancer patients during chemotherapy. Cancer. 1999:85:2273-2277.
Mock V, Pickett M, Ropka ME, et al. Fatigue and quality of life outcomes of exercise during cancer treatment. Cancer Practice. 2001;9:119-127.
Coon SK, Coleman EA. Keep moving: patients with myeloma talk about exercise and fatigue. Oncology Nursing Forum. 2004;31:1127-1135.
Holmes MD, Chen Y, Feskanich D, Kroenke CH, Colditz GA. Physical activity and survival after breast cancer diagnosis. Journal of the American Medical Association. 2005;293:2479-2486.
Pinto BM, Trunzo JJ. Body esteem and mood among sedentary and active breast cancer survivors. Mayo Clinic Proceedings. 2004;79:181-186.
Irwin ML, McTiernan A, Baumgartner RN, et al. Changes in body fat and weight after a breast cancer diagnosis: influence of demographic, prognostic, and lifestyle factors. Journal of Clinical Oncology. 2005;23:774-782.
Ahmed RL, Thomas W, Yee D, Schmitz KH. Randomized controlled trial of weight training and lymphedema in breast cancer survivors. Journal of Clinical Oncology. 2006;24:2765-2772.