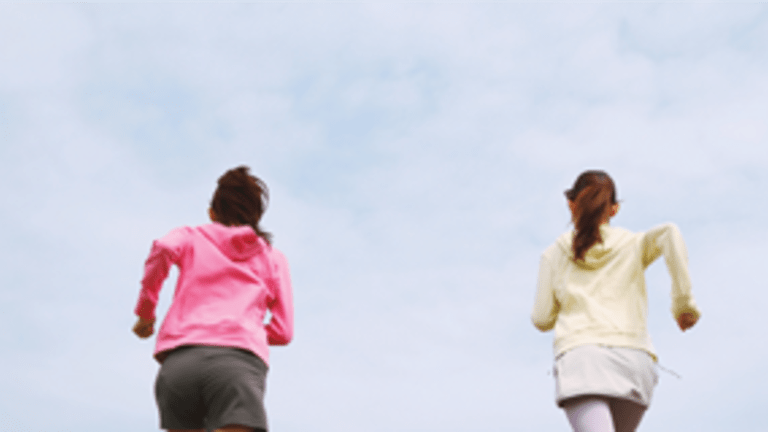 Tales from Another Mother Runner Q&A
Q&A with Dimity McDowell and Sarah Bowen Shea, authors of Tales from Another Mother Runner
Q: For readers not familiar with your website (AnotherMotherRunner.com) or your previous books (Run Like a MotherandTrain Like a Mother), can you briefly describe how you two came together to inspire mother runners?
Dimity: Back in 2007, when (most) of our five kids were still in diapers, we ran the Nike Women's Marathon. I suffered from postpartum depression with my first child, so when I became pregnant with my second, I knew I had to have a big goal to keep moving and taking care of myself. I asked Sarah to run with me, and we did. We had a weekly blog and feature in Runner's World magazine called Marathon Moms. While training and writing, we realized there was a huge population of women who were just like us: getting up crazy early to get in a few miles so they had less crazy in their days. After a run you're a more patient mom, a more loving spouse, a more efficient worker, and just feel much better than you did before a sweat session. So, we wrote Run Like a Mother in 2010 in the same conversational tone women would have on a run. We were and are very honest about how hard—and how important—it is to place yourself at the top of your priority list.
Q: Between 1990 and 2013, the percentage of female running event finishers grew from 25 percent to 57 percent. What have you learned from the mother runners who participate in your community about the factors behind the popularity of recreational running among women today?
Sarah: Women run for myriad reasons, but many of them run to set a strong example for their children and to gain strength themselves, whether it's physical power or mental fortitude. Women often run for inner validation, to prove to themselves and those around them that they are capable and dedicated. While women like to share their accomplishments, such as on Facebook or social media/GPS sites like Strava.com, they also like to remind themselves of their own milestones, such as by displaying their race medals or wearing a necklace or T-shirt commemorating a race or distance run. There is an amazing sense of validation, pride, and satisfaction that comes with setting goals, striving for them, and meeting them.
Q: What inspired this third book, and what do you hope it offers mother runners?
Dimity: The community that has grown organically around Another Mother Runner inspired this book. We all run, to some degree, for the numbers—the miles, the pace, the distance, the finishing time. But we also run for the connections and the stories it brings to our lives; for the way, when you walk into a room full of strangers and find out that the woman standing next to you is a runner, that you know you'll immediately have plenty to talk about, whether it's your favorite running route or how your IT band is killing you. Tales from Another Mother Runner is a celebration of that community, the bond that connects us whether it takes you five or 15 minutes to cover a mile. We hope it offers validation of the choices that readers make and a connection to feeling like they're part of a team that has their back, even if they run all their miles solo.
Q: How did you choose which essays to include here?
What is Medicare Advantage
Medical Advantage or MA plan is a health plan provided by a private organization that partners with Medicare to offer healthcare services with their Medicare Parts A and B privileges.
Dimity: Both Sarah and I are longtime sports and fitness writers, so many of our friends and colleagues are, by default, mother runner writers. We solicited essays from many of them and were thrilled that the topics they presented were so diverse. For the sidebars and special sections, we created a comprehensive survey that covered everything from peeing in your capris to pushing yourself on race day, and nearly 500 mother runners filled them out.
Q: As athletes and moms yourselves, what lessons or tips have you drawn from the essays included in Tales from Another Mother Runner?
Dimity: As we edited the stories of heartbreak and depression, infertility and affairs, I was constantly reminded of the restorative power of a mile. Your life can be going over an incredibly daunting speed bump, and by simply lacing up and finding a rhythm on the road the obstacles feel that much more conquerable. As a runner who has been through plenty of physical injuries and mental trials, I loved being reminded of that.
Q: You've created such a dynamic, supportive, and inspiring community through your website and these books. What elements do you think come together to fuel the conversation and bond the tribe of women who are drawn to your work?
Sarah: Dimity and I strongly believe that our honesty and humor appeal to a lot of women. We don't sugarcoat running. We know it's often hard, and we level with women about this fact. But we also remind them that the rewards are worth all the hard work, hill repeats, and heavy breathing. As for humor, we like to think we take running seriously but not ourselves. At mother runner parties we've hosted across the country and at race expos, we always find something to laugh about with women runners. There's a shared sensibility and sense of humor that runs through the mother runner community. On our Facebook page, women from all over type supportive comments for others, and their words always have us nodding our heads in understanding and huckling at the wit.
Q: Toward the end of the book, mother runners share their proudest running moments. What's your proudest moment as leaders of this tribe of mother runners and as the authors ofTales from Another Mother Runner**?**
Dimity: Anytime somebody comes up to me at a race expo and tells me they challenged themselves somehow— they started running even though they hated it in sixth grade; they signed up for a half-marathon when they'd only run a 5K; they've trained their guts out and want to run a sub-four-hour marathon—and mentions the support of Another Mother Runner, I'm always floored and honored.
Sarah: I'm right there with Dimity: it's hearing the personal stories and seeing women's faces light up as they talk about the joy and triumphs that running has brought to their lives. This month, when we were hosting a book party in New Jersey, a mother runner named Shannon came up to me. She started crying almost as soon as she started talking, telling me through her tears how the AMR community had pulled her through a very difficult time with her family. From the few details she revealed, I gleaned some of the troubles involved the health of her kindergarten-age daughter. I shared some tears with her and gave her a hug. It feels incredibly gratifying knowing the mother runner community we lead can affect lives in such a profound way.